RPW & The Racing Community Mourn The Passing Of Northeast Dirt Modified Hall Of Famer Clarence "Butch" Jelley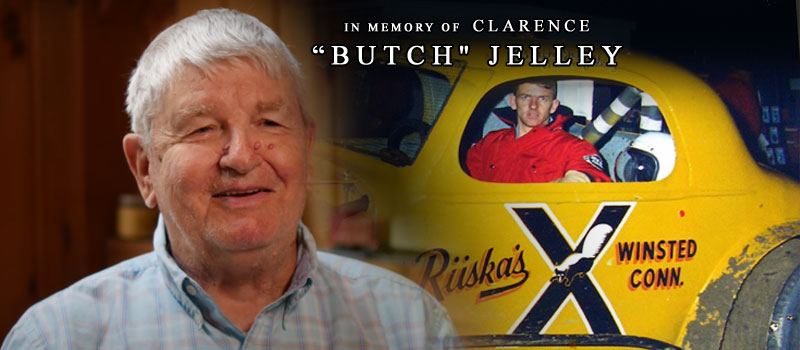 Story By: BUFFY SWANSON / NORTHEAST DIRT MODIFIED HALL OF FAME – WEEDSPORT, NY – The Northeast Dirt Modified Hall of Fame joins the racing community at large in mourning the death and celebrating the life of popular driver Clarence "Butch" Jelley, who passed away after a long illness on May 1. He was 79.
Jelley, from Andover, VT, was inducted into the Northeast Dirt Modified Hall of Fame in 2005.
The Vermont native began his career as a teenager in 1957, racing jalopies on the dirt at Claremont Speedway in New Hampshire. He went on to compete at tracks in New York, Vermont and southern Canada over the course of six decades, from the late 1950s into the 2000s.
Jelley stands ninth on the all-time Modified win list at Lebanon Valley Speedway, with 31 victories recorded from 1965-1989. He was the Valley's Rookie of the Year in 1960.
He earned the sole championship of his career in 1975 at Devil's Bowl Speedway, in his home state, where he won 14 times in the late 1960s and '70s.
He was a teammate to Tommy Corellis in the All-Star Racing League in 1971.
Jelley's most popular rides over the years included Ed Wynn's #Y, with a red cartoon devil character painted on the side, and Martin Riiska's famous yellow #X, featuring a skunk mascot called "Lil Stinker." Those cars, in particular, made Jelley a favorite with the kids in the crowd.
Butch was also inducted into the Lebanon Valley Speedway Hall of Fame in 1978 and the New York State Stock Car Association Hall of Fame in 2003.