Five Mile Point Speedway Cancels March 28th Practice Day; Speedway News & Notes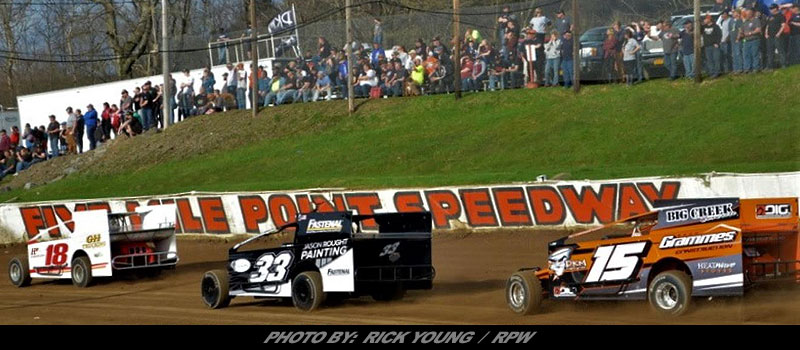 Story By: FIVE MILE POINT SPEEDWAY – KIRKWOOD, NY – We here at Five Mile Point Speedway want to periodically update everyone on our 2020 racing season status.
As you know we canceled our March 21st practice last week. We are now officially canceling our March 28th open practice day.
Last week we did have three private rentals set up with individual teams. This was when the CDC and state agreed that you could have no party greater than ten people. We had put restrictions in place to comply to that by not allowing more than ten people on the property for the rentals.
If there were two teams scheduled we had planned to keep the teams away from each other and have the safety team staged in the infield, away from direct contact from the teams. We even instructed teams to bring their own pens for the pit sign in sheets.
On Friday, March 20th the state of New York announced that they wanted 100% of the non-essential work force to stay home. When they announced this we opted to cancel all three private testing sessions by using an abundance of caution during these times.
We told the teams that they will have top three prioritized rental dates when we get up and running again. We feel that when things begin to open back up the states will slowly back off on restrictions.
Our feeling is that this will mean they will start slowly, perhaps allowing 50 people to gather, then 100 to 500. This is just our opinion on how it will go and we feel that some model like this will be utilized by the state of New York. When they start backing off the restrictions remains to be seen. We support the efforts to keep the residence of the state and our country safe.
Once they start allowing people to gather again we immediately initiate private testing sessions again. That will likely lead us to full fledged open practice days once the numbers increase. Of course we will then begin our racing dates at a time we are told they can safely be hosted.
We wanted to give you just an idea of what we expect and how we will operate at Five Mile Point Speedway when the time arrives. We will not cancel any event more than a week in advance in case something changes. We know that it is very unlikely we will have our opening race on April 4th. We will wait to make any changes on that until next Monday.
We are still trying to sell night sponsorships, billboards, memberships, our 70th Anniversary Season T-Shirts and American Racer Tires as needed. Contact us if you would like to discuss any of these items as we too are trying to keep some cash flow moving as a small business.
Our T-Shirts can be shipped anywhere. The shirts cost $20 in person once the season starts and are $25 if you would like one shipped. We have shipped t-shirts all over the country already since they debuted a few weeks ago.
This winter, as a member of our community we donated dozens of race tickets to charitable causes, race team parties, church groups and other worthy causes. We will continue to work with our community with donations and help as we can moving forward. This has been the goal of Five Mile Point Speedway the past 69 years.
The speedway has hosted fund raisers for years including being a site for disaster relief donations, helping to stock the local food pantries with your donations, to helping local pet shelters with pet food drives. When the region had floods we helped by hosting the Five Mile Point Fire Department, we parked the Town of Kirkwood's Highway equipment on our property and washed the streets with our water truck to help clean the mud left behind from the flooding. We will again help however we can during this crisis.
We do ask our race teams to forward us their sponsor and team information and email us photos of your car for the upcoming season. They can be emailed to us at fivemilepoint1@aol.com. We have received some already and will be posting them in the days to come. Keep in mind our primary Facebook page has just under 20,000 followers.
If you plan on racing with us this season perhaps use this thread to share the information. Maybe we can create some type of fun fantasy league prior to the season to keep us entertained and thinking about the upcoming season.
Please stay safe during the days and weeks to come and we wish everyone the best!