King Of Dirt Series Headed For History On New Hampshire Motor Speedway's Flat Track September 11th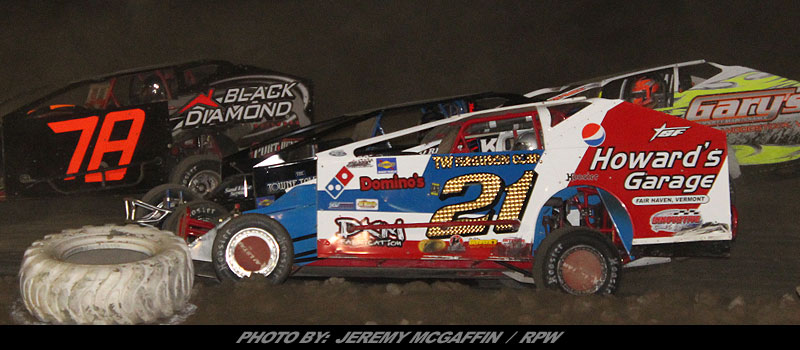 Story By: JUSTIN ST. LOUIS / KING OF DIRT – LOUDON, NH – King of Dirt Racing will make history in the Granite State in 2020. The Flat Track at New Hampshire Motor Speedway (NHMS) will host the King of Dirt Racing (KOD) Crate Modified Series under the lights on Friday, September 11 as part of Full Throttle Dirt, marking the first-ever dirt Modified stock car race on the 0.25-mile flat track.
The two-day Full Throttle Fall Weekend, including Full Throttle Dirt, offers a wide variety of racing on four different track layouts, and the KOD race promises to be one of the most prestigious events in the series' history. The 40-lap feature race will pay $2,000-to-win, $200 to start, and offers a guaranteed $100 in tow money to drivers who do not qualify for the feature. The USAC Dirt Midget Association and the Sprint Cars of New England will also be in action on Friday night at The Flat Track.
The famous 1.058-mile paved "Magic Mile" takes center stage on Saturday, September 12, with the NASCAR Whelen Modified Tour Musket 200 presented by Whelen and championship finales for the all-new ARCA Menards Series East and the American-Canadian Tour Late Models. The Granite State Legend Cars are also racing both days, on the 0.95-mile modified road course on Friday afternoon and the 0.25-mile mini oval on Saturday morning.
The Flat Track is located directly behind the North East Motor Sports Museum on New Hampshire Motor Speedway's 1,200-acre facility in Loudon, N.H. and first opened in June 2019. Exciting improvements are already underway for 2020 which will include added track width, banking in the corners, and 2,000 yards of new natural clay surface trucked in from Devil's Bowl Speedway in West Haven, Vermont.
The addition of KOD to the Full Throttle Weekend has been almost a year in the making.
"We are excited to enhance our Full Throttle Weekend with events at The Flat Track, including King of Dirt Modifieds, to add even more racing action for our fans," said David McGrath, executive vice president and general manager of New Hampshire Motor Speedway. "We can't wait to bring new fans and new racers here from New England, New York, Canada, and beyond, and to give our longtime fans a thrilling new race to be a part of."
King of Dirt Racing officials anticipate a competitive event at NHMS and an influx of Sportsman Modified racers from Vermont, New Hampshire, and elsewhere to join the KOD regulars from New York and Vermont; the event will be KOD's first in the state of New Hampshire and the farthest east that tour will have ever traveled.
"The timing for this race is great in 2020," said King of Dirt Racing promoter Mike Bruno. "KOD has great momentum, and New Hampshire Motor Speedway is the largest racing facility in New England, so The Flat Track is the perfect place to bring our exciting dirt track action to. The new clay from Devil's Bowl will make a great surface at The Flat Track, and we're looking forward to something totally new and different."