RPW Column By: LUCAS BALLARD / RPW – SPENCERTOWN, NY – Once you strap in, the desire never goes away. After a seven-year hiatus from the driver's seat, Mark Flach has his sights set on the cockpit of a Big Block Modified this season as he returns to racing with Madsen Motorsports at Lebanon Valley Speedway.
But why so long between his last race and his next? It was Labor Day Weekend, 2013. Flach and his team traveled to Canandaigua (now Land of Legends Raceway) to gain some experience at a track they had never raced at before. The end result was a vicious crash that left many believing they had seen the final race of his career.
During the 10th lap of the feature, Flach got caught up in a melee which saw him rolling over, leaving his roll cage exposed. Another car came in and made hard contact with the top of his car, crushing the bars down on him. The end result was Mark breaking his C6, C7, T1, L4, L5 and S1 vertebrae's.
The road since that weekend has been a long and grueling one… Lots of hard work and sweat. The prognosis was not only that Mark had driven his last race, but that his life would be changed forever.
Even with that, he's never given up. He attended physical therapy two to three hours a day, six days a week to get stronger, and it's been working.
"The doctor told me I would never lift even 20 pounds again," Flach said. "After three years with my trainer, I built my back squat back up so I was lifting 300 pounds."
Mark Flach doesn't have the word can't in his vocabulary.
"That's my drive," he said. "When somebody tells me I can't do something, or it's impossible, it gives me that much more ambition to do it."
Through his recovery, Flach filled his racing void by starting his own business, Flach Performance Products. The company designs and fabricates racing radiators and other aluminum products for Dirt Modifieds and other vehicles. While the company has been rewarding, helping others get to victory lane, the desire to drive hasn't faded one bit.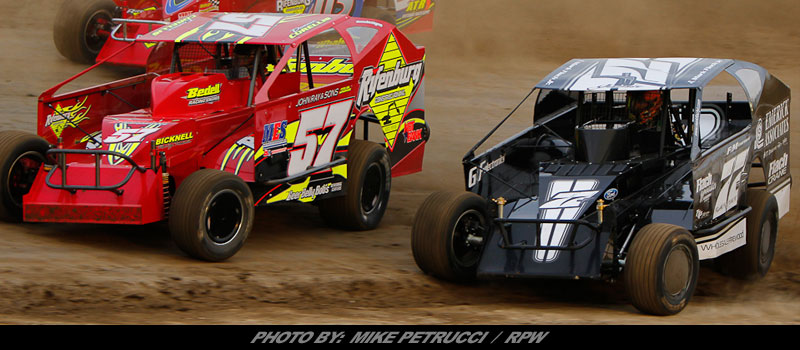 Mark has unfinished business. Enter, Brian Madsen.
Madsen's driver for more than a decade had been arguably the best driver ever to step into a Dirt Modified, Brett Hearn. Two years ago, Flach took over as crew chief of Hearn's Albany-Saratoga program and the team proceeded to win the championship at the Malta oval that year.
Now, with Hearn transitioning into semi-retirement from the driver's seat, and while still feeling the effects from the accident, Mark Flach is ready to put the Canandaigua crash in the rear-view mirror. He'll replace the legendary driver behind the wheel of the potent Madsen Motorsports race cars, with a new look, but the same desire and passion he's always had.
"We'll be running the #22 on the side of the car this year," he said. "I've always been a fan of the Penske 22 car so what better way to start the next chapter here with Brian and the Madsen's."
Was he always 100% determined to return to the driver's seat after your accident?
"I've had it in mind that I was always going to get back for at least one race," he said. "You always want to think positive and think you're going to do more. I wasn't ready to a certain point, but when that changed is when this all started happening. If you want something hard enough, you're going to do it."
What are his plans for 2020? Where will the team be racing? Any big events on the horizon?
"We'll be running weekly on Saturday nights at Lebanon Valley in the Big Blocks," he said. "We don't have any big events on our radar right now except Mr. DIRT at Lebanon."
Who will be maintaining the equipment he'll be racing?
"Guy Madsen (co-owner) set up a new building at their campground (Fox Hill Campground) in Spencertown we'll be working out of," he said. "We have most of the same crew members from the team that will also be with working with Brian's son, Dylan, and his car at Malta."
What's going to make this season successful for Mark Flach Jr.?
"It may take me a few races to knock the rust off a little bit, but I still feel like I am plenty capable of winning," he said. "If we keep the tires on it and stay out of trouble, I'd like to at least win one race."
Does Flach have championship expectations?
"Winning the championship would be the biggest goal," He stated. "As long as we run consistently and roll across the scales weekly, I think it will put us in a good position at the end of the season."
Mark's biggest supporter through the years has been his wife, Jamie. She's been there for all of his checkered flags and through his rehabilitation, but what is her perspective of Mark's journey back behind the wheel of a race car?
"I feel like early on, Mark was always determined, but unsure if it would happen," Jamie said. "When opportunities present themselves, we're pushed in directions we normally wouldn't take. When the opportunity came up, he wasn't going to say no."
Though Mark has worked endlessly the past seven years to achieve what many believed to be an "impossible" goal, he knows it's the people behind him that have made it all possible. This hasn't been just him putting in the work.
"It's been a long road to get back to this point," Mark said. "I have to thank my wife, my mother-in-law, Pat, my brother-in-law, Tim and my good buddy Tim Emerick. They have been amazing with their support to get me where I am today.
Racing wise, Flach is very appreciative as well.
"I can't thank Guy, Patty, Brian, Mike and Dylan Madsen enough for the opportunity to drive for them," he said. "This is an unbelievable opportunity. I also need to thank all of our sponsors, the guys on the team, Kevin & Kim at Enders Racing Engines and Mike Walton from Fastline Performance. Without all of these people, this wouldn't be possible."
In 2013, this day looked impossible. Through hard work and determination, Mark Flach has turned the impossible, possible. This season, he'll be strapping into a Modified once again to try and capture more checkered flags. He wasn't going to let his story be written without being able to put the final exclamation point on himself.
This kind of proves anything is possible in this world, don't you think?