RPW Column By: DANIEL SANCHEZ / SPECIAL TO RPW – TULSA, OK – Yes, this is Chili Bowl week, and the excitement is still palpable.  You can feel the electricity in the air here.  However, when you don't have to strap in yourself, that excitement is a little different.
Tuesday was a rather slow day.  I didn't have anything going on at the track other than watching. It was a really cool experience to see our Northeast guys racing all the way out in Tulsa Oklahoma.
Larry Wight was probably the most exciting driver to watch all night. Unfortunately, our good friend Rob Yetman had some bad luck throughout the night. Seeing Yetman leading in one of his LCQ (Last Chance Qualifier) races gave me the chills. My Dad and I were cheering loud for our friend.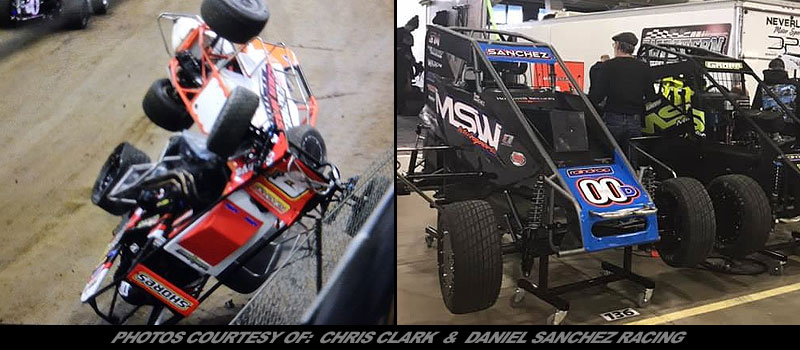 Again, I watched where people were lifting and entering the corner to see how far I would be able to hold it going into the turns. Watching and driving are two totally different things, but it doesn't hurt to pay attention, right?
My Mounce Motorsports teammate Austin Shores had a rough go of it tonight. He flipped two times in separate races.  Tomorrow, Trey Gropp, another one of my teammates, takes the stage as he gives it his best go to make his preliminary A-main and possibly the Saturday 55-lap A-main.
Also tomorrow, another one of our Northeast guys, TMAC Tim McCreadie will also be on the track. I am very excited to watch TMAC.  He's a former winner of the Chili Bowl and knows a thing or two about this place.  I also hope I'll be able to talk to him for a little bit about anything racing.
This week has already been one for the record books, and it's only Tuesday!  It has been and continue to be full of memories I'll cherish forever.

Sponsors for my racing efforts this week with Mounce Motorsports include:
Silly's Competition Engines

The Gorman's

Danny Sanchez Contracting

Cedar Peaks Enterprises

Snap-On Tools – Chris Morris

DMC Racing Products

Stout Motorsports
Schure Built Suspension
Wilson Racing
Elite Welding & Fabrication
James Mission
Rockwell Security
Raindrop