Luke Horning Captures DIRTcar Pro Stock Series Race At Albany-Saratoga Speedway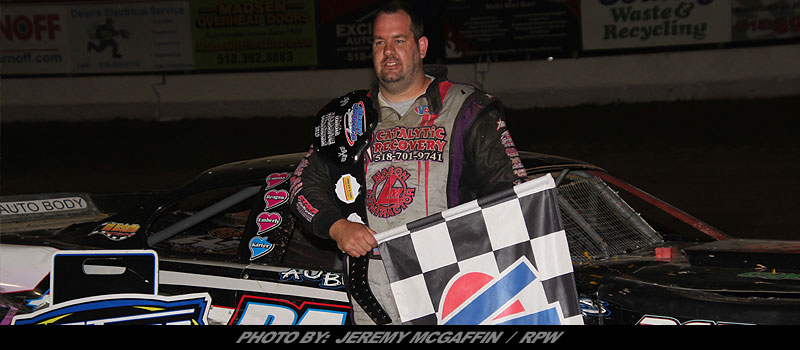 Story By: TOM BOGGIE / ALBANY-SARATOGA SPEEDWAY – MALTA, NY – The DIRTcar Pro Stock series was also on the closing card on the season at Albany-Saratoga, with Luke Horning recording his 17th overall win of the season in the 35-lap feature.
Despite starting eighth, he had the lead after just four laps, taking the high road around Ed Thomson coming out of the fourth turn to go out in front.
And that's where he stayed, despite a rash of restarts. Rob Yetman, who started third, moved into the No. 2 spot on a restart on lap seven and looked like he was going to be a serious contender, but Yetman's night ended on a restart on lap 24, when he got knocked around in the second turn.
That moved Jay Corbin into second, but he had his hands full with Josh Coonradt in a battle for second, allowing Horning to pull away.
Following Horning across the finish line were Corbin, Coonradt, Jason Meltz and Brandon Emigh.
Dave Richer finally found his way back to victory lane in the 20-lap Haun Welding limited sportsman feature. The win was Richer's third of the season at Albany-Saratoga, but he hadn't been to victory lane since the first week of June.
Dan Grignon, looking for his third straight win, started on the outside pole and stayed out front until Richer, who started sixth, used a big run off the fourth turn to finally get the lead with two laps to go. Grignon had to settle for second, with Bill August third.
"I didn't really think I had anything for him," said Richer of his pursuit of Grignon.
PRO STOCKS (DIRT SERIES): Luke Horning, Jason Corbin, Josh Coonradt, Jason Meltz. Brandon Emigh, CD Beauchamp, Jay Casey, Ed Thompson, David Emigh, Kenny Martin, Nick Arnold, Dan Madigan, Scott Towslee, Burton Ward, Rob Yetman, Brian Carter, Jason Casey, Chuck Dumblewski, Dave Sequin, Marc Lalonde, Phil Arnold, Pascal Payeur, Chris Crane, Rich Spencer, Nick Stone, Tony Markou, Dave DePaulo, Mike White, Jay Fitzgerald, Dan Older, Darrell Older, Jordan Modiano.
LIMITED SPORTSMAN: Dave Richer, Dan Grignon, Bill August, Jared Powell, Montgomery Tremont, Richard Murtagh, Thomas VanVorst Jr., Karl Barnes, Shane Larman, James Hinman, Mike Canastra, Craig Wholey, Jason Manchester, Richard Holmes, Payton Talbot, Carter Gibbons, Yule Cook, Gary VanAlstyne, Scott Bennett, John Coon, Isaac Walker.