Column By: LAURIE FALLIS / RPW – GLOVERSVILLE, NY – When word came down that Hall of Fame car owner Jake Spraker would be returning to Modified competition in 2019 with Rocky Warner, you could say the driver was not only ecstatic but relieved at the same time.
"You never know what the boss could be thinking after the roller coaster of a year we had in 2018," Warner said.
With rumors flying around that 2018 could possibly be the long time car owners last year, the pilot from Johnstown, NY was certainly wondering what his future in racing would look like.
Warner had started racing for Spraker in 2015 in the Sportsman ranks. He rewarded his car owner countless wins along with seven championships that year, including the combined Grit Series.
Rocky would also give Jake Spraker his only win on the Syracuse Mike at Super DIRT Week's Finale At The Fairgrounds.  Not too shabby for the team's first year together.
Success continued for the team the following season.  Again they won many races to go along with championships at Fonda, Albany-Saratoga and Utica-Rome.  They even captured the Mr. Dirt Sportsman title.
With the departure of Modified ace Ronnie Johnson from the team at the end of the 2017 season, Spraker felt that with all the achievements Rocky had accomplished in Sportsman, it was time for him to get his shot to take over the helm in the potent Big Block out of Spraker's stables.
The duo actually got their feet wet at the end of that season, testing the waters in the division by running a few races to gear up for 2018.  They had high expectations for a good year.
As the 2018 season unfolded, they had their share of highs and lows. It was tough going for the 37-year-old Modified rookie as the driver would openly admit.
"It's about driving a whole different animal," he said.  "Keeping your speeds up…when to hit your lifting point.  It was certainly a learning curve to say the least."
Rocky knew it would be a huge challenge controlling the horsepower of a Big Block compared to the crate.
"The power wasn't even close in comparison," he said.
Even though something bad happened to the team during the season, it actually turned out to be a positive for them.  About three-quarters of the way through last season, the #1j ran into a motor issue towards the end of a week while the team was working on the car. As they scrambled to find a motor, a familiar name came to the rescue.
That name being, Tadd Parks.  Parks himself had his time a few years back as a successful car owner with Modified standout Stewert Friesen.  With Friesen as his driver, for many years, they were the team to beat. In this instance, Parks lent Spraker his Small Block to put in Jake's Glove CityTaxi-sponsored #1j.
By doing this, it turned their season around with some great runs and a tremendous shot of confidence.
Rocky would claim a very popular win at the "Track Of Champions" and wound up forth overall in points at the Famed oval.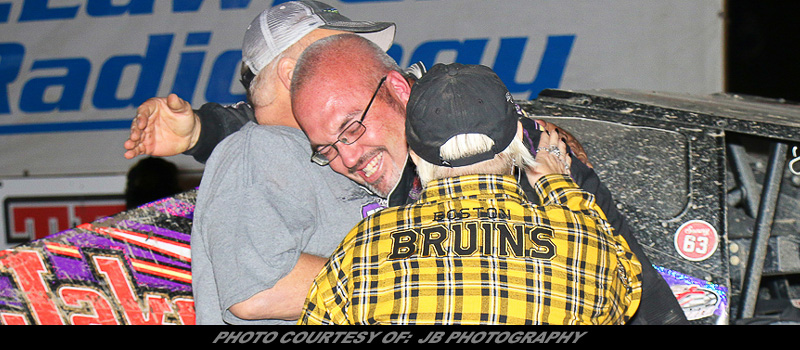 What ended up being the difference?
"I was able to be more consistent and smooth on the throttle with the Small block," he said.  "It's just a better deal for me.  I feel like I have better control of the car and that, in turn helps my confidence level."
One thing Rocky thought would happen for sure last season was a victory at his other home track, Utica-Rome Speedway.  They ran a Small Block there all year.
"I was leading one feature until the last lap," he said.  "I got too excited, jumped the berm and let one slip away.  It was a tough deal."
Was there pressure on Warner in 2018?
"The pressure of driving a Modified is greater then it was in the Sportsman, of course," he said.  "It's really on how things are rolling. Things all went our way in the Sportsman as we were winning everything there was to win. In the Modified, it was discouraging at times.  It had crossed my mind a couple of times to think maybe its best to move back down.  Jake said it wouldn't be a problem if I chose to, but this is my best shot that I'll probably ever get.  This is my chance to prove that I can be a top Modified driver and it's where I feel I want to be."
Is there pressure for Warner knowing who his car owner is?
"Racing for Jake Spraker is a tough deal," he said.  "What I mean by that is there's a lot of pressure. We all know he gives his drivers the best of everything, top of the line, that you need in a car.  You better step up."
Does Jake have expectations?  Rocky thinks so.
"Jake wants to win, of course, and I get that," he said.  "He's a very hands-on car owner.  He loves the sport and gets very involved with the whole operation."
In the end, Rocky realized that Jake knew he was a rookie, and it takes time.
"Jake has been very forgiving," he said.  "I'm thankful to him and Nancy (who does a super job with the team apparel…you can see her selling at each race) for sticking it out with me and keeping me in this great ride.  After this past year, I'm sure glad he did.  I want to prove that I can get the job done and that he made the correct decision."
The now sophomore driver knows he's up against some stiff competition in the Modifieds, but he's ready.
"Driving against the best of the best will only teach me in getting better behind the wheel," he said.  We certainly have them at our local tracks."
Rocky stated that he and the team will be running a Small Block at Fonda Speedway this season.
"Realistically, I'll be looking for wins and consistently finishing in the top five," he said.  "We'll see how things play out at the end of the season."
The team will also be at Albany-Saratoga to start the season.
"The game plan is to be competitive with the top drivers and possibly capture a victory at Malta," he said.  "We'll see how that works out on weather we continue there."
After health issues a few years back and making a miracle comeback, many thought Rocky Warner's racing career would be no longer.  However, the will to drive and race again was just what the doctor ordered as he came back stronger than ever.
With the win at the end of 2018, Warner now sits alongside Todd Hoffman as someone who has won in each division that they have competed in at Fonda…Street Stocks, Pro Stocks, Sportsman and Modifieds.  Lets see if in 2019, the Flyin' Squirrel can up the ante on Todd…winning the ellusive Modified track championship, and in turn, one in each division he has competed in.