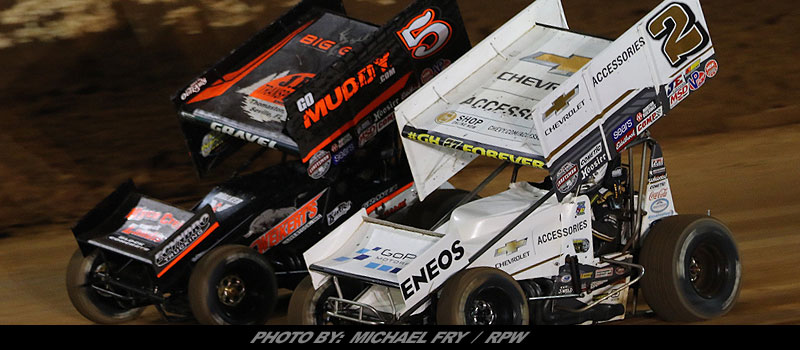 Story By: KYLE LUETTERS / CJB MOTORSPORTS – CARLISLE, PA – David Gravel and the CJB Motorsports team took to the Dirt Track at Charlotte to close out the 2018 World of Outlaws Craftsman Sprint Car Series season. The World of Outlaws World Finals presented by Can-Am was a three-day affair that saw the tandem of driver and team notch two more top-10's before ending their time together.
Action for the much-anticipated event began on Thursday, November 1st with a qualifying night that saw Gravel time in 3rd for Friday evening's event and 1st for Saturday evenings event.
On Friday evening, the #5 GoMuddy.com, Big Game Tree Stands, J.R.C. Transportation Inc., Nyce, Crete and Landis Block and Concrete, C&S Lawn & Landscape machine won heat race number six and finished 2nd in the 2nd Craftsman Club dash. Mother Nature delayed the start of the evening's events and, with a noise curfew in place, the feature for Friday night's portion of the event was delayed until Saturday afternoon. When the green flew, Gravel charged forward from the 10th starting spot.
"Our car was very good in time trials," Gravel said. "That was one of the areas we struggled on this year so it was good to finish the year on a high note there. Our heat race was good. The track was fast for Friday night since there was so much rain in the area. Our dash went well but with the split format, it makes it kind of hard because we ended up starting 10th in the feature. We put on a harder tire, like many others did, because we were afraid of them popping. We were better on the long runs and, if the feature had gone green to checker, we would have likely had a top-5."
The team quickly refreshed the #5 machine and took on Saturday nights racing action, which marked the final event of the season for the World of Outlaws Craftsman Sprint Car Series. Gravel won the 4th heat race and finished 3rd in the 2nd Craftsman Club Dash. From there, he started 6th.
"The track crew did a great job getting the surface ready for the Saturday night event," Gravel said. "The heat races were up on the cushion. We got a good start in the dash. We wanted to get two spots but got three. For the feature, we weren't bad but we faded a bit at the end and finished 7th."
In a 2nd team car, Australian Kerry Madsen turned in a respectable performance with a 13th and 8th place finishes for the event.
For their efforts, Gravel and the team finished out the season with a 3rd place finish in the final series points standings.