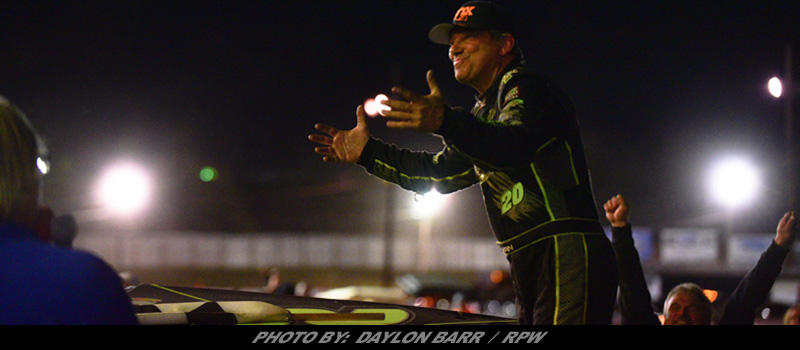 Column By: JOHN DOUGLAS / RPW – MIDDLETOWN, NY – Brett Hearn was victorious on Saturday night in the Eastern States 100. Late race controversy, cautions and hard racing were all on tap as the elite drivers of the northeast Small Block Modified ranks took to Orange County Speedway for a chance at $15,000.
Stewart Friesen grabbed the early lead as Anthony Perrego tailed him in second place after Matt Sheppard slowed momentarily. Through lapped traffic the battle for the lead tightened up until Friesen was finally able to start putting cars between himself and Perrego. Brett Hearn was biding his time in fourth place at the field completed lap No. 20.
Friesen, driving a back up C. G. Morey No. 14S, lent to him by the Vermont driver, had not been able to open up a convincing margin, as at lap 29 he only led by just over six-tenths of a second over Perrego. Friesen continued to do a masterful job in traffic, as he continued to put lapped traffic between himself and Perrego however Rick Laubach and Gary Edwards Jr. would both suffer flat tires at the same time, bringing the yellow flag out.
Friesen again pulled away from Perrego as Hearn and Sheppard were battling off turn two. Hearn grabbed the third spot from Sheppard, however that pass did not count as at least seven cars were involved with each other in turns one and two. Jimmy Phelps, Yan Bussiere and Tom Hindley were among those involved. Hindley would be done for the evening.
Friesen again led the field to the green flag with 32 laps complete but Brett Hearn was the man on the move grabbing second place from Anthony Perrego, only to give the spot back due to B-main winner Andy Bachetti's misfortunes.
Caution flew again two laps later with Kenny Tremont, Ronnie Johnson and Patrick Haas. Others were involved the red flag flew for track clean up and tending to the drivers. All drivers were okay in the incident.
As the green flag flew again with 65 laps to go, Friesen again led Perrego into turns one and two. Hearn kept his third position with Sheppard fourth.
Hearn made the move on Perrego for second place on the next circuit, and began to chase down Friesen. The No. 9S of Sheppard then began to stalk Perrego for the third position.
Gary Edwards Jr. put an end to the short green flag run by slowing in turns one and two. The caution again flew over the field. However, it was short lived and the green flag flew again with Friesen once again assuming the lead. As the top five stayed single file on the restart, mid-pack, Tyler Boniface began peeking to the topside. No progress was made for Boniface as he tested the waters on the top side.
Caution would fly again as Marc Johnson, and the No. 69 of Boniface were caught up in Bob Hentschel's spin in turns one and two.
Friesen again led on the restart as the field tried to string out single file and tick off some clean laps. Friesen's lead extended to half a straightaway over Hearn as the race finally began to take a turn toward green flag racing. Hearn had a solid lead over the third place battle between Perrego and Sheppard on lap 47.
Friesen continued to pull away as the race hit lap 50, however things got scary in turn one for Sheppard as he almost found the inside k-rail after nearly climbing the left rear tire of Perrego.
Friesen encountered lapped traffic again with 44 laps remaining in the form of Tyler Boniface and Marc Johnson but Michael Storms' No. 14 right front suspension broke in turns three and four. Tyler Dippel immediately brought out the caution again on the restart as his car shut down in turns one and two.
With the lack of green flag running tire wear became less of an issue as the laps clicked off. However, Orange County Speedway's tire wear is notorious and always something to be aware of.
The caution immediately flew yet again for Matt Janiak's machine as he faded high in turns one and two with an apparent flat left rear tire. His crew went to work changing both rear tires and sending him back out for the restart.
The field strung mostly single file into turns one and two on another restart but this time Hearn wasn't quite ready to let Friesen go so easily. Putting the front bumper as close as it's been all race to the rear of Friesen's car, Hearn looked for an opening. However, Friesen powered off turn two, immediately gapping Hearn by three car lengths and establishing the lead of the race yet again.
Still, Hearn would not be ready to give up so easily as he closed again, looking for the opening to make his move with just 25 laps remaining.
The yellow again flew as Hearn was sizing up Friesen, as debris in turn three was in the racing groove.
Again Friesen led the field into turns one and two with Hearn, Perrego, L.J. Lombardo and Sheppard in tow. However Perrego slowed suddenly and ducked to the pit lane with trouble on his No. 44 machine.
As the field ducked under the 20-to-go signal, Hearn began to reel in Friesen slowly but surely. Within one car length into turn one, Hearn again sized up Friesen's every move. Peeking low and high he looked for the gap and seemingly found one into turn three with 18 laps to go. Hearn ducked low on Friesen, pulled along side and made slight contact with Friesen.
Yellow again flew with just eight laps remaining, setting up a wild dash for the cash. Friesen fired his car off turn four and pulled away from the field immediately as L.J. Lombardo grabbed second place from Hearn quickly.
The yellow again flew for the No. 55 of Brett Haas and Joe Bonetti made contact, deflating Haas's right rear tire.
L.J. Lombardo was now behind Friesen for the restart with seven laps to go, but Hearn drove back around Lombardo to retake second place. Hearn again closed on Friesen and within two car lengths of the leader, Friesen could start to feel the pressure from behind. That was all Friesen needed to know, as he dropped the hammer on his borrowed C.G. Morey No. 14S.
Friesen again found speed in the No. 14 and pulled back out to a five car length lead with three laps remaining.
Friesen took the white flag, all the while pulling away from Hearn's No. 20. Friesen took the checkered flag, crossing the line first in the Eastern States 100 in his borrowed car. Hearn held on for second place, with L.J. Lombardo, Matt Sheppard and Brian Krummel completing the top five.
As the fans and media converged on victory lane they expected to see Friesen's No. 14S pull in. However that was not the case, as Friesen came up light on the scales in post race inspection.
Brett Hearn was declared the winner of the Eastern States 100.
"I felt bad for Stew. Said Hearn. "I've been in those shoes a couple times. It's amazing what he did with that borrowed car. You've gotta do your homework when you're getting these things ready. He didn't miss it by much."
"A lot of the big part of that race, especially the early part, was making sure you had some right rear left so if we got the opportunity to make a run we could do it."
Hearn's win makes him eligible for the Weekend Sweep award which was instituted three years ago as part of Eastern States Weekend. If Hearn wins the Eastern States 200 tomorrow, he could walk away with over $65,000.