Nick Stone Wins Inaugural World Short Track Championship Pro Stock Feature In Charlotte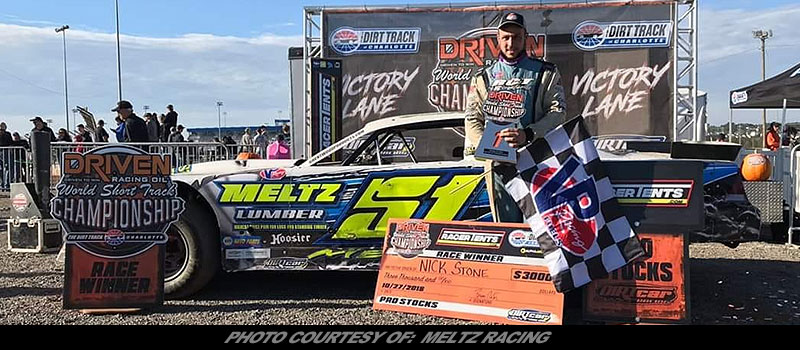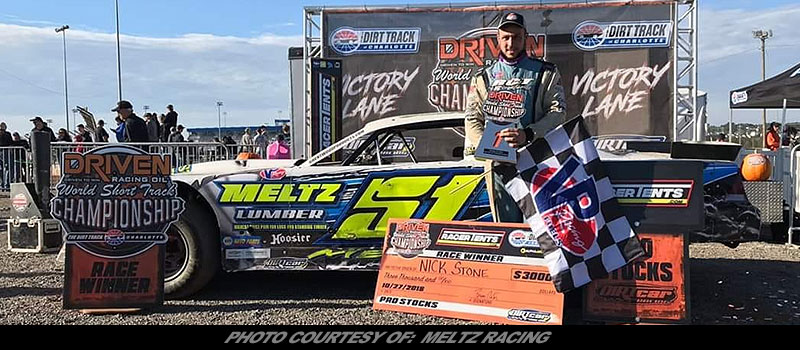 Story By: CRISTINA CORDOVA / DIRTCAR – CONCORD, NC – Nick Stone captured the checkered flag in the Racer Tents Pro Stocks Driven Racing Oil World Short Track Championship Feature.
Stone finished just ahead of drivers Chucky Dumblewski and Pro Stock Tour Champion Jocelyn Roy.
Just like at NAPA Auto Parts Super DIRT Week, the Racer Tents Pro Stocks proved to make one of the best races of the Driven Racing Oil World Short Track Championship weekend with side-by-side, two and three-wide racing action all over The Dirt Track at Charlotte.
Race-winner Nick Stone started seventh on the grid and had to battle the best Racer Tents Pro Stock drivers from the Northeast and Canada to come out on top. It was not at easy feat for Stone: "We were kinda off for our Heat Race and practice. Today we just kind of plugged away at it. We went home last night and thought we had to do something to this car. We ended up picking up a half a second. We found some issues under the hood with the motor and changed some handling stuff. We got the car handling real nice and it all worked out. We just put a lot of work into it," said Stone.
The battle for the lead was unpredictable from green to checkered flag. The top-6 went door-to-door for much of the 30-lap Feature. Nick Stone remained patient and mindful of his tires. His race-winning moves were precise and with confidence. "I could see he [Chucky Dumblewski] drifting up a little bit coming off the corner and coming in high. I just got underneath him and I figured it's gotta work one of these laps and sure enough it did. I was going a little easy at the beginning of the race. I kinda felt it was a little more abrasive out there. I knew it was going to wear tires so I was patient and go hard at the end."
Chucky Dumblewski might be getting a tired of finishing second. Dumblewski lost the NAPA Auto Parts Super DIRT Week Pro Stock finale by nose to C.D. Beauchamp, and now few weeks later, crossed the finish line second in another prestigious event: The Driven Racing Oil World Short Track Championships. The Amsterdam, NY driver had a strong weekend at The Dirt Track at Charlotte.
Third place finisher Jocelyn Roy won the Pro Stock Tour Championship this year after sealing it up at Brockville Speedway during the Loud and Dirty Northeast Fall Nationals. He was also awarded the Longest Haul Award for the north. His podium finish at the Driven Racing Oil World Short Track Championship bookends a superb year for the native Quebecker.
Rick Duzlak brought his newly-wrapped no. 29 to the Driven World Short Track Championship with high hopes and went home with the Racer Tents Pro Stocks All-Star Invitational win.
RESULTS:
Feature (30 Laps) – 1. 51-Nick Stone [7]; 2. 7D-Chucky Dumblewski [5]; 3. 48-Jocelyn Roy [2]; 4. 4-Rock Aubin [6]; 5. 35-Kenny Gates [1]; 6. 322-Jay Casey [11]; 7. 8c-Sean Corr [3]; 8. 93-Kenneth Martin [15]; 9. 324-Jason Casey [9]; 10. 315-Jonathan Routhier [8]; 11. 97-Dan Older [10]; 12. 33-Bruno Cyr [12]; 13. 6c-Brian Carter [16]; 14. 14-Michael Blais [19]; 15. 29-Rick Duzlak [17]; 16. 44B-Marco Gilbert [18]; 17. 2h-Luke Horning [4]; 18. 8-Marc Lalonde [14]; 19. 711-Rich Crane [13]; KSE Hard Charger Award: 93-Kenneth Martin[+7]
Qualifying – 1. 322-Jay Casey, 20.2; 2. 97-Dan Older, 20.301; 3. 324-Jason Casey, 20.52; 4. 7D-Chucky Dumblewski, 20.58; 5. 93-Kenneth Martin, 20.615; 6. 51-Nick Stone, 20.682; 7. 2h-Luke Horning, 20.756; 8. 33-Bruno Cyr, 20.816; 9. 711-Rich Crane, 20.86; 10. 8-Marc Lalonde, 20.953; 11. 315-Jonathan Routhier, 21.003; 12. 48-Jocelyn Roy, 21.091; 13. 4-Rock Aubin, 21.121; 14. 35-Kenny Gates, 21.24; 15. 8c-Sean Corr, 21.242; 16. 44B-Marco Gilbert, 21.29; 17. 29-Rick Duzlak, 21.382; 18. 6c-Brian Carter, 21.483
Heat #1 – Flight (A) (6 Laps) – Top 10 Transfer – 1. 324-Jason Casey [2]; 2. 322-Jay Casey [1]; 3. 2h-Luke Horning [4]; 4. 315-Jonathan Routhier [6]; 5. 4-Rock Aubin [7]; 6. 8c-Sean Corr [8]; 7. 711-Rich Crane [5]; 8. 93-Kenneth Martin [3]; 9. 29-Rick Duzlak [9]
Heat #2 – Flight (A) (6 Laps) – Top 10 Transfer – 1. 97-Dan Older [1]; 2. 7D-Chucky Dumblewski [2]; 3. 33-Bruno Cyr [4]; 4. 51-Nick Stone [3]; 5. 48-Jocelyn Roy [6]; 6. 35-Kenny Gates [7]; 7. 8-Marc Lalonde [5]; 8. 6c-Brian Carter [9]; 9. 44B-Marco Gilbert [8]