Column By: LAURIE FALLIS / RPW – FONDA, NY – As I was venturing into my next project, my path took me to the most historic track in New York State, the Fonda Speedway, otherwise known as the "Track Of Champions."
As I pulled in, I looked up and saw the billboard of legendary Modified racer Jumpin' Jack Johnson hanging high on one of the buildings.  I took a moment to reflect on how lucky I really was to have such a prestigious track in my own back yard.
It made me wonder.  Do people realize the history and "Great" drivers that started their racing careers at the speedway?  Drivers that were able to go on to amazing racing careers…where their roots were started?  Or, they may be those they show up religiously every Saturday night contribute to the legacy of this unique speedway, all the while maybe never being lucky enough to grace checkered board square and get the recognition they deserved..  All have been just as important to the fabric of this grand ole' track.
Drivers like Lee Wallard, a gentleman who won an event at the speedway in 1937 who in turn went on to win the Indianapolis 500 in 1951.  Steve Danish was crowned champion in 1953. Lou Lazzaro, Bill Wimble, NASCAR's King, Richard Petty, Bobby Allison, Will Cagle, another NASCAR Hall of Famer Jerry Cook, Pete Corey, Dave Lape, CD Coville, not to mention the Romano family and the list goes on. There are just too many to mention.
I have been lucky enough to have seen some of the best of the best race around Fonda.  Whether they won or lost, they all have contributed to the history of the speedway.  What's best about it is that the younger generation of drivers today are still carrying on the great traditions of the track, and Fonda is still putting out great drivers.
Look at current-day veteran Bobby Varin, the 2018 Modified Track Champion, who is having a Hall of Fame career on dirt. Can't forget about Stewart Friesen, who has found his way to the NASCAR Camping World Truck Series, a series where it is only a matter of time before he finds victory lane.  They are two of the many who are paving the way for young guns like Josh Hohenforst and Jeremy Wilder as they attempt to put themselves in the record books.  Even in 2018, we have to mention young 11-year-old sensation of Derrick McGrew Jr., the newest champion in the Limited Sportsman.  These are just a few that will ultimately be stars continuing the historic track this speedway is on.
However, to understand the history of Fonda, you first must look at the people in charge.  The speedway has also had many characteristic promoters over the years that have kept the spirit alive.  Having top drivers while trying to give them the best track conditions they possibly ask for while being able to give the fans the excitement and hard racing they've come to expect.  The current promoter is one of the hardest working men ever to hold the position.  That man is Pete Demitraszek.
Demitraszek wears many hats when it comes to Fonda.  That was evident as I pulled in on this night.  Pete was on the tractor cleaning up the grounds after the week-long Montgomery County Fonda Fair, getting things back into place so we could get back to what we all love, racing, which starts back up this coming Saturday.
I wasn't sure what my first question was going to be, but figured start with the most obvious, how he became so passionate for the sport.  How did he get involved.
"Vern Vogel brought me down in the late 70's when I was around 15 years old," Demitraszek said.  "At the time, he was helping Jack Farquhar and what I remember walking into the pits that first trip was being amazed at the cars, the noise that was in the air was something amazing.  Everybody was running around working on their cars and getting them ready to hit the track.  There was a lot of commotion I remember from them days.  The work on the cars were mainly done at the track rather than home in the shop.  I knew, from that day forward, this was the place I wanted to be from here on out. That is when the racing bug took over."
One driver that stuck out to him, and in which he became glued to, was "Super CD" Coville.
"CD was a very aggressive driver and it was all business when he hit the track," he said.  "His only goal was to win that race, and then move on to try and win the next, and the next."
Pete became a major part of CD's team as he would become a wrench for the infamous #61.  After years apart Pete, with Pete now at the helm at Fonda, the promoter brought "Superman" back home.  In 2018, CD has been turning laps, once again, at the "Track Of Champions," albeit behind the wheel of the track's pacecar.  After all these years, what made Pete reach out to CD?
"I just like being around him," Demitraszek said.  "To be honest, I'm sure happy I did.  He's done wonderful things at the Fonda Speedway Museum with social media and showing people the rich history there is at this track.  We must persevere our history.  People need to know the drivers that raced at Fonda who paved the way to where we are today and of course the buzz around CD Coville just being CD.  His personality alone is something special to have and he is a great ambassador for the track."
I then proceeded to ask Pete how did you even get involved in the promotion side of racing?
"It kinda just happened when Mike Romano and Jake Spraker ended their tenor at the Glen Ridge Motorsports Park," he said.  "I sat down with Jim Hayes, co/owner of the track, and he stated that there was nobody to take it over and that the brothers had no interest in being involved in the promoting aspect of running a track.  In order to keep it going, I decided to stepped in."
Then, came the chance to run his childhood home.
"Word started to circulate that Matt DeLorenzo was going to step down as promoter at Fonda," he said.  "I felt like I needed to step up because there wasn't much interest to take over and I felt it needed to stay a weekly track.  I certainly didn't want to see racing end at the 1/2 mile, so in 2016, I took over running Fonda as well as the Ridge at that time."
Pete would leave that position at Glen Ridge midway through 2017 to concentrate his efforts on the Track of Champions, and focusing his efforts on one track has been paying off.
"We have a very good core of racers at Fonda and that is something I am very thankful for," he said.  "The array of talent from veterans to our young drivers is just amazing.  They are the ones that will keep our sport going."
Pete proudly stated that Fonda has the highest paying purse on a weekly basis in the area's surrounding tracks for the Modifieds, Sportsman and Pro Stocks.
"I feel that giving drivers more each week helps them financially to keep their racing program going," he said.  "Yes, my point fund isn't as high as other tracks, but I guess when it comes right down to it, do you want to get more each week or at the end of the year?"
I then asked Pete why he does this each week.  What drives him?
"I like racing, simple as that," he said.  "I don't really like the aggravation that comes along with it, though.  That takes more of a toll on you mentally then the actual physical part of running the track. I love Fonda.  Always have.  Always will.  I just want to keep it going."
Pete has now been in charge of the track along the Mohawk river for just shy of two years, but he's been in racing, as we stated, for nearly four decades.  I asked him what direction has he seen the sport take?
"I feel teams with more money and resources defiantly have the advantage today," Demitraszek said.  "In the past, it was about out-smarting your competitors.  Drivers were building their own parts.  You had to be a craftsman.  It was a lot harder back then for sure. Today, it's bolt-on stuff and don't get me started on the price of motors…WOW.  However, you certainly can not blame Troyer or Bicknell for the ways the cars handle so well today because they were inventors back then and it took off from there."
What is the toughest part of being a promoter?
"It is difficult trying to attract fans and new drivers," he said.  "It's always going to be a challenge and I feel I have to keep improving as well.  I have my faults, just like everyone else.  Not being a personable person I am taken the wrong way plenty of times."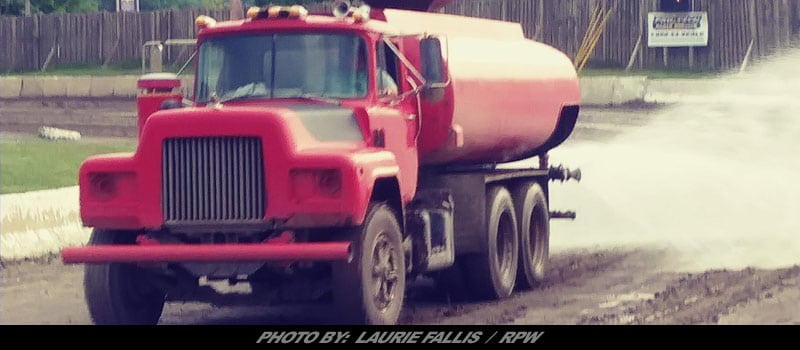 Does Pete listen to others when it comes to ideas and decisions regarding Fonda?
"Former promoter Rick Lucia had given me a lot of advice," he said.  "From when I first took over, he has been 100% accurate on what he's told me with how things would pan out.   He still gives me pointers on what's right and wrong and is very insightful about racing still to this day."
The Demitraszek family is very involved with the speedway to make sure things are run as smoothly as possible. Pete's wife, Cindy, manages the money.  His daughters, Christina and Charleen, handle the food and admissions while son, Matt, is the track manager.  It's truly is a family affair.
"I want to thank the Fonda Fair Board for being a great bunch of people to work with," he said.  "They are big supporters of the racing that goes on at the track and I am very appreciated of this.  It makes things a lot easier for sure.'
I then asked Pete, when you hear 'Fonda Speedway,' what comes to mind?
"That's simple," he said.  "Fun.  Fun, history, great times and hard work."
With as much as he works, you'd think Demitraszek looks forward to the off-season each winter.  Pete just gave me 'that look.'
"There is no off-season," he said with a laugh.  "You're going to trade shows, learning more about racing, getting sponsors, scheduling for the upcoming season.  You may slow down a little, but it's no break."
I had to ask Pete because I'm so involved with this, but is it important to have vintage racing at Fonda?
"Absolutely," he told me.  It gives the younger generation a chance to see what the cars used to look like. They had character to them back then and the young fans need to see this to keep our past alive. We need the younger generation to get involved to keep the history of this track going for the next generations to come and enjoy."
Full disclosure, the vintage groups personally want to thank Pete and his crew for the support they give to the Mohawk Valley Vintage Dirt Modified Series and Classic on Dirt. The thrill of letting racers bring their cars in and park on the old dragstrip in the center of the track 'like the old days' is very appealing to the fans and drivers alike.  It is very much appreciated.
As I conclude, I would like to say thank you to Pete for taking time out of his busy schedule, which includes working a regular day-job before heading to the track and working until dark, to speak with me. I'm sure his days are short. I always enjoy my time at Fonda and was thrilled I had the chance to sit down with him for this story.
One thing is for sure.  Pete Demitraszek truly cares about Fonda and has a very strong passion for the speedway's well being along with its history.  He's a perfect person to lead at the "Track of Champions."
Note: On tap for the weekend is racing.  Yes, racing is getting back underway at the speedway.  All divisions will be in action plus the popular 13th Annual Hondo Classic which pays tribute to fallen Pro Stock competitor, Hondo Carpenter, who passed away several years ago. The CRSA Sprint Cars along with the Mohawk Valley Vintage Dirt Modified Series will also be in action.
Fans don't want to miss out on this jammed night of spectacular racing along the Mohawk.