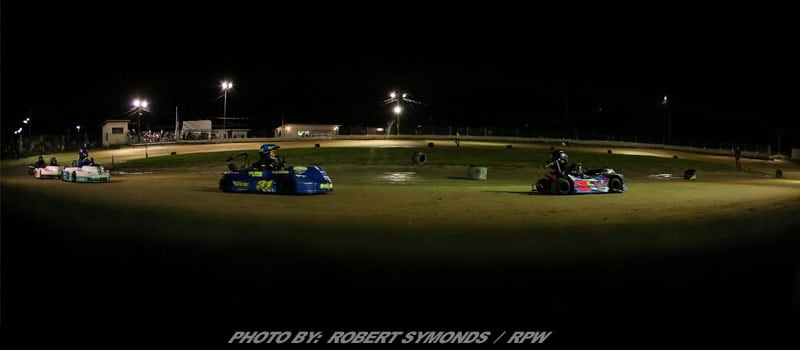 Column By: ROBERT SYMONDS / RPW – ADDISON, NY – As you roam the western outskirts of Addison, where the river meets the edge of the state highway, the Moes Karting World facility sits dormant after their final Friday event.
Rick Moses, who raced all over the Northeast in his own go kart team, decided to take a new venture in 2002 by giving back to the racing community and opening up his own go kart track. Throughout his 16 years of owning and running the facility, he had spent a majority of the time improving to the kids kart programs.
"I decided on a whim to get something together," Rick Moses noted before the start of the Friday September 7, 2018 event. "Get the families and kids all focused on one thing rather than TV or Video Games."
Each year, Rick "Moe" Moses added onto the facility by building new fences or re-configuring the track. Moe also had shaped the kart programs by offering trophies or even money bonds to use after graduation. This all happened as kids and families had to follow rules regarding behavior.
"For years we had rules to where if the kids were misbehaving in school or getting in trouble, we wouldn't let them race. Through this, we had a lot of parents and teachers call me and say what a difference it made."
As Moe continued, he said that the rules was the good thing about the whole track. "Keeping kids out of trouble at home and school."
In reflection of the tracks history, Moe added that a lot of kids had moved on from the kids karting programs and have continued their racing career. The names of Kenny Peoples Jr, Dillon Groover, Brett Marlatt, Dylan Cecce, and Steve Hartman III had all moved from racing Go Karts at Moes Karting World to racing full sized cars at Woodhull and Outlaw Speedways.
To conclude the interview, Moe also reflected on the people whom helped the track throughout the years. "It has been a very successful track. We have had a ton of sponsors over the years. A lot of people have helped out but I would like to thank them all."
In the coming weeks, Moe plans to level the current race track and move the grandstands and concessions to an appropriate location on the facility. The addition of a stage will be made to create a concert venue at the end of 2018 and in 2019 and the future.