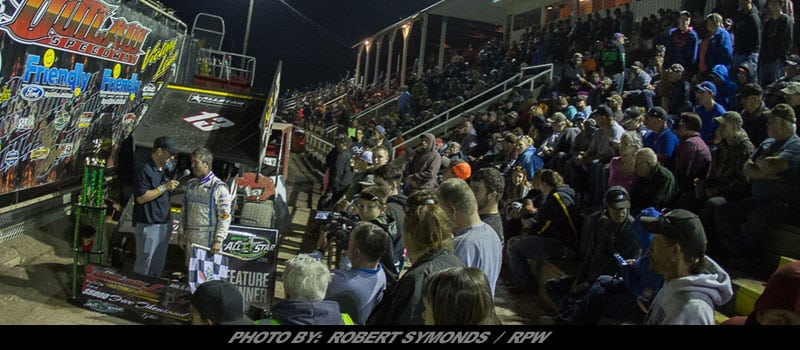 Story By: TYLER ALTMEYER / ALL STAR CIRCUIT OF CHAMPIONS – BROWNSBURG, IN – Tony Stewart's Arctic Cat All Star Circuit of Champions presented by Mobil 1 will return to New York and Pennsylvania during their upcoming weekend schedule, first setting aim on an oval just south of the Finger Lakes in Central New York, followed by a return to Pennsylvania Posse Country.
The weekend doubleheader will award a total winner's share equaling $15,000 which includes a $10,000 payday for the winner of the Jim Nace Memorial/36th Annual National Open at Selinsgrove Speedway.
Outlaw Speedway in Dundee, N.Y., will welcome the All Star Circuit of Champions for the second time of 2018 on Friday evening, September 14. Certainly one of the most exciting ovals in the Empire State, Nashville, Tennessee's Paul McMahan was the victor during the first All Star visit of the season, holding off Gettysburg's own Danny Dietrich and six-time All Star champion, Chad Kemenah.
As an added bonus for fans, Tony Stewart, three-time NASCAR Cup Series champion and owner of the All Star Circuit of Champions, will join his Series during action on Friday night hunting for his second All Star victory of the season and another $5,000 top prize.
The All Star Circuit of Champions have certainly made their presence known in the Keystone State, but that will all come to an end this Saturday night, September 15, as the traveling All Stars are set to make their final Pennsylvania appearance of the 2018 season. Selinsgrove Speedway, less than an hour northeast from their recent 'Speed Palace' appearance in Port Royal, will welcome the traveling bunch for the Jim Nace Memorial/36th Annual National Open. The marquee event will award a $10,000 top prize; an award taken by 'Blackjack' Brian Brown in 2017.
In actuality, Pennsylvania will not be the only state to host the All Star Circuit of Champions for the final time of 2018 this weekend, as New York will host the All Stars for the last time on Friday during their invasion of Dundee. Only two events will remain on the 2018 All Star campaign once action at Outlaw and Selinsgrove is complete; Eldora Speedway on September 22 and Kokomo (Ind.) Speedway on October 6.
A battle that will stretch down to the wire, Aaron Reutzel and Carson Macedo will enter the All Star doubleheader with only 18 markers separating the two, Reutzel with the upper hand heading into Outlaw Speedway. Although Reutzel doubles Macedo in the win column, eight and four victories, respectively, it has been Macedo's consistency and ability to finish races that has kept the Lemoore, California-native in the title hunt. Aaron Reutzel bettered Macedo during their first visit to Outlaw Speedway on June 8, crossing under the final checkers fourth in the running order just four spots ahead of Macedo.
Although currently third in the championship standings and 110 points behind Aaron Reutzel, Alvada, Ohio's Chad Kemenah is certainly not out of championship contention. The six-time and defending Series champion hopes to catch Reutzel and Macedo off-guard during the next two events and capitalize on any mistakes the pair may make. Paul McMahan and Dave Blaney will enter the weekend fourth and fifth in the championship chase, respectively.