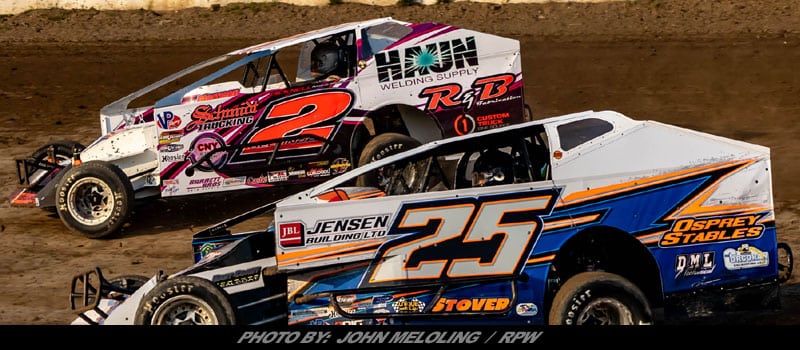 Story By: DAVE MEDLER / FULTON SPEEDWAY – FULTON, NY – Fulton Speedway ready for excitement this Saturday, August 11 when Billy Whittaker Cars & Trux will present a night of racing thrills, Fan Fest and the night will be capped off with carnage from the $1,000-to-win Trailer Race.
On the race card will be the Tracey Road Equipment DIRTcar Modifieds, SUNY Canton DIRTcar Sportsman, Billy Whittaker Cars & Trux RUSH Late Models and E&V Energy Novice Sportsman.
Adult grandstand admission is $15 with everyone 18 years old and younger free. Pit admission is $27 Member, $30 Non-Member.
Billy Whittaker Cars & Trux Fan Fest will take place after hot laps approx. 6:15. Racers will bring their cars up to the midway where fans can get up close to the cars, take pictures, get autographs and talk with their favorite drivers.
Have you always wondered what a night was like in the pits? Billy Whittaker will pit his hauler and DIRTcar Modified in the midway the entire evening so you can get up close to what a race night is like for a race team.
The night will end with the famous $1,000-to-win Trailer Race that is run at speedways across the country. The object is to take an old car or truck and attach an old popup camper, camper, boat that is on a trailer. When the green flag waves the carnage will start with competitors trying to take out as many trailers they can with the winner being the last one standing with their trailer still attached to their vehicle
There is also a rule in place that you cannot just make laps around the speedway to avoid contact. If officials decide that is happening they will be disqualified.
PURSES AND AWARDS:
1. 1st Place – $1,000, 2nd place – $300, 3rd place – $200
2. "Master of Destruction Award" – $100 – Awarded (by fan vote) to the driver that takes out the most trailers and/or puts on the best overall show.
3. "Most Unique Entry" – $100 – To the driver that has the most unique tow vehicle/trailer entry.
4. "Best Appearing Entry" – $100 – To the driver that has the best paint/graphics job on tow vehicle/trailer.
If you want to participate see complete rules by going to www.fultonspeedway.com . Once there, on the right-hand side of the website click on the Trailer Race graphic on the right-hand side. The rules and entry form are at the bottom of the page. Entry is free until August 11.
Race Day Schedule:
4:30pm Pit Gates Open
Trailer Race Registration and Inspection Begins
5:55pm Hot Laps for DIRTcar racing
6:15pm Fan Fest in Midway
7:00pm DIRTcar Racing Begins
Approx 9:30pm – Trailer Race Begins