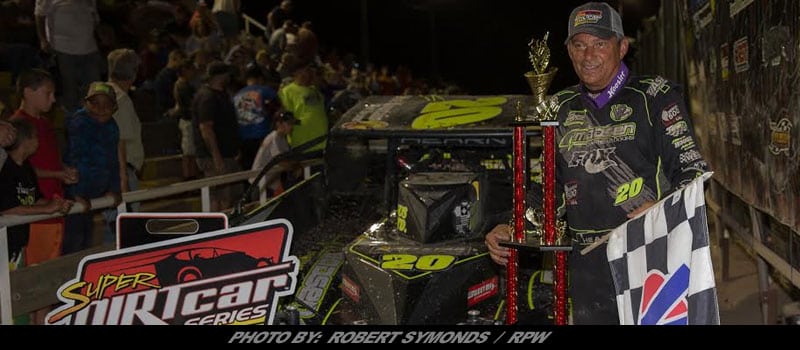 Column By: JOHN DOUGLAS / RPW – DUNDEE, NY – It's been almost three years since Brett Hearn found himself in Victory Lane for a Super DIRTcar Series race outside his stomping grounds of Albany Saratoga Speedway and Lebanon Valley Speedway. On Tuesday night, that streak ended in spectacular fashion. Having little experience at the Outlaw Speedway in Dundee, N.Y., Hearn was unsure of his speed at the 4/10ths mile oval.
Quickly in the 100 lap feature it was clear Hearn had the speed he needed to contend as he slipped in front of pole sitter Erik Rudolph. As others including Jimmy Phelps, last Sunday Night's winner at Utica Rome Speedway, worked their way through traffic, the first caution of the night flew when Brian Swarthout's car made contact with the wall. Swarthout was uninjured in the accident but his night was over early.
Off the restart Stewart Friesen quickly moved to second place and then by Hearn for the lead. Hearn kept Friesen in sight but wasn't sure if Friesen had any real advantage over the field. "Stew got by me but I'm not sure he was any faster than I was."
However, Friesen maintained his advantage through multiple cautions and looked to have things in hand barring any disasters.
As the laps clicked off the score board, the racing from fifth through tenth became dicey, as Phelps, Max McLaughlin, Erik Rudolph and others all tried to assert themselves among the top five. Phelps, unfortunately, saw his night come to an end as he took out a yuke tire and was clipped by a passing competitor's car. His crew were unable to affect repairs and the series' most recent winner finished 26th.
Friesen continued to lead through multiple cautions, which allowed Matt Sheppard to move into the mix. Slotting into third position just past halfway, the Waterloo, N.Y. native was committed to the bottom groove in the early going but soon found the bottom to be "a death sentence" in turns one and two. Sheppard came close but never found his way past Hearn for second place.
As the final ten laps began, Friesen looked to have his second points-paying win on the 2018 season in the bag when suddenly his car slowed on the speedway. Friesen immediately pulled off track with a major mechanical issue and was out of the event just a few laps from the finish.
Hearn inherited the lead, however one final caution flag flew over the field giving Sheppard one decent shot at the win. Fortunately for Hearn, he and his car were up to the task, as he held off Sheppard for his 139th career Super DIRTcar Series victory.
Danny Johnson remained strong with a third place finish, giving him three top-3 finishes in a row, with Erik Rudolph and Tim Fuller rounding out the top five.
"Wow, a car that stayed good for a whole hundred laps." Hearn said as he exited his car in victory lane."I saw him (Friesen) wiggle a little bit down the front straightaway and he slowed up. I was like man that doesn't look good. I made a left hand turn and got down to the slick part of the track. I didn't know how close third was to me but once I cleared him I just tried to get back to the top and get into my rhythm. We had a couple close calls with lapped cars and just everything worked out great."
The stars of the Super DIRTcar Series have a few days off before they reconvene for their next event at the Orange County Fairgrounds Speedway on July 19th.
A-main (100 Laps)
1. 20-Brett Hearn [2]; 2. 9s-Matt Sheppard [12]; 3. 27J-Danny Johnson [9]; 4. 25-Erick Rudolph [1]; 5. 19-Tim Fuller [11]; 6. 91-Billy Decker [7]; 7. 6h-Max McLaughlin [20]; 8. 7x-Steve Paine [18]; 9. 42-Pat Ward [5]; 10. 8-Rich Scagliotta [17]; 11. 21a-Peter Britten [8]; 12. 63-Adam Roberts [19]; 13. 5st-Tyler Siri [6]; 14. 23-Kyle Coffey [3]; 15. 96-J-F Corriveau [22]; 16. 21p-Derrick Podsiadlo [16]; 17. 70-Brady Fultz [21]; 18. Z-Butch Tittle [25]; 19. 48t-Dave Rauscher [15]; 20. 34-Andrew Ferguson [13]; 21. R2-Rusty Smith [23]; 22. 17-Marcus Dinkins [24]; 23. 14s-Brian Swarthout [26]; 24. 44F-Stewart Friesen [4]; 25. 14J-Alan Johnson [14]; 26. 98h-Jimmy Phelps [10]
KSE Hard Charger Award: 6h-Max McLaughlin[+13]
Qualifying – Super DIRTcar Series Flight-A
1. 27J-Danny Johnson, 14.558; 2. 5st-Tyler Siri, 14.654; 3. 9s-Matt Sheppard, 14.802; 4. 23-Kyle Coffey, 14.97; 5. 96-J-F Corriveau, 15.068; 6. 34-Andrew Ferguson, 15.107; 7. 21p-Derrick Podsiadlo, 15.144; 8. Z-Butch Tittle, 15.383; 9. 63-Adam Roberts, 15.431
Qualifying – Super DIRTcar Series Flight-B
1. 6h-Max McLaughlin, 14.77; 2. 21a-Peter Britten, 14.772; 3. 25-Erick Rudolph, 14.779; 4. 20-Brett Hearn, 14.859; 5. 42-Pat Ward, 14.862; 6. 14J-Alan Johnson, 15.273; 7. 8-Rich Scagliotta, 15.307; 8. R2-Rusty Smith, 15.434; 9. 14s-Brian Swarthout, 15.888
Qualifying – Super DIRTcar Series Flight-C
1. 91-Billy Decker, 14.586; 2. 44F-Stewart Friesen, 14.629; 3. 19-Tim Fuller, 14.915; 4. 17-Marcus Dinkins, 14.947; 5. 98h-Jimmy Phelps, 15.1; 6. 48t-Dave Rauscher, 15.113; 7. 7x-Steve Paine, 15.303; 8. 70-Brady Fultz, 15.35
Heat #1 – Flight (A) – Spon.-1 (8 Laps) – Top 9 Transfer
1. 27J-Danny Johnson [1]; 2. 9s-Matt Sheppard [3]; 3. 5st-Tyler Siri [2]; 4. 23-Kyle Coffey [4]; 5. 34-Andrew Ferguson [6]; 6. 21p-Derrick Podsiadlo [7]; 7. 63-Adam Roberts [9]; 8. 96-J-F Corriveau [5]; 9. Z-Butch Tittle [8]
Heat #2 – Flight (B) – Spon.-2 (8 Laps) – Top 9 Transfer
1. 25-Erick Rudolph [3]; 2. 20-Brett Hearn [4]; 3. 42-Pat Ward [5]; 4. 21a-Peter Britten [2]; 5. 14J-Alan Johnson [6]; 6. 8-Rich Scagliotta [7]; 7. 6h-Max McLaughlin [1]; 8. R2-Rusty Smith [8]; 9. 14s-Brian Swarthout [9]
Heat #3 – Flight (C) – Spon.-3 (8 Laps) – Top 9 Transfer
1. 91-Billy Decker [1]; 2. 44F-Stewart Friesen [2]; 3. 19-Tim Fuller [3]; 4. 98h-Jimmy Phelps [5]; 5. 48t-Dave Rauscher [6]; 6. 7x-Steve Paine [7]; 7. 70-Brady Fultz [8]; 8. 17-Marcus Dinkins [4]