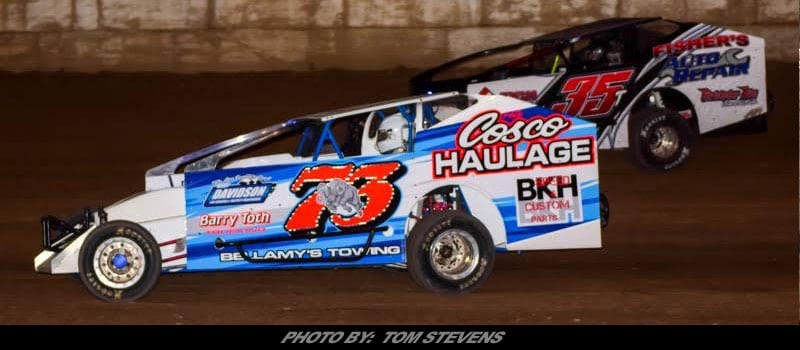 Story By: STEVE PETTY / RANSOMVILLE SPEEDWAY – RANSOMVILLE, NY – Bailey Brothers Inc, a Niagara County-based landscaping company, is presenting the second week of racing action this coming Friday, May 18 at the Ransomville Speedway.
Besides presenting the racing program this Friday night, Bailey Brothers Inc. is the official sponsor of the Kids Club. Kids aged 3-12 are invited to take part in the Bailey Brothers Kids Club activities each race night from 6:00pm-7: 15 pm. Activities range from coloring contests, games, and pit tours! All kids receive an official Bailey Brothers Kids Club t-shirt!
Week two of the 2018 campaign will feature the Krown Undercoating 358 Modifieds where third-generation driver Erick Rudolph is looking to start the season two-for-two. Adam Leslie of Port Colborne, Ontario made his first trip to Ransomville and earned his first career victory in the Investors Service Sportsman. Chris Dziomba scored the win in the KiPo Chevrolet Street Stocks for his first career Ransomville triumph for the driver from North Tonawanda. Niagara Falls, NY pilot Anthony Hermanson, and Appleton's Cody Wolfe are looking for their second win of the season in the Gippster's Collision 4 Bangers, and Stevenson's Hardware Novice Sportsman respectively.
The Friday, May 18 program will also feature the popular Autograph Night! Fans will have the chance to go to the racetrack and pick up autographs and goodies from their favorite driver! Pit gates will open at 5 pm with grandstands opening at 6 pm and the first green flag of the night will fly at 7:15 pm sharp. Grandstand admission is $15 for adults, $13 for seniors, kids aged 9-12 are $8 and under 8 is FREE!