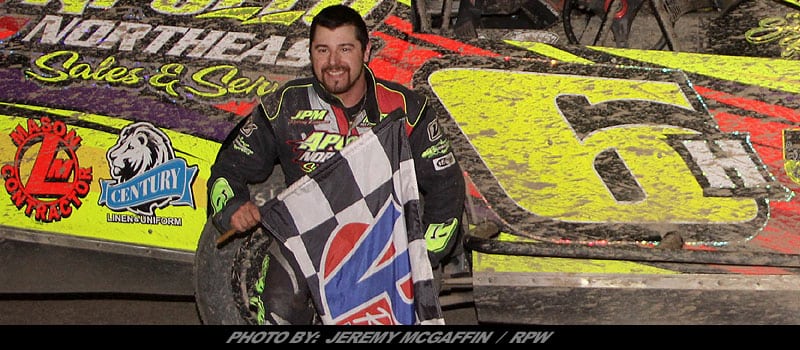 Column By: LAURIE FALLIS / RPW – GLOVERSVILLE, NY – Josh Hohenforst is a racer, and I was able to sit down with the seasoned pilot from to talk about where he has been and the direction that he is taking to be a top contender at the "Track Of Champions," the Fonda Speedway, in 2018 as he chases the ever exclusive track championship.
Josh has always been involved around racing.  At a young age, his dad, Dan Hohenforst, tried his hand in the Sportsman ranks for a few races at Fonda.  However, when Josh was five years old, his father decided to drop the idea of racing himself and put his son in a go-kart to focus on his racing aspirations.
Josh would race karts for 10 years.  Along the way, he collected many wins and championships at the various tracks he competed at.  After the completion of the 2003 season he felt that he had accomplished everything that there was in the kart class.
"It become boring to me," Hohenforst said.  "It was time to take the next step and begin a new chapter in my racing career."
In 2004, at the age of 14, the decision was made to get a Sportsman car and race at the Fonda Speedway.  However, he also continued with kart racing on Friday nights.  He wasn't ready to give it up completely.  Ironically, the first car that Josh bought was the very same 1989 Champ Car that his dad had driven back in the days of his racing.
Josh's rookie season was far from successful, but it was a learning experience for the young pilot.  He was able, though, to get his first Sportsman feature win, putting a happy ending to long season.  He would race at Fonda and a few shows at the Glen Ridge Motorsports Park for the next three years, getting victories at both tracks.
It was time for a change, once again.  Josh and his crew decided that they wanted to try something different, so in 2007,  they ventured off to Malta where they made the "Great Race Place " their home track for the next 2 seasons.  Hohenforst ran in their Sportsman class, racking up a couple wins and finished second and third in points, respectively.
"We certainly had a lot of fun running Malta," he said.
In 2009, the Hohenforst team decided it was time to head back to the track they considered home, Fonda.  They ran a Small Block car and would race it at both Glen Ridge and Fonda in the Modified class.  According to Josh, it was rough.
"That year was one that we should just soon forget," he said,
The Ridge was tough on him and at Fonda, he was involved in a bad wreck in turn one with the veteran "Jumpin" Jack Johnson.  Both drivers did not come out in good shape.
The tough year did not get the eager driver looking down on the sport.  He loved what he was doing, so in 2010, the team decided to get a Big Block engine and see if it truly would be the "Apollo Rocket."  Unfortunately, the struggles and misfortunes kept coming for the Gloversville, NY-native.
Even with the tough times, Josh never gave up on his ability.  Finally, in 2014 at Fonda, his dedication and hard work paid off as he claimed his first career Big Block feature win…an event that paid $2,200-to-win and, to this driver, it was hitting the jackpot.  Josh also claimed a victory at Glen Ridge in that same year.
Over the next couple of years, Hohenforst gained more experience, and started to feel more comfortable with the Big Block power.  He started to learn more with each race he ran, and it started to show with more consistency each week.  That landed him finishing in the top 5 in points over the next two years.
In my eyes, 2017 was Josh's breakout year as he collected two wins, several top 5 finishes and another top five in points.  If not for early season motor issues and a broken wheel that cost him a potential win, you have to wonder "what could have been."  But, as they say in racing, you must take the good with the bad.  However, last season showed Josh and this team are a force to be reckoned with.
On a last minute decision, Josh also made the trip to famed Eldora Speedway, where he qualified for the main event through his heat race and started 16th.  He didn't get the finish that he wanted, but survived the whole race.  That alone was a victory to him.
The team wanted to race Sharon Speedway on their way home, but luck was not on their side.  They were setback with a flat tire on their hauler with no spare mounted to put on. After the hassle of getting a tire put on, they thought it was best just to head back home.
"Maybe it was meant to be," he stated.
Now on to 2018.  Coming off a solid season, going into the winter months, Josh had made the decision to go from a Teo Pro Car to a DKM Cyclone Chassis.  With the move, he will be traveling into the unknown, but is confidant that it was a good move.  He is looking forward working with the guys and excited to see how it goes.
A big plus this season is that DKM will be at the track every Saturday night there to help him if needed.  Not only that, everyone who are a part of the chassis company are racers. His is also having his powerplant freshened by LJL Kevlar, hoping the motor will give him the power he needs to visit victory lane.
I asked Josh what his goals were for 2018 season.
"I want to have a good, solid season," he said.  "I want to be consistent, and with that the wins will come.  Hopefully, in the end, we can capture the Fonda Speedway championship."
Hohenforst feels his confidence is at its highest level and that all his ducks are in a row to get the job done. Certainly, having lady luck on his side is always good as well.
Josh could not be where he is without his sponsors:  Apollo Northeast, LM Masonry, Empire Automotive, Euphrates Cheese as well as the people who help him at the track along with his girlfriend, Kayla, who has the fun job of washing the car each week.
Now, let me tell you about the personal side of "The Apollo Rocket."  Hohenforst was born March 25, 1990. His occupation is a Tractor Trailer Driver for Cason Transport out of Duanesburg N.Y.  Josh's biggest influence in racing, of course, was his dad.
The reason Josh carries the # 6H, is that his father had the # 6 and he liked Mark Martin #6 and the H for his initial of his last name.  His favorite driver growing up was Jack Johnson.
"Not only was he a unique driver, but he helped me a lot in racing," Josh stated.
No surprise, Fonda Speedway is his favorite track.
"Fonda is just fast and I love 'rippin it' on the outside," he said.  "You can pretty much flatfoot it all the way around."
As a driver, Josh is always learning, trying to sharpen his skills and would love to travel more.  However, his work and budget doesn't allow this to happen.  I then asked him what the most challenging part of supporting a successful Modified team was.
"Racing on a budget," he said.  "The money I earn working and the prize money we make each week at the track goes right back into the racecar."
Driving against guys who do it for a living with more seat time is such an advantage.
His favorite moment in racing was winning his first Sportsman race and passing Bobby Varin for one of his victories last season while his flip at Fonda with his idol, Jack Johnson, was of course his worst moment.
When not working or racing, Hohenforst enjoys going for rides on his Harley and snowmobiling.  He also likes hopping on a boat when he gets a chance with his busy work schedule.  His favorite food is pizza and wings, but also loves a good steak.  He enjoys all music but will most likely be having it on a country station.
As we concluded our time together, Josh realized that with his 28th birthday fast approaching, he has been racing for 23 years and the passion and desire is stronger than ever.
With his program in place, and having all the pieces he thinks he needs,  look for Josh's #6H to shine in the 2018 season.
I would like to thank him for taking the time in sharing his racing history and wish him the very best of luck and safe voyages around the famed oval.
Josh will be having his new machine, lettered by DH Graphx, on display at the Viaport Rotterdam Mall on March 16, 17 and 18 for the Fonda Speedway car show, It's a car you don't want to miss.
As I close, I am looking forward to the 2018 racing season, having the dirt fly and the smell of racing in the air. As always looking forward to spending time with family and friends who love the sport I do "Dirt Track Racing," and always meeting new people.
Bless our troops and see you all soon.