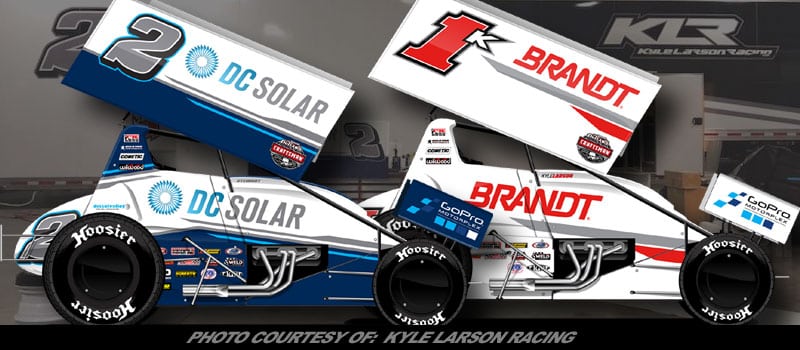 Story By: ANDREA LARSON / KYLE LARSON RACING – MOORESVILLE, NC – The Kyle Larson Racing team and Shane Stewart have been anxiously awaiting the start of the season since the drop of the checkered flag in Charlotte. After three long months, they will be back on track Wednesday, February 7 at Volusia Speedway Park in Barberville, Fla., for five nights of racing during the DIRTcar Nationals.
NEW NAME: During the off season, Kyle Larson shifted into sole ownership of Larson Marks Racing, with the sprint car team now running under the Kyle Larson Racing banner. Justin Marks is still involved with KLR in an advisory role.
NEW COLORS: When the No. 2 rolls out of the trailer at Volusia, fans will notice that the car will be sporting a different look. KLR welcomes DC Solar Solutions, BRANDT, and GoPro Motorplex to the team. DC Solar and BRANDT were previously partnered with Larson in NASCAR and have now both expanded to his dirt racing endeavors. ENEOS and Howard Johnson of Lima, Ohio return to KLR, extending their partnership with the team.
SAME GOAL: Despite all the changes, Kyle Larson Racing will compete with the same goals as Larson Marks Racing – win races and bring home the World of Outlaws Craftsman Sprint Car Series Championship in 2018.
#FLinFEB: KLR's 2018 season kicks off Wednesday at Volusia Speedway Park with two nights of All Star Circuit of Champions (ASCoC) racing, which leads into three nights of competition with the World of Outlaws starting on Friday. Not only will Shane Stewart be piloting the No. 2 DC Solar machine, Larson will make his 2018 sprint car debut at Volusia in the No. 1k BRANDT sprint car. The NASCAR star will compete in the first two nights with the All Stars and hopes to race with the World of Outlaws Sunday, depending on results in The Clash at Daytona International Speedway, which will be held earlier in the day. The entire DIRTcar Nationals will have live video and audio available at www.DIRTVision.com.
READY TO COMPETE FOR A TITLE: "I am excited to get the season started," said Stewart. "So much has changed over the last three months. There have been a lot of late nights that Lee, Heath and Jakob have had to put in to make these changes happen in time for the season to start next week. I am also thrilled that we get to bring new sponsors into the sport and I would like to welcome DC Solar and BRANDT, I think they will be a great fit to our team."
READY TO WIN: "I have to second Shane's sentiments," said Larson. "Everyone worked so hard this off season to be ready to hit the track in Florida. I'm also very grateful that BRANDT and DC Solar have expanded their partnerships with me to the KLR sprint car team. Hopefully between Shane and myself, we can start this season off with some wins and be fast right out of the box."
KLR OWNER: KLR is owned by NASCAR Monster Energy Cup Series driver Kyle Larson. In addition to Larson competing a couple nights at Volusia Speedway Park, he will also be on track at Daytona International Speedway in Daytona Beach, Fla., for the Advanced Auto Parts Clash on Sunday, February 11.
KLR TEAM: The Larson Marks Racing team is led by general manager Paul Silva of Sacramento, Calif., and crew chief Lee Stauffer of York, Penn., with Heath Moyle of Middleburg, Penn., and Jakob Weaver of Coldwater, Mich.
KLR PARTNERS: Kyle Larson Racing would like to thank our partners BRANDT, ENEOS, DC Solar Solutions, GoPro Motorplex, and Howard Johnson Lima for being a part of our team.
LOOKING AHEAD: Following Sunday night's race, the KLR team will head back to the team shop in Mooresville, N.C., for about a week before traveling to Texas for two nights of competition.