Donny Schatz Drives To Victory During Night Two Of DIRTcar Nationals At Volusia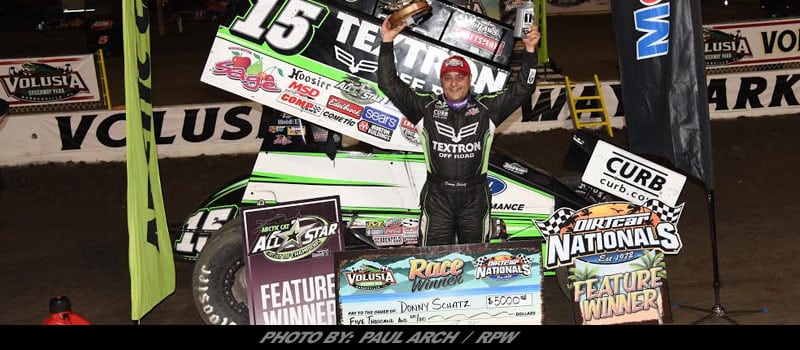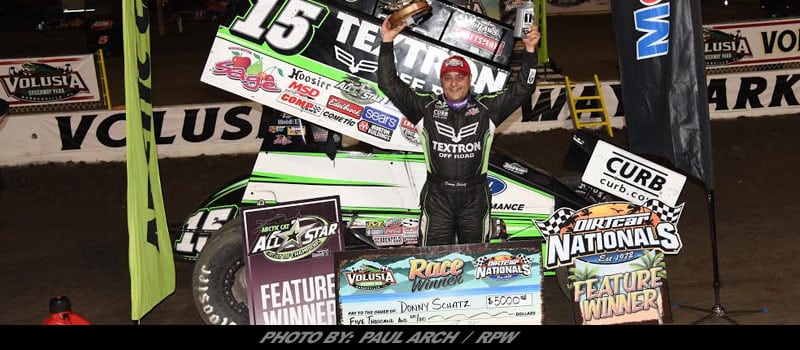 Story By: TYLER ALTMEYER / ALL STAR CIRCUIT OF CHAMPIONS – BARBERVILLE, FL – Mounting an impressive hard charge to the front, Fargo, North Dakota's Donny Schatz led the final nine circuits on Wednesday evening to claim $5,000 during the opening night of the sprint car segment of the 47th Annual DIRTcar Nationals at Volusia Speedway Park.
The victory, Schatz's eighth during Arctic Cat All Star Circuit of Champions presented by Mobil 1 competition at the Barberville half-mile, occurred in fantastic fashion, advancing forward from 12th on the feature grid during a non-stop 30-lapper to cross under the final checkers 1.079 seconds ahead of Kasey Kahne Racing's Brad Sweet and CJB Motorsports' David Gravel.
"These guys did a great job," Schatz explained, pilot of the Textron Off Road, Ford Performance-backed, No. 15. "This team has been strong for a long time. It feels good to get that first win out of the way. We wish Rick [Warner] could be here tonight. Maybe at the end of the week he will be. He does so much for this race team. We're glad to get it done for him tonight."
Wasting little time, Schatz advanced into a top-five position as early as lap nine, soon challenging six-time and defending All Star champion, Chad Kemenah, and Brad Sweet for the point position. The defending World of Outlaws Craftsman Sprint Car Series champion solidified the runner-up spot by lap 13, then setting his focus on race leader, Brad Sweet, who led all but one lap during the first 21 circuits of the 30-lap program. Schatz made his first official bid for the top spot on lap 22 and made it stick, ultimately driving underneath Sweet at the entrance of turn one and surviving a drag race down the backstretch and into the entrance of turn three.
"I don't know that we got as close as it looked," Schatz explained. "It may have looked close to the fans, but Brad [Sweet] and I had a few city blocks between us. The track locked down and I didn't really expect it to lock down that quick. If I would have been in a different position when it did lock down, I would have been in trouble. I was really struggling at the end. It's just the way some days are. The dynamics of the dirt are always changing."
"When the track gets rubber like that, when you get caught one lane out it feels like ice, but if you are in the groove then it feels like there are spikes in your tires. Unfortunately, I slipped out of the groove and it cost us," Brad Sweet explained. "We got better and better and better every time we hit the track tonight. This is a new team with a new crew chief. We were searching around a little bit trying to find the perfect balance for this Napa Auto Parts, No. 49 car."
The Arctic Cat All Star Circuit of Champions presented by Mobil 1 will conclude their 2018 Florida invasion with a second and final appearance at Volusia Speedway Park on February 8, wrapping up the two-day All Star segment of the five-day sprint car stretch of the 47th Annual DIRTcar Nationals. Thursday's start will raise the All Star appearance total to 88 at the Barberville, Fla., venue continuing a tradition that dates back to February 15, 1983.
Volusia Speedway Park will open pit gates at 10 a.m. on Thursday, February 8. A mandatory drivers meeting will be conducted at 5 p.m. followed by engine heat at 5:30 p.m., sharp. Those seeking additional news and notes should visit DIRTcar Nationals live on the Web at www.dirtcarnationals.com.
Contingency Awards/Results: Volusia Speedway Park – Wednesday, February 7:
47th Annual DIRTcar Nationals
EMi Driver's Meeting: 34 Entries
State Water Heaters Warm-Ups: Brian Brown – 13.289 seconds
Lincoln Electric Fast Qualifier: Danny Dietrich – 13.570 seconds (6th Quick)
Ford Performance Heat #1: David Gravel
All Pro Aluminum Cylinder Heads Heat #2: Kyle Larson
Hunt Brothers Pizza Heat #3: Kerry Madsen
Mobil 1 Heat #4: Chad Kemenah
JE Pistons Dash #1: Chad Kemenah
Wix Filters Dash #2: Brad Sweet
Classic Ink USA B-Main: Kasey Kahne
Daido Engine Bearings Main Event Winner: Donny Schatz
MSD Performance Hard Charger Award: Donny Schatz [+11]
(Lincoln Electric, Daido Engine Bearings, MSD Performance: Need decal to qualify for contingency award)
Qualifying
Group (A)
1. 49-Brad Sweet, 13.38; 2. 5-David Gravel, 13.461; 3. 48-Danny Dietrich, 13.57; 4. 24-Rico Abreu, 13.575; 5. 7K-Cale Conley, 13.627; 6. 11K-Kraig Kinser, 13.885; 7. 822-Ryan Price, 14.327; 8. 27-Greg Hodnett, 99.99; 9. 40-George Hobaugh, 99.991
Group (B)
1. 2-Shane Stewart, 13.47; 2. 17S-Sheldon Haudenschild, 13.472; 3. 70-Dave Blaney, 13.581; 4. 1K-Kyle Larson, 13.657; 5. 4-Parker Price-Miller, 13.734; 6. 83-Cory Eliason, 13.74; 7. 49x-Tim Shaffer, 13.761; 8. 17-Caleb Helms, 13.824; 9. 51-John Garvin, 14.18
Group ( C )
1. 21-Brian Brown, 13.413; 2. 15-Donny Schatz, 13.584; 3. 2M-Kerry Madsen, 13.601; 4. 13-Paul McMahan, 13.724; 5. 4K-Kasey Kahne, 13.7316; 6. 18-Ian Madsen, 13.732; 7. 9-Daryn Pittman, 13.774; 8. 5W-Lucas Wolfe, 13.8
Group (D)
1. 41-Jason Johnson, 13.663; 2. 10H-Chad Kemenah, 13.678; 3. 14-Tony Stewart, 13.829; 4. 19-Brent Marks, 13.883; 5. 26-Joey Saldana, 13.959; 6. 44-Trey Starks, 13.997; 7. 5M-Max Stambaugh, 14.663; 8. 17B-Steve Buckwalter, 99.993
Heat #1 – Group (A) (8 Laps) – Top 5 Transfer
1. 5-David Gravel [3]; 2. 48-Danny Dietrich [2]; 3. 49-Brad Sweet [4]; 4. 24-Rico Abreu [1]; 5. 11K-Kraig Kinser [6]; 6. 7K-Cale Conley [5]; 7. 40-George Hobaugh [9]
Heat #2 – Group (B) (8 Laps) – Top 5 Transfer
1. 1K-Kyle Larson [1]; 2. 17S-Sheldon Haudenschild [3]; 3. 70-Dave Blaney [2]; 4. 2-Shane Stewart [4]; 5. 49X-Tim Shaffer [7]; 6. 83-Cory Eliason [6]; 7. 17-Caleb Helms [8]; 8. 4-Parker Price-Miller [5]; 9. 51-John Garvin [9]
Heat #3 – Group ( C ) (8 Laps) – Top 5 Transfer
1. 2M-Kerry Madsen [2]; 2. 21-Brian Brown [4]; 3. 15-Donny Schatz [3]; 4. 13-Paul McMahan [1]; 5. 18-Ian Madsen [6]; 6. 9-Daryn Pittman [7]; 7. 5W-Lucas Wolfe [8]; 8. 4K-Kasey Kahne [5]
Heat #4 – Group (D) (8 Laps) – Top 5 Transfer
1. 10H-Chad Kemenah [3]; 2. 41-Jason Johnson [4]; 3. 19-Brent Marks [1]; 4. 14-Tony Stewart [2]; 5. 26-Joey Saldana [5]; 6. 44-Trey Starks [6]; 7. 5M-Max Stambaugh [7]
Dash #1 (4 Laps)
1. 10H-Chad Kemenah [1]; 2. 48-Danny Dietrich [2]; 3. 41-Jason Johnson [4]; 4. 2-Shane Stewart [3]; 5. 17S-Sheldon Haudenschild [5]
Dash #2 (4 Laps)
1. 49-Brad Sweet [2]; 2. 1K-Kyle Larson [1]; 3. 21-Brian Brown [3]; 4. 2M-Kerry Madsen [5]; 5. 5-David Gravel [4]
B-Main (12 Laps) – Top 4 Transfer
1. 4K-Kasey Kahne [2]; 2. 5W-Lucas Wolfe [6]; 3. 83-Cory Eliason [3]; 4. 9-Daryn Pittman [4]; 5. 44-Trey Starks [5]; 6. 17-Caleb Helms [7]; 7. 4-Parker Price-Miller [10]; 8. 5M-Max Stambaugh [8]; 9. 51-John Garvin [11]; 10. 7K-Cale Conley [1]; 11. 40-George Hobaugh [9]; 12. 17B-Steve Buckwalter [12]
A-Main (30 Laps)
1. 15-Donny Schatz [12]; 2. 49-Brad Sweet [2]; 3. 5-David Gravel [10]; 4. 41-Jason Johnson [5]; 5. 10H-Chad Kemenah [1]; 6. 2M-Kerry Madsen [8]; 7. 48-Danny Dietrich [3]; 8. 19-Brent Marks [13]; 9. 1K-Kyle Larson [4]; 10. 70-Dave Blaney [11]; 11. 21-Brian Brown [6]; 12. 49X-Tim Shaffer [18]; 13. 2-Shane Stewart [7]; 14. 11K-Kraig Kinser [19]; 15. 17S-Sheldon Haudenschild [9]; 16. 18-Ian Madsen [17]; 17. 5W-Lucas Wolfe [22]; 18. 9-Daryn Pittman [24]; 19. 26-Joey Saldana [20]; 20. 4K-Kasey Kahne [21]; 21. 24-Rico Abreu [14]; 22. 14-Tony Stewart [16]; 23. 83-Cory Eliason [23]; 24. 13-Paul McMahan [15] Lap Leaders: Brad Sweet [1-11], Chad Kemenah [12], Brad Sweet [13-21], Donny Schatz [22-30]