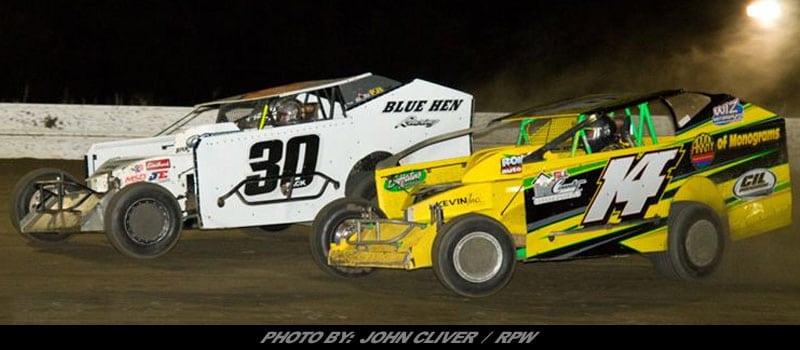 Story By: MIKE WISNIEWSKI / ROBERTS RACING – NEWPORT, DE – After running a limited schedule last year, the 2018 racing season is shaping up to be busy for Brad Roberts.
With two cars in his arsenal, the Newport, Delaware based driver has laid out an ambitious schedule this year.
"Right now, I have plans to participate in about fifty to fifty-five races," said Roberts.
Roberts, who began to race on dirt ovals in 2009, will compete in Crate Sportsman and Open Sportsman events. His racing will be primarily concentrated at tracks in New Jersey and Delaware with visits to Bridgeport, Delaware, Georgetown and New Egypt Speedways. Also, Roberts is planning to invade some other facilities. "I did sign up for the Short Track Super Series Sportsman tour and plan on visiting several tracks in New York including Afton and Thunder Mountain," stated the twenty-three year old driver.
For this season, Roberts will have two Bicknell racecars at his disposal but they will each have a different number. "One of our Bicknells will be numbered 123 in honor of my Pop-Pop, Ron Roberts, who won his first Modified feature in 1992 using the same number. It will have the same paint scheme that he used in 1992 and it will be outfitted with a GM 602 Crate engine. The other one will be our Open Sportsman car equipped with a Jimmy Weiss engine and it will have my traditional number 14 on it. My crew chief, Keith Dolan, does a great job maintaining and preparing my cars. He is a former racer and has a lot of knowledge about these cars. He and wife Paige devote a lot of their time to my racing efforts and I really appreciate it," summarized Roberts.
Currently, Roberts has Ronnie's Auto Repair, Array of Monograms, All County Garage Doors, CIL Underground, ERK Steering Repair, Rick Sweeten Images and Wiz Motorsports Communications as marketing partners for 2018.