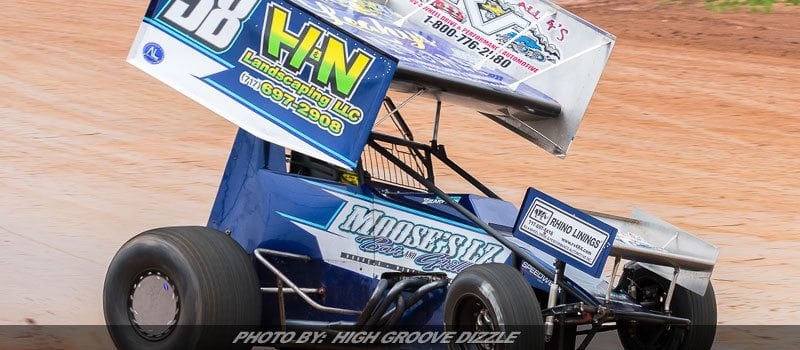 Column By: JUSTIN SNYDER / RPW & PA POSSE RACING – JONESTOWN, PA – As a young driver racing sprint cars in Central Pennsylvania, Brock Zearfoss wants to race as much as possible.
In early February, "The Jonestown Jet" announced he would pilot his family owned #3Z in an aggressive 81-race schedule that would take him throughout Pennsylvania, Ohio, and New York.
Along with weekly stops at Williams Grove Speedway and Port Royal Speedway, planned highlights for 2017 include the entire Pennsylvania Speedweek schedule and a trek to Attica Speedway Park for the Brad Doty Classic, along with Eldora Speedway for the famed Kings Royal in late July.
"We really wanted to venture out this year and see some new places and do some more racing," said Zearfoss, who already has picked up a win at Port Royal in the early stages of the schedule. "But running two nights a week can take a toll on even the best funded operations. So, we just keep playing it smart and trying to get the best out of equipment with the resources we have."
However, thanks to a new partnership, Zearfoss will be able to conserve some of his equipment while gaining invaluable experience driving for a new car owner. Beginning May 5th at Williams Grove Speedway, Zearfoss will pilot a new team owned by Aaron Long and his wife Lisa. The car will be #58 and they will sport GF1 Chassis.
"Lisa and I are excited to try and compete with our new team," said Long. "Brock is a proven winner and he's very marketable"
Long is a former car owner in the 358 division, but has been out of the sport as an owner for the last 10 years. He is also the owner of AL Driveline, which manufactures precision titanium drive lines components for sprint cars.
"This is a really unique opportunity to be able to drive for Aaron and I can't thank him enough for this opportunity," said Zearfoss, who has been shaking down the car weekly at Susquehanna Speedway during their Wednesday night Test & Tune sessions. "Being able to drive for a car owner and being able to focus on the driving aspect of things, rather than handling everything in a family deal is a great opportunity and I'm going to make the best of it."
Long had approached Zearfoss about the possibility of putting something together after the World Finals in Charlotte last year, and after multiple discussions, it was decided upon that they would mainly focus on running at Williams Grove Speedway.
"Aaron came to me with an idea and asked if I might consider running his car if he could get something together," said Zearfoss. "At the time he needed to get some more backing and such, so I wasn't exactly sure if it would go anywhere. But then a few sponsors came on board and we really laid things out and I'm excited to get the ball rolling here."
The car will be primarily sponsored by H &N Landscaping along with AL Driveline, RV 4 Wheel Drive & Performance Automotive Inc., Moose's LZ Bar & Grille, Leahy's Auto Body/ Towing and Filson Water, LLC as associate sponsors.
Zearfoss will continue to sport his familiar #3Z on Saturday nights at Port Royal and Sunday nights at any of the Susquehanna Speedway shows, and if things go well, they may run the #58 at some other shows as well.
"I'm really confident in Aaron and his equipment and I think we have the beginnings of winning combination built to succeed," said Zearfoss. "It might take some time with it being a new deal, but we'll take it one race at a time and see where it goes. I'm just really excited for the opportunity and I'm ready to get out there and show what we can do."