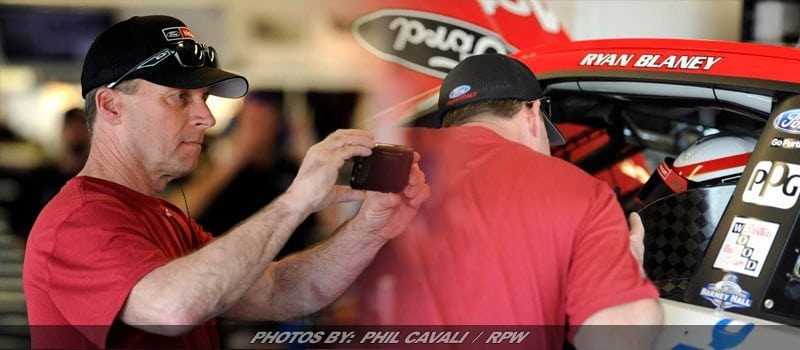 Column By: REID SPENCER / NASCAR – CONCORD, NC – Ryan Blaney won his fifth NASCAR XFINITY Series race on Saturday at Charlotte Motor Speedway.
His father, Dave Blaney, won only once in the series—driving for owner Todd Braun at Charlotte in 2006, when Ryan was 12 years old.
But in Ryan's eyes, there's no doubt who the top driver in the family is, and that's his father, the Buckeye Bullet, who earned his nickname as one of the world's best Sprint Car drivers.
"To me, personally, he's the best race car driver ever," Ryan said after beating Kevin Harvick to the checkered flag in the Hisense 4K TV 300. "That's how I've always looked at him, and that's how I've always thought of him, not only as my father, but the way he drives a car – and not only his driving ability, but his mind-set towards things."
For the first time, all five members of the Blaney family—Dave, wife Lisa and daughters Erin and Emma—were at the track together to see Ryan win. But Dave has been there for his son throughout his career.
"He always just supports me, and it was cool to have him here today," Ryan said. "That's really special to me to have him at the race track through the good and bad times of getting a stern talking to or helpful support, and it's usually support.
"I've been lucky to have somebody like that to help me through these weekends to try to get myself better, whether it's restarts or long runs or just communication. He's been the best person, so in my mind I'll never be half the race car driver he is, personally. I think he's the greatest one ever, and that's how I'll always think of him."
KYLE BUSCH LIKES CHANGES TO CUP SCHEDULE FOR 2018
Kyle Busch says he won't know whether—or where—he's coming or going in 2018, because major changes to the Monster Energy NASCAR Cup Series schedule are bound to keep Busch and other drivers guessing.
"I can pretty much memorize the schedule where we're at right now, so it's definitely going to throw me for a loop next year not knowing where the hell we're going the following week," Busch said.
Busch will have to get used to a number of notable changes, including a road course at Charlotte for the first cutoff race in the Playoffs, Indianapolis Motor Speedway as the venue for the final race before the Playoffs and Las Vegas Motor Speedway for the first event in the 10-race postseason.
Gone from the Playoffs are Chicagoland and New Hampshire, to be replaced by Las Vegas and Richmond.
"It's going to be interesting to see the Brickyard being the cutoff race," Busch said. "I think that's going to be fun… I like Richmond in the Playoffs. I think that's a great place for us, so I'm partial to that. I think the 'ROVAL' (road course/oval combination) here at Charlotte is going to be interesting, and it's going to be different.
"I'm not sure what to expect. I haven't run it. I know AJ (Allmendinger) did. But the setup and what it's going to take to get through the slow, small stuff that there's not a lot of load, not a lot of downforce over here, and the short section is going to be entirely different than what you're going to need entering Turn 3 at 165 miles an hour, you know.
"So it's going to be interesting to see what all people do with their setups and how you work on that and what kind of things you'll have to give up in order to be good in the infield section."
Needless to say, Cup teams will have a lot more on their plates next fall than they have had in recent years with a predictable playoff schedule.
KEVIN HARVICK: NASCAR RACING IS IN GOOD HANDS
In Saturday's NASCAR XFINITY Series race, Kevin Harvick finished second to 23-year-old Ryan Blaney.
In his series debut, 22-year-old Christopher Bell ran fourth recovering from an early spin that landed him at the back of the field.
Before a late spin ruined his day, 23-year-old Darrell 'Bubba' Wallace Jr., ran consistently in the top 10, at one point taking the lead from Blaney after a restart in the final stage of the race.
Taking note of the youth that surrounded him on the race track, Harvick had no worries about the future of NASCAR racing.
"There's a lot of these guys that are going to be really good," Harvick said. "I think, obviously, when you look at Blaney and Christopher, and you could just keep going on-and-on. Bubba Wallace was up there today. The sport is in good hands, and I think as you look at the experience these guys are getting at a young age, they're going to be well-seasoned by the time they're about 25.
"It's just one of those deals where you're seeing Blaney win these races, and really, that's what the rest of them have to do is win these races in order to really get the experience they need to win on Sunday (in the Monster Energy NASCAR Cup Series)."