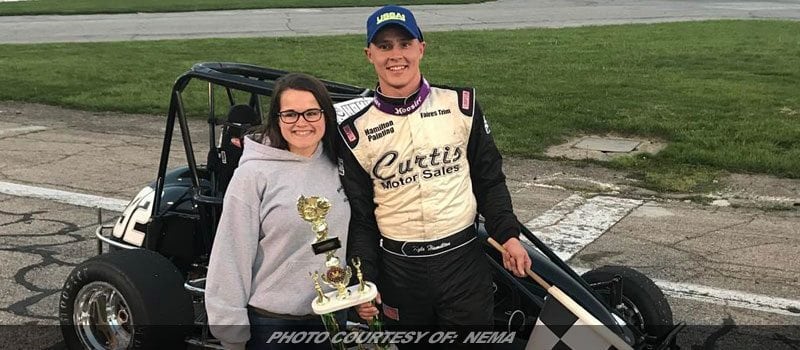 Story By: BERTRAND MOTORSPORTS – EPPING, NH – On the heels of the Northeastern Midget Association announcing that it had inked a deal with Star Speedway for the opening race for the NEMA division, Bertrand Motorsports has announced that 24-year-old Kyle Hamilton of Plainfield, Indiana will do double duty for the team on Saturday May 6th.
He will run the Bertrand Motorsports #45 in the Lite division and the famed #47 in the NEMA division.  Hamilton made two appearances for Frank Manafort & Bobby Seymour in 2016, finishing 2nd and 4th, respectively, in the NEMA Lite series.
Hamilton is no stranger to the cockpit of powerful open wheel cars.  The 2009 USAC Ford Focus National Champion and USAC National midget feature winner, also has experience racing Silver Crown cars and non-wing Sprint cars.  Hamilton has driven for famed car owners such as Bob East, Don & Mel Kenyon and Steve Lewis/9 Racing.
"I'm excited to team up with Bertrand Motorsports.  They have a top notch program that demands respect from the competition and I'm looking forward to joining forces at Star Speedway," Hamilton said.
"The competition in the NEMA series is very high. The racers will run side by side with you and keep everything clean. I felt like I was up to speed quickly and can't wait to get back behind the wheel of a NEMA Midget in 2017," he went on to say.
Hamilton is also no stranger to ¼ mile bullring tracks.  The 2016 winner of the "Rumble at Fort Wayne," one of the most prestigious races of the year, also has extensive track time at bull rings such as Andersen, Grundy, and Toledo Speedway in Ohio.
"In my experience in the Midwest, my best finishes have come at bullring tracks like Star Speedway, which is a good sign. I have a lot of laps around tracks like that.  Those tracks provide intense, close racing. I am looking forward to the opportunity to get back to the East Coast!," said Hamilton.
Although most of his experience comes without a wing, Hamilton has enjoyed his rides in NEMA's winged warriors.  "I was amazed at how quickly the cars get through the center of the corner and how much throttle you can use," he said.
NEMA joins a blockbuster card at Star Speedway on May 6th, with the PASS Late Model Tour on hand, in addition to the 350 Super Modifieds, and a full card of racing action.