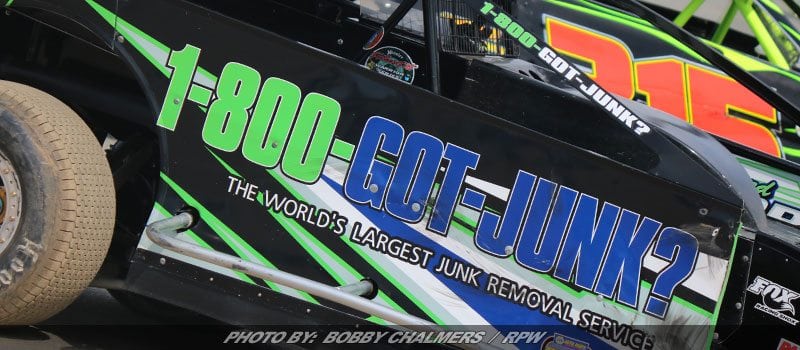 Story By: ROB HAZER / KING OF DIRT – FONDA, NY – Every great story ever read has begun with a strong title. In 2017 1-800-GOT-JUNK? will again title the story of a championship battle to claim the King Of Dirt Racing crown and the DIRTcar East Region throne. To present such an epic story are Dean's Electrical Service and Dodson Construction who will also support KOD Sportsman racing this summer.
1-800-GOT-JUNK? Albany Division is owned and operated by Carl Schilling. The internationally known company will enter their second year as title sponsor at King Of Dirt Racing of the Sportsman Modified series also serving as the DIRTcar East Region in 2017.
They are a full-service junk removal company offering a full range of services to residential and business customers throughout the capital region and surrounding areas. Everything from simple removal to large objects, anything that fits into their trucks can be taken away by 1-800-GOT-JUNK? where junk is recycled, donated, or disposed of responsibly.
"The 1-800-GOT-JUNK? team enjoys many aspects of how King Of Dirt Racing operates and we share a mutual ideology of respect towards others. I appreciate Carl and his entire staff supporting our series again and look forward to our marketing partnership producing an epic season of Sportsman racing," said KOD Promoter Rob Hazer.
Dean's Electrical Services will be part of both the Northeast Crate Nationals and King Of Dirt Racing for their fourth strait season. Dean Seelow is another who enjoys supporting KOD projects and is another valued marketing partner. Dean has stepped up his support of the Nationals this year and for the first time is named one of the presenting sponsors of King Of Dirt Racing.
Dean's Electrical Services the capital district and surrounding areas with residential and commercial electrical work. Dean Seelow has successfully been in business for over 20 years and when he's not working hard, he plays hard as an iatrical part of Connor Cleveland's championship winning Sportsman Modified team.
"We tend to surround ourselves with genuine people who share our love of the sport. Dean is just that. He's been a marketing partner with us for multiple years now much like Carl Schilling. We're excited to have another lasting partnership and look forward to having Dean be part of our biggest season for Sportsman yet," continued Rob Hazer.
Dodson Construction has been building, remodeling, and constructing every aspect of a homeowner's property for over 25 years in business. Rich Dodson has a full service company with a full lineup of heavy equipment that can handle any job from remodeling to full construction. With a wide variety of replacement windows Dodson Construction can also help keep heating bills down during the cold off season winter months.
Dodson Construction can be found on the side of Rich Dodson's racecars competing weekly at Albany-Saratoga Speedway with drivers Scott Duell and Brian Pessolano. With all that going on Rich Dodson still finds a way to give back to the sport he loves. He has been a marketing partner of the Northeast Crate Nationals since 2010 and supported King Of Dirt Racing since the beginning.
"Rich puts his heart and soul into the Dodson Construction Racing Team. He values things like loyalty, honesty, and integrity. He's a perfect fit for the family of marketing partners we have at King Of Dirt Racing and we look forward to him being part of both the series and the Nationals again this season," concluded Rob Hazer.
King Of Dirt Racing will serve as the DIRTcar East Region for Sportsman this summer and has solid support for the division in place. One more sponsor may yet be announced in the coming weeks, but the 2017 throw down for the crown may be the most intense battle yet.
With the schedule now set and the rules up on the website, it's only a matter of time before a very busy season of racing gets underway for King Of Dirt Racing.
2017 KING OF DIRT RACING SMALL BLOCK MODIFIED SCHEDULE
06/13/17    Devil's Bowl Speedway    West Haven, VT    40 Laps
07/09/17    Utica Rome Speedway    Vernon, NY    40 Laps
07/30/17    Lebanon Valley Speedway    West Lebanon, NY    35 Laps
08/20/17    Utica Rome Speedway    Vernon, NY    40 Laps
09/08/17    Albany Saratoga Speedway    Malta, NY    40 Laps
09/09/17    Lebanon Valley Speedway    West Lebanon, NY    35 Laps
09/15/17    Albany Saratoga Speedway    Malta, NY    40 Laps
09/23/17    Fonda Speedway    Fonda, NY    40 Laps
2017 KING OF DIRT RACING SPORTSMAN SCHEDULE (DIRTcar East Region)
05/14/17    Utica Rome Speedway    Vernon, NY    30 Laps
05/28/17    Devil's Bowl Speedway    West Haven, VT    35 Laps
07/15/17    Lebanon Valley Speedway    West Lebanon, NY    30 Laps
08/15/17    Albany Saratoga Speedway    Malta, NY    30 Laps
08/20/17    Utica Rome Speedway    Vernon, NY    30 Laps
08/31/17    Lebanon Valley Speedway    West Lebanon, NY    30 Laps
09/08/17    Albany Saratoga Speedway    Malta, NY    100 Laps
09/22/17    Fonda Speedway    Fonda, NY    30 Laps
2017 KING OF DIRT RACING PRO STOCK SCHEDULE
05/14/17    Utica Rome Speedway    Vernon, NY    30 Laps
06/02/17    Albany Saratoga Speedway    Malta, NY    30 Laps
07/07/17    Albany Saratoga Speedway    Malta, NY    30 Laps
08/20/17    Utica Rome Speedway    Vernon, NY    30 Laps
08/26/17    Lebanon Valley Speedway    West Lebanon, NY    30 Laps
09/17/17    Devil's Bowl Speedway    West Haven, VT    29 Laps