Driver Profile: Edward Hatch Jr.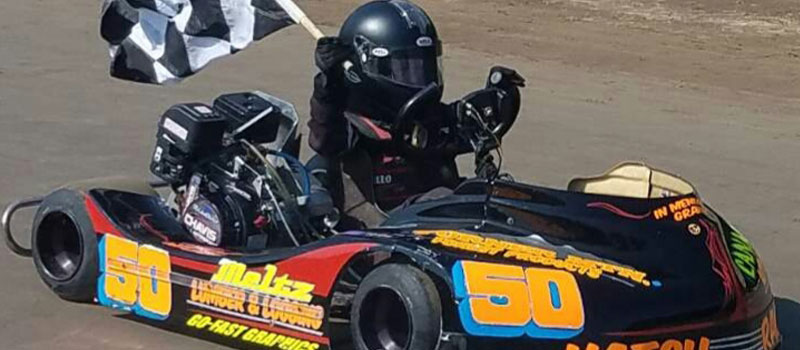 Hometown:
East Nassau, NY
Occupation:
Student at Walter B Howard Elementary School
Tell Us A Little Bit About The Driver:
EJ has always been into racing. He could not wait to get behind the wheel. He has spent the last 5 years helping his father work on his race car.

Ej is very knowledgeable when it comes to working on the race cars. He is his dad's biggest fan. EJ started his racing career at the age of 5. He raced a phantom flat kart and a rage wing kart. He has 12 career wins.

He won three big races in 2019 including the Wing champ racing series championship at Lebanon Valley Kart Track, the 2019 Box stock Iron Man Championship and the Montenaro cup race at Dodge City Speedway.

In 2020 EJ will be racing at Lebanon Valley Kart Track, Caroga Creek Racepark and Dodge City Speedway. He will also be running the Wing Champ Racing series in 2020.

He will be participating in the Fonda Speedway Car show, Rotterdam Via port car show and the King Fish car show. He is super excited to start the 2020 racing season.
Division:
Box Stock and Wing Kart
Team Owner
Ed and Nikki Hatch (parents)
Chassis:
Rage for wing kart and phantom for flat kart
Engine Builder:
Chavis motorsports
Sponsors:
– Precision Roads
– Turner Mountain Forest Products
– Meltz Lumber and Logging
– Go Fast Graphics
Crew / Team Members
Eric Bonacquisti- crew member
JJ Hatch- crew member
Ed and Nikki- mom and dad
Career Number Of Wins:
12
Tracks Won At:
Lebanon Valley Kart Track and Dodge City Speedway
Home Track:
Lebanon Valley Kart Track
Tracks Competed At:
Lebanon Valley Kart Track
Dodge City Speedway
One Thing Fans May Find Interesting About The Driver:
EJ has been going to the races since he was 10 months old. He is very passionate about this sport.