Zach Sabotka Wins Over $10G's With Victory In Vermont 200 At Devil's Bowl Speedway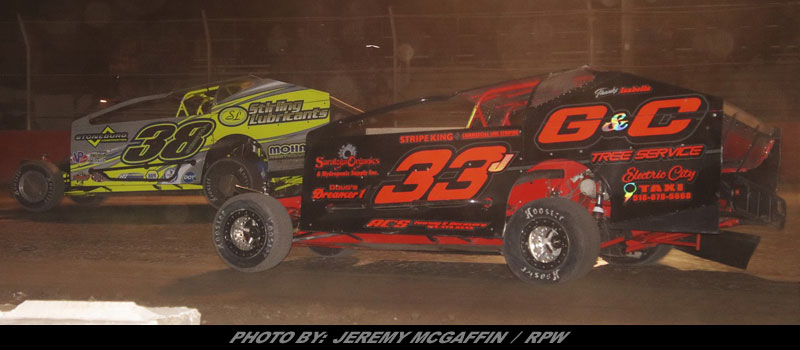 Information By: JUSTIN ST. LOUIS / DEVIL'S BOWL SPEEDWAY – WEST HAVEN, VT – With dirt in his eyes, two-wide lapped traffic in front of him, and Marc Johnson breathing down his neck, Brewerton Speedway champion Zach Sobotka overcame the obstacles to win the Vermont 200 and an unofficial total of $12,892 on Sunday evening.
Sobotka had a dream weekend, winning the track championship at Brewerton on Friday night and bookending things Sunday with an impressive victory in the 4th annual Vermont 200.
Dodging mist and raindrops all day, Sobotka started 23rd on the 36-car field and worked his way methodically through traffic in the first half of the race. After a competition break at lap 101, Sobotka drove quickly from seventh place into the lead at lap 126, and he then held on – with blurred vision after getting dirt in his eyes – during a long green-flag run in the final 63 laps for the win.
Sobotka won $10,000 for the victory and an unofficial $2,892 in lap leader bonuses. He was held up in the final 15 laps by lapped traffic, and Marc Johnson made several attempts at taking the lead, pulling even alongside Sobotka at least twice before settling for second.
Tim LaDuc was the first weekly Devil's Bowl competitor across the finish line in third place. Adam Pierson was fourth with Tim Hartman Jr. rounding out the top five.

Sportsman Modified Feature – 200 Laps
1. 38 Zach Sobotka – Parish, NY – $12,892
2. 33J Marc Johnson – Guilderland, NY
3. 54 Tim LaDuc – Orwell, VT
4. 15 Adam Pierson – East Corinth, VT
5. 22H Tim Hartman, Jr. – Glenville, NY
6. 35 L.J. Lombardo – Danbury, CT
7. 27L Jack Lehner – Ballston Spa, NY
8. 1X Justin Stone – Middlebury, VT
9. 36B Ben Bushaw – Tully, NY
10. 64 Tyler Corcoran – Central Square, NY
SCoNE – Sprint Cars of New England Feature – 25 Laps
1. 91 Scott Holcomb – North Granby, CT
2. 17 Chris Donnelly – Piermont, NH
3. 1D Wayne Stearns – Bradford, VT
4. 31B Clay Dow – Barnstead, NH
5. 69K Floyd Billington – South Glens Falls, NY
Friend Construction 500cc Mini Sprint Overall Finish (3 10-lap segments)
1. 723 Ray Hanson – Orwell, VT – 7 points
2. 10 John Smith – Poultney, VT – 10 points
3. 17 Kaidin White – Monkton, VT – 11 points
4. 54 Roger LaDuc – Orwell, VT – 13 points
5. 8 Scott Bachand – St. Albans, VT – 17 points