Talented Field Of USAC Midgets Plus Modifieds Set To Battle On The Hill At Grandview Tuesday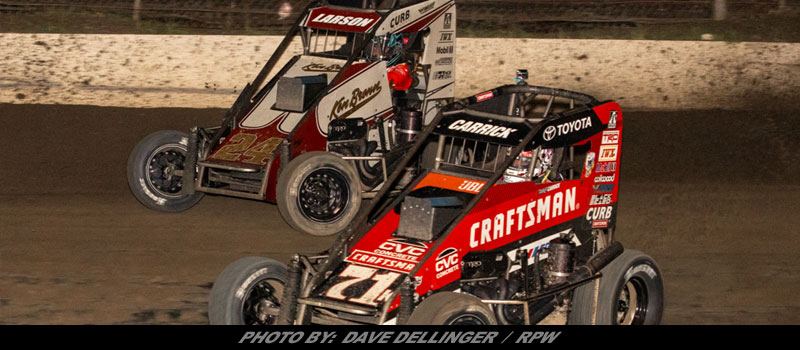 Story By: BOB MILLER / THUNDER ON THE HILL – BECHTELSVILLE, PA – A roster of talent will be on hand at the Grandview Speedway Tuesday night, August 3 when the NOS ENERGY USAC National Eastern Midget Week opener joins the 358 Modifieds in a spectacular doubleheader.
Qualifying will take place for both divisions leading up to the Ken Brenn USAC Midget Masters 30 lap feature paying $4,000 to the winner. For the 358 Modifieds, they will go 30 laps as well with $5,000 going to any first time Modified Thunder on the Hill winner or $3,500 going to any repeat Thunder Series winner.
Bonus money for the Modifieds was posted by Pioneer Pole Buildings as well as GT Radiators. The bonus money for the modifieds continues with second earning an additional $200 plus the winner of each GT Radiator heat race will earn $100. In addition, the USAC Midget fast time of the night will pocket $150 in cash plus a 3 pack of wine, courtesy of Clever Girl Winery in Bangor, PA. Race time is set for 7:30 PM with gates opening at 5 PM.
The star studded field will include the likes of NOS Energy USAC Midget entries Buddy Kofoid, Chris Windom, Justin Grant (recent USAC Sprint winner at Grandview), Emerson Axsom, Tanner Thorson, Thomas Meseraull, Daison Pursley, Logan Seavey, Kevin Thomas Jr., Jason McDougal and Cannon McIntosh. For the modifieds, drivers looking for that first NAPA Auto Parts Thunder on the Hill victory worth $5,000 includes Kyle Weiss, Dylan Swinehart, Brian Hirthler, Dominick Buffalino, Davey Sammons, Mike Lisowski, Craig Whitmoyer, Mark Kratz, Justin Grim, Mike Tyson, Jack Frack, Darrin Schuler, Nate Brinker, Brett Gilmore, Aaron Bowes and Jack Butler to name a few. A sample of expected entries that were previous Thunder winners chasing the $3.500 prize include Jeff Strunk, Craig Von Dohren, Duane Howard, Billy Pauch Jr., Ryan Watt, Kevin Hirthler, Rick Laubach, Mike Gular, Brett Kressley, Doug Manmiller, Jared Umbenhauer, Ryan Beltz and Kenny Gilmore.
As a courtesy to the race fans, Thunder on the Hill offers their Advance Ticket program. Fans with advance tickets may enter the grandstands at 4:30 PM providing them with choice seating. There are no reserved seats. Advance tickets are available by calling 443 513 4456. Please speak clearly and provide your first and last name and the number of tickets you need. Tickets may be paid for and picked up at the WILL CALL window on race night after 4 PM. We ask that you please bring exact change. Advance ticket holders may enter the grandstands at 4:30 PM. Advance tickets orders can be processed up to the day before the race. We apologize, but advance tickets will NOT be available on race day.
Special thanks to the fine sponsors who support this event including NAPA Auto Parts, the season long series sponsor of Thunder on the Hill. Also, Pioneer Pole Buildings the premier builder of post frame buildings in PA, NJ, DE, MD, WV, VA and NY, with their business located on South Route 183 in Schuylkill Haven, PA. For more information, please call 888-448-2505. Also a big part of the Thunder Series is GT Radiator Repair, specializing in automotive radiators, including antique car radiators and commercial truck radiators. Reach out to GT Radiators for auto, truck or heavy equipment radiator needs, contact Harry or George Turner at GT Radiators in Ambler, PA And a new sponsor to this event, Clever Girl Winery offers wine tastings Friday through Sunday.
The Tuesday, August 3 event at Grandview Speedway opens the five race Eastern Swing of the NOS Energy Drink USAC National Midget Speed Week. Track gates at Grandview will open at 5 PM with race time set for 7:30 PM.
Adult admission tickets are $28, Children 6 to 11 are $10, Children 5 and under will be admitted free. The pit fee is $40, and a license is not required.