RPW Column: Tyler Boniface Makes Late-Race Pass To Grab Orange County 358-Modified Win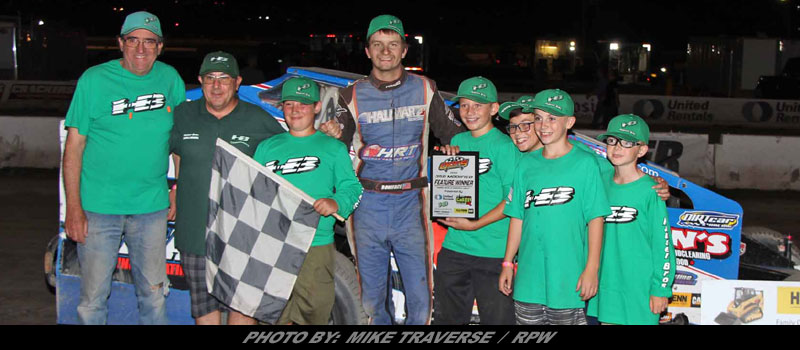 Column By: MIKE TRAVERSE / RPW – MIDDLETOWN, NY – Throughout the course of his career, Tyler Boniface has been known for his racing in the high groove. Over the years, he has picked up the nickname 'The Highside Hustler'.
However, on Saturday night at the Orange County Fair Speedway, Boniface made a late race move for the lead as he went to the low side of Corey Cormier and went on to victory in the H.O. Penn 358 Small Block Modified 30-lap feature.
At the start of the feature, it was Ryan McCartney and Cormier leading the field to the green with Ryan jumping out front. McCartney's time in the lead was short as he pulled into the pits after leading the first 2 laps. This put Cormier into the lead with Chris Stevens and Craig Mitchell trailing. They stayed in that order until caution was out after 11 laps for a flat tire on Anthony Perrego's #44.
Seventh starting Boniface got a good restart and by lap 15, he had gotten by Mitchell for 3rd. At halfway, it was Cormier leading over Stevens, Boniface, Allison Ricci and Dillon Steuer. Boniface got past Stevens for 2nd on lap 22, but Cormier had built up a pretty good lead. But caution after 25 laps were down tightened up the field.
The restart resulted in a big pileup in turn 4 as many cars got together to bring out the red flag. Tyler Treacy's car looked to have the worst damage as his car got the tow back to the pits. Danny Creeden drove into the pits and didn't return. Others involved were Roger Henion Jr, Jimmy Spellmon, Randy Green and Tanner VanDoren.
Cormier maintained the lead on the restart as Allison Ricci and Steuer both got by Stevens for 3rd and 4th. Coming to the line to complete lap 27, Boniface went low and made the pass of Cormier and pulled away the last 3 laps. The winning margin was 9/10ths of a second over Corey with Allison Ricci finishing 3rd, Steuer 4th and Stevens 5th. Mitchell finished 6th and Perrego recovered from his flat tire to take 7th. Bob McGannon, Shane Jablonka and Jimmy Horton finished in spots 8,9 and 10 respectively.
"Corey ran a very good race tonight," Boniface said in a jubilant Victory Lane. "He was running the high line, I didn't think there was much out there. I got to 3rd behind Stevens. I was watching Corey drive away from us on the top. I wasn't going on the bottom, so I moved to the top and got by Stevens and I was lucky to get under Corey. I can't thank Bicknell Racing Products enough for building us such an amazing car. And for Chris Larsen for believing in me to run at this level and win races for him. I couldn't be any happier."
Three heat races set the lineup for the feature and they were won by by Allison Ricci, Boniface and Richie Eurich. Tanner VanDoren finished 4th in his heat, but his #22 suffered what was reported to be a bent axle. With Tanner very high in the 358 standings, he drove in the feature in the car owned by Joe Barbagallo that's driven by Billy VanInwegen. A very nice gesture to help the young driver out.
In the Arkel Motors Sportsman feature, Bobby Flood took the lead on lap 8 and went unchallenged the rest of the way to take the win over Gary Edwards Jr and division point leader Joe Bonetti.
It was Jeff Hulseapple and Troy Arnold on the front row for the start and it was Arnold moving to the lead. Hulseapple ran 2nd until he slowed after 6 were down, bringing out the caution. It's been a tough 2nd half of the season for the Vitale Motorsports 1x team.
The restart saw some cars get together in turn 2 with the red flag displayed. Charles Loiodice, Ryan Neiger and Lem Atkins were all involved and all 3 retired to the pits. Arnold led on the restart, but a lap later, Flood got by for the lead and Jared laBagh took 2nd Edwards Jr was making great progress through the field, racing his way to 4th from 15th starting spot by lap 8. At halfway, it was Flood leading LaBagh, Bonetti, Edwards Jr and Arnold.
The standings stayed the same until caution was out after 16 laps were completed. The restart saw red out once again as 3 cars came together in turn 2. Ryan Walther, Jamie Yanonne and Justin Gozzi were involved. Gozzi was the most severely damaged, needing a tow back to the pits. Walther and Yanonne drove off into the pits, done for the event.
Flood got a good restart and maintained his lead as the battle for spots 2 thru 5 got heavy. Edwards Jr got by Bonetti on the last lap to take 2nd with Joe finishing 3rd. Cody Higbie racing from 14th to 4th with LaBagh taking 5th.
"We had a great car. It was fast all night, won the heat. Took the lead about lap 10 and we checked out. A really good night," Flood said.
Walther, Hulseapple, Arnold and Flood scored the wins in the preliminary heat race action.
Mike Vigiletti won his 2nd consecutive NAPA North East Parts Group Street Stock feature over Danny Carlough and Charlie Donald. By repeating, Mike took the Wicked Truck Worx Back-To-Back Bonus of $100.
Ben Richard and Walt Henry led the charge to the green flag with Jack Beaumont running 2nd. Jim Hajkowski moved into 2nd on lap 4. Vigiletti was moving up quickly, taking 2nd on lap 6 and passing Henry on lap 7. As Vigiletti checked out, the racing in back of him was back and forth as Carlough, Hajkowski and Donald all were in the mix.
At the finish. it was Vigiletti by a shade of a second over Carlough. Donald finished 3rd with hajkowski 4th and Beaumont 5th. Henry took 6th with Marty Van Nieuwland 7th, Richard 8th, Ryan Modiano 9th and John Tucker 10th.
"Car was hooked up, but Danny and Charlie were hooked up," said the victorious Vigiletti. "They both ran faster laps than me, but it was an advantage to be out in the clean air. I'm looking forward to racing them the rest of the season. I'm pleased to win the Wicked Truck Worx bonus. The sponsorship in all divisions is outstanding this year and we appreciate every bit of it."
Carlough was again racing the #777 of the retired former OCFS Street Stock Champion and legend Emerson Cargain Sr. The car was purchased this week by Rob Sedita. As a tribute Emerson, Rob and Danny are racing just as it as a tribute to Emerson. A nice thing to see by the 3 great people involved.
Before the racing began Saturday, there was a service just across from the 31st lap to celebrate and remember the life of Whitey Memmelaar. Mr. Memmelaar was a long time car owner of the usually purple and white #45's that raced at OCFS for many years with talented drivers such as Jerry Wilson, Bobby Bottcher, Ralph Heotzler and many others. After his car owner days ended, Mr. Memmelaar stayed very active within the OCFS racing scene and he was a weekly fixture for so many years at OCFS. A great man who is certainly missed at OCFS.
The #4V owned by Joe Barbagallo and driven by Billy VanInwegen was wrapped in a purple and white scheme with the #45 to honor Mr. Memmelaar's many years with the #45. It was brought outside the pits to the celebration and remembrance service. A great job by the 4V team.
It was Hard hats of America Night with many pieces of equipment taking to the track for some laps in the pre race ceremonies. Hauser Brothers Plumbing and Mechanical of Orangeburg, NY were the night's sponsor along with the usual division sponsors. Lots of green seen in the lively Victory Lane ceremonies and some hard hats were worn by the top finishers.