Cory Eliason Scores First All Star Sprint A-Main Win Of '21 Friday Night At I-96 Speedway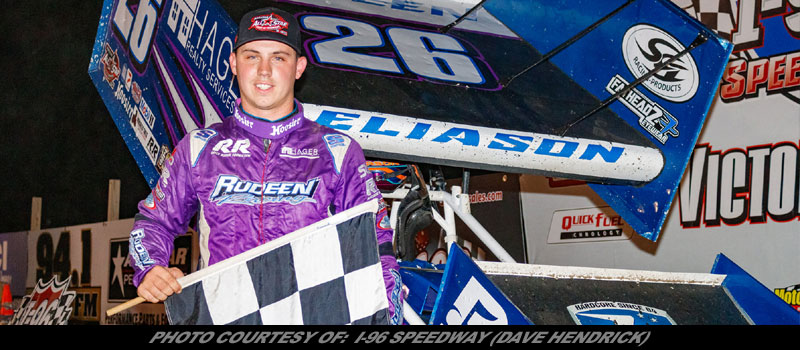 Story By: TYLER ALTMEYER / ALL STAR CIRCUIT OF CHAMPIONS – LAKE ODESSA, MI – Snapping a Series winless streak that was quickly approaching an entire year, Visalia, California's Cory Eliason finally broke through on Friday night and secured his place in FloRacing All Star Circuit of Champions presented by Mobil 1 victory lane, doing so during Michigan's second and final All Star invasion of the season with an appearance at I-96 Speedway in Lake Odessa.
Eliason, whose last All Star victory prior to I-96 occurred during Tuscarora 50 preliminary action at Port Royal on September 10, 2020, is certainly no stranger to success at the Lake Odessa short track. In fact, Eliason earned a victory at I-96 Speedway in 2019; his second Series victory during his first full-time run with the All Star Circuit of Champions.
Taking command on lap 13 of 26, Eliason earned $5,000 for his efforts, forced to survive a green-white-checkered finish while fending off a slew of All Star full-timers including Tyler Courtney, Spencer Bayston, Justin Peck, and Hunter Schuerenberg.
"It's been a long road this year. It's definitely made me question 'what am I doing' week in and week out. This definitely gets the monkey off of our backs. I wish it wouldn't have taken this long because I think we finally found something," Cory Eliason said in victory lane, driver of the Rudeen Racing, Hager Realty Services, Rayce Rudeen Foundation, No. 26 sprint car. "The guys have been working really hard, but it's been a struggle for all of us. But Kevin Rudeen is probably the greatest boss that any of us could ever have. He's always motivating us and keeping us pumped up, even after nights where we may run 20th. He's always on our side."
Starting sixth on the I-96 grid, it was obvious that Eliason was a threat right from the start. The Rudeen Racing entry powered ahead to third by the completion of lap one, all before inheriting the second spot just two circuits later. Zeb Wise, the evening's outside-pole sitter, led the first three circuits, but hard contact with the turn four wall ended his campaign at the front of the field. Ian Madsen, substituting for Nashville's Paul McMahan aboard the CJB Motorsports No. 5, was the heir to the top spot.
Madsen took advantage of the ensuing restart and jumped to a commanding lead, but traffic, which entered the picture with barely ten laps recorded, interfered with his momentum. Eliason quickly reeled in Madsen and made his first bid for the lead on lap 12, diving to the bottom of turn one before sliding across Madsen's nose at the exit of turn two. Madsen returned the favor in turn three, actually splitting Eliason and a lapped car to take back command. Unfortunately for Madsen, Eliason was too tough to shake, losing command to the blue and white No. 26 at the exit of turn four on lap 13.
A caution on lap 15 would settle things down and rid the track of traffic. The remaining laps would see Eliason do his best to outrun Madsen and Courtney, but the pair would shrink the gap in the closing circuits. A red flag incident on the final circuit, setting up the aforementioned green-white-checkered finish, would give Eliason the clean air and clear track that he needed. Ian Madsen would actually make hard contact with the turn four wall on lap 23; he limped home 13th.
"Clean air is always good, but it's still a 50/50 chance, especially with guys like Tyler Courtney and Spencer Bayston behind you," Eliason continued. "You don't know what those guys are doing and they could come at any time. That's pretty much the name of the game."
With the risk of severe weather a factor in northern Indiana, the FloRacing All Star Circuit of Champions presented by Mobil 1 replaced Saturday's previously scheduled appearance at Plymouth Speedway with action at Waynesfield Raceway Park in Waynesfield, Ohio. The event at Plymouth Speedway will not be rescheduled.
Originally slated to host the regionally-based FAST Series on Saturday, August 21, the All Star Circuit of Champions will now co-sanction the event which will award a $5,000 payday. Tony Stewart's All Stars last visited the Waynesfield highbanks during Ohio Sprint Speedweek with Elk Grove, California's Kyle Larson scoring the main event victory; it was Larson's second Speedweek triumph in three starts.
Contingency Awards/Results: I-96 Speedway | Friday, August 20, 2021:
Entries: 21
C&R Racing Hot Laps: Zeb Wise | 13.795
Dixie Vodka Fast Qualifier: Ian Madsen | 13.341
Ford Performance Heat #1 Winner: Tyler Courtney
All Pro Aluminum Cylinder Heads Heat #2 Winner: Cap Henry
Hunt Brothers Pizza Heat #3 Winner: Geoff Dodge
Kear's Speed Shop Dash presented by Elliott's Custom Trailers and Carts Winner: Ian Madsen
FloRacing A-Main Winner: Cory Eliason
Hercules Tires A-Main Hard Charger: Frankie Nervo (+9)
Qualifying
Group (A)
1. 5-Ian Madsen, 13.341; 2. 26-Cory Eliason, 13.393; 3. 55-Hunter Schuerenberg, 13.422; 4. 11-Spencer Bayston, 13.444; 5. 10-Zeb Wise, 13.479; 6. 13-Justin Peck, 13.497; 7. 7BC-Tyler Courtney, 13.503; 8. 17B-Bill Balog, 13.527; 9. 91-Kyle Reinhardt, 13.544; 10. O7-Skylar Gee, 13.597; 11. 4-Cap Henry, 13.604; 12. 7m-Geoff Dodge, 13.650; 13. 5S-Max Stambaugh, 13.705; 14. 85-Dustin Daggett, 13.754; 15. 97-Greg Wilson, 13.785; 16. 7-Zane DeVault, 13.840; 17. 12-Corbin Gurley, 13.866; 18. 71h-Ryan Ruhl, 13.869; 19. 21N-Frankie Nervo, 14.132; 20. 11C-Joe Conway, 14.997; 21. 39-Tylar Rankin, NT
Heat #1 – Group (A) (8 Laps) – Top 8 Transfer
1. 7BC-Tyler Courtney [2]; 2. O7-Skylar Gee [1]; 3. 11-Spencer Bayston [3]; 4. 5-Ian Madsen [4]; 5. 5S-Max Stambaugh [5]; 6. 7-Zane DeVault [6]; 7. 21N-Frankie Nervo [7]
Heat #2 – Group (A) (8 Laps) – Top 8 Transfer
1. 4-Cap Henry [1]; 2. 17B-Bill Balog [2]; 3. 10-Zeb Wise [3]; 4. 26-Cory Eliason [4]; 5. 85-Dustin Daggett [5]; 6. 12-Corbin Gurley [6]; 7. 11C-Joe Conway [7]
Heat #3 – Group (A) (8 Laps) – Top 8 Transfer
1. 7M-Geoff Dodge [1]; 2. 91-Kyle Reinhardt [2]; 3. 13-Justin Peck [3]; 4. 55-Hunter Schuerenberg [4]; 5. 97-Greg Wilson [5]; 6. 71H-Ryan Ruhl [6]
Dash #1 (6 Laps)
1. 5-Ian Madsen [4]; 2. 10-Zeb Wise [6]; 3. 7BC-Tyler Courtney [7]; 4. 4-Cap Henry [3]; 5. 55-Hunter Schuerenberg [8]; 6. 26-Cory Eliason [5]; 7. 7M-Geoff Dodge [2]; 8. 11-Spencer Bayston [1]
A-Main (25 Laps)
1. 26-Cory Eliason [6]; 2. 7BC-Tyler Courtney [3]; 3. 11-Spencer Bayston [8]; 4. 13-Justin Peck [12]; 5. 55-Hunter Schuerenberg [5]; 6. 5S-Max Stambaugh [13]; 7. 97-Greg Wilson [15]; 8. 4-Cap Henry [4]; 9. O7-Skylar Gee [11]; 10. 21N-Frankie Nervo [19]; 11. 10-Zeb Wise [2]; 12. 7-Zane DeVault [16]; 13. 5-Ian Madsen [1]; 14. 85-Dustin Daggett [14]; 15. 91-Kyle Reinhardt [10]; 16. 7M-Geoff Dodge [7]; 17. 12-Corbin Gurley [17]; 18. 71H-Ryan Ruhl [18]; 19. 39-Tylar Rankin [21]; 20. 11C-Joe Conway [20]; 21. 17B-Bill Balog [9] Lap Leaders: Zeb Wise (1-3), Ian Madsen (4-12), Cory Eliason (13-25)