Brock Zearfoss Experiences Up & Down Weekend With World Of Outlaws At I-55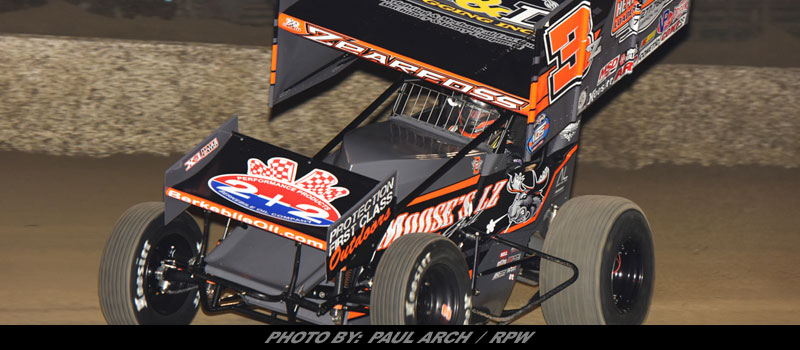 Story By: TYLER ALTMEYER / BROCK ZEARFOSS RACING – JONESTOWN, PA – Battling with the Greatest Show On Dirt on the highbanks of Federated Auto Parts Raceway at I-55 in Pevely, Missouri, stirred some up and down results for Jonestown, Pennsylvania's Brock Zearfoss.
Although the 2021 Rookie of the Year contender missed the top-ten during each night of the two-day showstopper, Zearfoss acquired valuable lap time and found success in his own right, highlighting the weekend with a 12th-place score on Friday.
A top-12 end result, Zearfoss, driver of the Brock Zearfoss Racing, Moose's LZ Bar & Grill, Heavy Equipment, Loaders & Parts Inc., C&D Rigging Inc., BAPS Auto Paints & Supply, Meckley's Limestone Products, Berkebile Oil Company, Klick Lewis Cars, J.P. Adamsky Trucking, X-1 Race Cars, No. 3Z sprint car, was a force during all of Friday's program, timing eighth overall during qualifying time trials then finishing third during his respective heat race.
Unfortunately, a crash during Zearfoss' respective Saturday night heat race led the "Jonestown Jet" to the evening's Last Chance Showdown. A final corner pass for the transfer would propel Zearfoss to the main event; he would drive ahead from 24th to finish 16th.
"I-55 is a lot of fun. Things happen in a hurry, so being on your toes is vital," Brock Zerafoss said, who owns one World of Outlaws victory, as well as a Port Royal Speedway championship. "I can't thank my team enough for their hard work and dedication. Even when things got upside-down on Saturday, they never quit and worked through it. Their hard work pays off and I'm proud to have them with me out here on the road."
Brock Zearfoss and the World of Outlaws will return to competition with a two-day stay in the Hoosier State, first taking aim at Kokomo Speedway in Kokomo, Indiana, on Friday, April 9, followed by a stop at the always-exciting Tri-State Speedway in Haubstadt, Indiana, on Saturday, April 10. The "Jonestown Jet" will enter the weekend with three World of Outlaws top-ten finishes on the season.