Brent Marks Opens All Star Sprint Points Season; Another Jammed Weekend For CJB Motorsports On Deck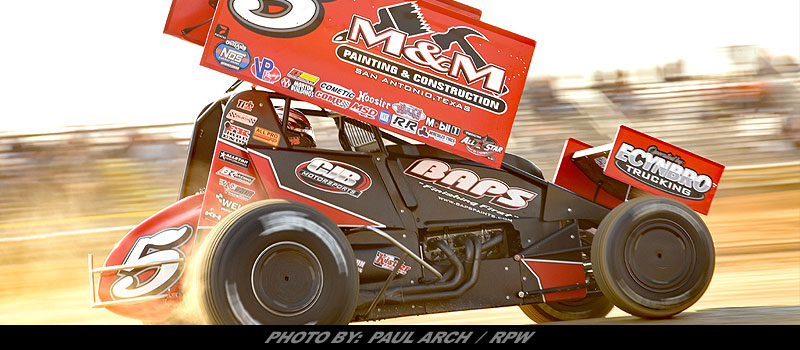 Story By: NATALIE JACKSON / CJB MOTORSPORTS – CARLISLE, PA – Mother nature proved to be too frigid on Friday, April 2nd at Attica (Ohio) Raceway Park for Brent Marks and the CJB Motorsports team. However, the team was able to score a top-10 the following night.
Marks and the team timed in 10th with the Flo Racing All Star Circuit of Champions and finished 2nd in his heat race and 4th in the feature. This helped the team kick off their chase of the 2021 All Stars title with a great showing.
"We had a good start to our All Star season," said Marks, pilot of the #5 M&M Painting and Construction, BAPS Paints, Fredericksburg Eagle Hotel, R.E. Pierson Construction Co., Wolf-Run Landscapes, Nyce, Crete & Landis Block and Concrete, C&S Lawn and Landscape, Ecynbro Trucking machine. "We can't ever complain about a top-5 finish. Although we would have loved to race for a win, it was a good solid night. The guys worked hard to get me better every time we hit the track. It's been awhile since I've been to Attica, so we were just trying to find the right balance and I feel like we got very close with the car. I'm looking forward to the next one!"
Car #5 will be in action at Bridgeport (NJ) Speedway on Tuesday, April 6th before taking on Williams Grove Speedway near Mechanicsburg, Pa. on Friday, April 9th and Port Royal (Pa.) Speedway the following night.
The following weekend, both CJB teams will be in action at Virginia Motorspeedway near Jamaica, Va. on Thursday, April 15th, Williams Grove Speedway on Friday, April 16th and Port Royal Speedway on Saturday, April 17th.