Over 70 Cars Take Part In Georgetown Speedway's Saturday Open Practice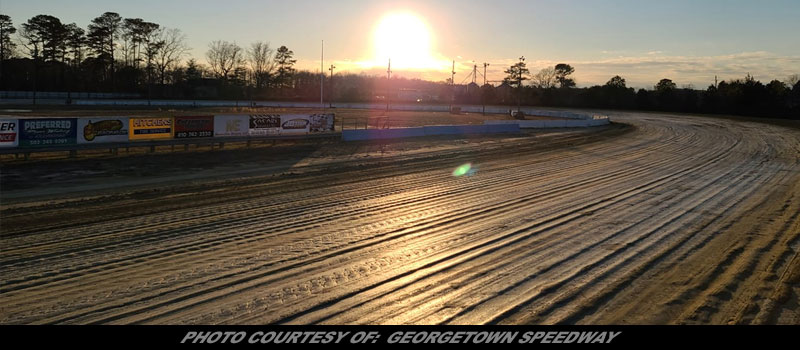 Story By: CHRIS MOORE / GEORGETOWN SPEEDWAY – GEORGETOWN, DE – The 2021 season at Georgetown Speedway got underway on Saturday with an Open Practice session for all divisions. An impressive 72 cars took laps throughout the three-hour session at the historic First State facility.
A smooth, multi-groove surface greeted competitors with minimal tire wear despite heavy rains over Delmarva in the past month.
The Chesapeake Paving Modifieds had 13 competitors take the opportunity for hot laps including a pair of New York State drivers making the tow in Michael Maresca (Potsdam) and Dillon Steuer (Bohemia).
Steuer was quickest overall at 18.875 seconds in the first of four sets. Fastest in the next three sets, respectively, were Kevin Sockriter (20.775 – Round No. 2), Danny Bouc and Joseph Watson (20.624 – Round No. 3) and 20.467 (Sockriter – Round No. 4).
Twenty Blue Hen Dispose-All Crate 602 Sportsman checked into the pit area. Greg Humlhanz was quickest overall with a lap of 20.016 seconds in the first round. Humlhanz led Round No. 2 at 21.339, RUSH Late Model convert Zac Weller in Round No. 3 (21.709) and Nick Stephan in Round No. 4 (21.703).
The quickest recorded time of nine First State Chevrolet RUSH Late Models was 20.070 seconds by Ben Scott.
A total of eight divisions were represented, with the Delmarva Chargers, Delaware Super Trucks, Super Late Models, Southern Delaware Vintage Stock Cars and Little Lincolns also taking part.
Attention now turns to the sixth running of the Melvin L. Joseph Memorial at the Georgetown Speedway on Friday, March 12 and Saturday, March 13.
The Saturday (March 13 program) features both the Bob Hilbert Sportswear Short Track Super Series (STSS) Fueled By Sunoco Velocita-USA presented by Design for Vision and Sunglass Central South Region STSS Modifieds (49 laps, $10,049 to win) and Belmont's Garage South Region Crate 602 Sportsman (25 laps, $1,549 to win).
Other divisions competing over the weekend include Small-Block Modifieds (30 laps, $4,049 to win), RUSH Late Models (20 laps, $1,049 to win), Southern Delaware Vintage Stock Cars, Little Lincolns, Delaware Super Trucks and Delmarva Chargers.