RPW Column: An Amazing Show Put On By DIRTcar Sportsman In Lake View Opener; Nick Guererri Victorious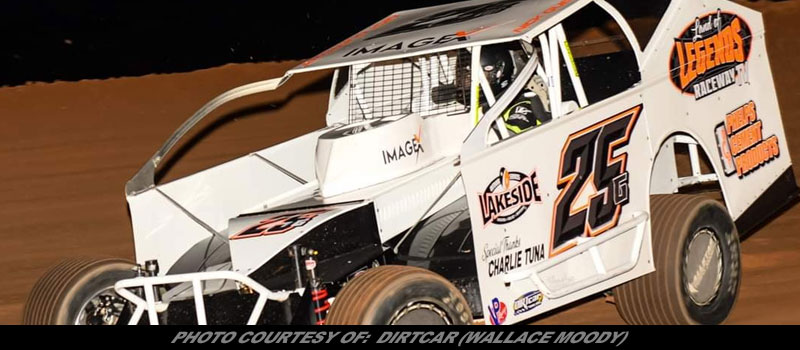 Column By: TOM CZABAN / RPW – NICHOLS, SC – Very Wet Grounds and Cold conditions gave way to warmer temperatures, drier grounds and bright Sunny skies on Friday at Lakeview Motor Speedway.
Drivers, owners and fans received more than a taste of what is expected to be a long-term future of annual special events for all styles of "center steer" Northern Dirt Modifieds. The development for a weekly division of a this style of car is in the works at the speedway.
When I arrived Wednesday, the grounds of the speedway, including parking areas were beyond soft. They even swallowed a pickup truck to the transaxles…trailer included. However, that didn't stop track GM Tim Clemons from working furiously around the clock to the give the Northern DIRTcar Sportsman Series an amazing, high-banked speedway surface to compete on.
I like to call it "Carolina Red" clay with lots of tacky bite and a smooth surface that even took some rubber. One more thing…NO Dust! While the track was in very nice condition, the work didn't end there. When spectators and campers arrived for this weekend's event, the track crew had just finished outfiting their facility with new 50-amp electrical service.
Thirty-nine DIRTcar Sportman arrived for multiple practice sessions on Thursday and utilized the spectator parking lot to wrench on and dial their cars in. In the meantime, management left the pits to Mother Nature (with some front end loader help) to take her course of action with another day to dry out the grounds. This helped to make the competitors, cars and haulers comfortable on Friday afternoon.
When the first race day rolled around, hot laps got underway around 5:30pm with time trials, heats and a B-Main to follow.
The opener was highlighted by a 35-lap, 24-car feature. The eight-lap heat races qualified four with three going to the redraw. That filled the top 12 spots.
Nick Guererri was second to Kevin Root in the "heads up" second heat race. Guererri was sixth in line to pick up one of the potential starting positions and drew the pole.
The Waterloo, NY native is a regular at Land of Legends Raceway and led the field to green with local South Carolina racer Willie Milliken, behind the wheel of Derrick McGrew Jr's #26, on the front row. That began lap after lap of multiple side-by-side battles throughout the feature event.
Grant Hilfiger finished third in heat #3 and drew 11th to start the field. Hilfiger had a mechanical failure and coasted pit side before the start of the race, ending his night early. This left 23 cars to take the initial green.
Robert Gage brought out the first caution at the start in turn 2 but returned to competition before the field completed a lap.
Milliken took the early lead and pulled away from the field. He had a sizable lead and led for most of the race until getting into lapped traffic around lap 25. That's when he failed to get around Chip Constantino until the rest of the top 6 were able to catch him.
Then the race was really on!
Guererri was able to dial up Milliken in with less than 10 laps to go and dove underneath him coming out of turn 4. The two drag raced down the frontstretch before Guererri passed him for the lead in turns 1 and 2.
Meanwhile, brothers Justin and Andrew Buff made their bid for the for the runner up spot with six laps remaining. Justin looked like he was in tow behind Guererri and cleared Milliken first giving him just four circuits to make a move for the win.
Andrew was able to get by Milliken as well as the #26 started to fade in the final few laps.
Guererri had his hands full with lapped traffic. With just two tours remaining, the leader began to slide up the track and Justin Buff did everything he could to get by. He even dove underneath Guererri in turns 3 and 4 on the final lap but just didn't have enough. Guererri held on for the win and the $2000 Prize Money.
"I think I could've gotten by him," Justin Buff said. "If only I had another lap."
Buff had to settle for second while side-by-side battles were going on for positions in the rest of the pack right behind Andrew Buff who was third.
Milliken held on for fourth and AJay Potrezbowski Jr. was fifth.
Sixth through tenth were Kevin Root, Zach Sobotka who started deep in the field, John Scarborough, Alan Fink, and Jeffery Prentice.
Heat Race Winners were: Milliken, Root, Scarborough, Potrezbowski Jr. Saturday Night will have the same format except the Feature will be 51 Laps.
Important Quick Notes
38 Sportsman took time to qualify
John Scarborough Set Fast time in Time Trials and won his Heat Race
Johnny and Mike Bruno (Father/Son) Both Started and Finished the Feature
AJ Potrezbowski Jr. and Sr. (Father/Son) Both Started and Finished the Feature
Derrick McGrew Jr. Piloted the Brock Pinkerous #5 Sportsman to 20th place.
When you put at least ten elite Northeast Sportsman Champions together on the track to race, people were on their feet for all 35 laps with their adrenaline and hearts going as fast as the cars!
A Wild Ride…
Supporting class Mod Lite Driver Doug Williams #9 is okay after a violent flip off turn 3 in practice. Doug separated the main cage of this machine from the break away front end in the crash.
Two tow trucks were needed to clean things up. One was for the Cage and the other for the engine and front clip.