RPW Column By: BOBBY CHALMERS / RPW – GENEVA, NY – Dreams can come true. Just ask multi-time DIRTcar Sportsman Champion Kevin Root.
Root, who has made what seems like a permanent reservation in victory lane at several DIRTcar tracks around circuit in recent years, will get to reap the benefits of that success, and hard work, when he joins the Big Block Modified ranks in 2021 as the full-time driver for noted car owner Vinny Salerno.
"It's really a dream come true," Root said. "Vinny has such great knowledge and is very well respected. He's had some great drivers over the years, so for him to give me this chance and has the confidence in me means the world."
The pairing made several starts throughout the 2020 pandemic-plagued season, and that only fueled their fire to put together a great program for next year. At some tracks, Root even ran the Modified for Salerno while running his own Sportsman machine.
"It was tough but Vinny's cars were so well prepared and I didn't have to ever worry about his program," he said. "He and Zach work well together and I knew that they always made the right adjustments on the car. Mine basically drives itself, but, for example, it was crazy at Middletown. However, at the end of the day we made lots of progress and I think more of that will come in time.
It's apparent that Salerno has a lot of confidence in Root. That feeling, Root says, is 100% mutual.
"Vinny's very smart with business as well as his cars," he said. "I'm expecting great things for us this year."
The new team has an adventurous schedule on their plate for 2021. Their weekly tracks will begin on Friday night's at the Brewerton Speedway. They will follow that up with visits to the Hard Clay of the Orange County Fair Speedway on Saturday's.
The duo will also enter all of the Modified races that will be held at Weedsport Speedway and do some Series races.
In determining this ambitious schedule, Root says it all came down to competition.
"I feel Brewerton is the best place to race," he said. "They have the best competition there. It's a great track. I can learn a lot and run against the best."
In regards to OCFS, the choice to run there was one of convenience.
"Middletown's right down the road from Vinny," he said. "I didn't want him to have to travel."
If that's the case, how will they run two weekly tracks so geographically distant from each other?
"I'm going to maintain the Brewerton car and he'll take care of the Middletown piece," he said. "I just feel that running Brewerton will help me develop and running Middletown makes sense for us."
When it comes to the cars in the fleet, Root says they will all be new Teo Pro Cars. Since the summer when he started running for Salerno, Kevin's driven a 2020 Teo that the Four Star team put together.
Next year, they'll be running the all-new 2021 Teo Pro Car Elite.
"Vinny has worked real close with Matt (Hearn) and Bobby (Hearn) from Teo on the development of this new car," he said. "I believe we will all work really well together and I expect great results. Vinny has top-notch equipment and deserves to have his cars upfront."
As for the smoke between the framerails of the 4* cars, the team will utilize Billy the Kid Performance Engines for everything except the Brewerton effort. For the D-Shaped Dirt Demon, they will have a powerplant from Donath Motor Worx.
"Billy's engines are phenomenal, but I don't have that much time on track with them," he said. "Brian (Donath) wanted to do something with me for Brewerton with my own stuff. However, I wanted to run Vinny's car and get as much seat time with the Teo as I can. So, I got together with both guys and we came up with a plan."
Donath has helped Root with his Sportsman program for several years and it's that connection that Kevin wanted to keep.
"I believe in loyalty," he said. "Brian's been with me since day one and Vinny's giving me an amazing opportunity. He's also easy to work with so it was great to get both on-board with this program."
While the Four Star team will run a handful of 358-Modified shows next season, the bulk of their schedule will be with the Big Block. What does Root think will be his biggest challenge as a Modified rookie?
"Our biggest obstacle may be the competition," he said. "I also have to get use to the Teo cars…understanding them and getting to what they race like. However, Vinny's good with chassis set-up so I feel like we'll be fine."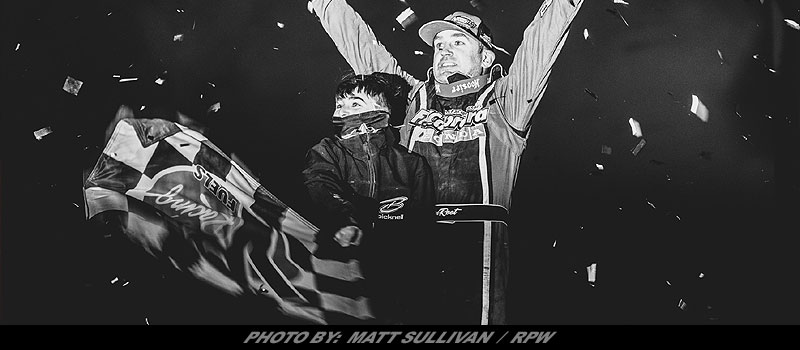 It's that feeling that has Kevin optimistic he'll be able to do his traditional roof dance victory lane celebration atop the 4* car this year with his "crew chief," AKA his son Nicholas.
"He's really excited," he said. "Nicholas gets along with Vinny and Zach really well and the rest of the team love him. I just hope we can continue our victory lane tradition with the new team."
This past season was one of change for many in the racing industry. However, even though schedules were moved, races were cancelled, and fans may not have been in the stands, Kevin Root still found a way to do one thing…win.
That winning formula has now led him to the Big Block Modified division and may, just may, lead him to his next goal…success, checkered flags and championships.
See, dreams really can come true.