RPW Column By: BOBBY CHALMERS / RPW – WEST LEBANON, NY – Even with as crazy as the 2020 racing season's been for racers and fans alike, you'd probably be hard-pressed to get Brett Haas to say it wasn't the best year of his career…and with good reason.
Haas, the former Lebanon Valley Speedway Sportsman Champion, added to his trophy case this year, not only with victories, but also collected the 358-Modified title at the track by the narrowest of margins…one point over Jason Herrington.
However, at the end of the 24-lap finale this past Saturday, as the checkered flags flew, Haas was defeated. He knew that fellow competitor Timothy Davis had finished better than him and was the champ.
That was, though, until the cars went across the scales and Davis' #7T PMC came up light. He was subsequently disqualified, moving Haas into the top five.
With those two points, Haas was able to pass Davis and, be one marker, caputure the title, just ahead of feature winner Herrington.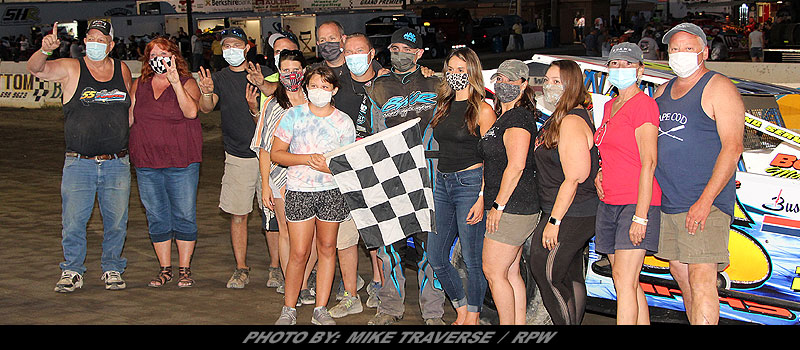 "It was frustrating in the feature watching Tim continue to pick off car after car and so on," Haas said. "We were giving it everything we had but he was just able to keep distance between us. Tim had a good race, really a good season and did everything he could.  Luck was just on our side."
The point that makes this abbreviated season a career year for Haas, however, isn't just that he won the Small Block title. He was also, as a rookie, able to visit victory lane in the Big Block Modified class and tied for 13th in points. It was truly a career year for the Pittsfield, MA native.
"This is just pretty surreal," he said. "Winning this championship was our original goal for the year, and with the Big Block win added in, we definitely exceeded all expectations."
Even though he still gets emotional every time he watches or even thinks about the Big Block checkered flag, he's extremely proud to win the Small Block title, especially for his team who had double the workload in 2020.
"We wouldn't be here with the support of my parents, my wife Abby and this crew," he said. "They are the true backbone of this team and it's truly an honor to drive for them. "They busted their asses each and every week to give me the best possible chance to be in this position and this title is because of their dedication."
His first win in the headline class may have been extremely special, but nailing down his second career Lebanon Valley championship means just a little bit more.
"With any championship, you could have the fastest car every week and not win the title," he said. "Every champ knows how much work it takes to be the best at the end of the year. Even with it being a shortened season, we'll take it and enjoy it because this is such a huge accomplishment for my family, my team and marketing partners."
On the strength of two victories in the 358's to go along with the Big Block triumph, you'd almost think Haas wants the 2020 season to keep going.
"This is just an unbelievable feeling right now," he said. "Year 2020 has been really, really good for our team and hopefully it's a momentum builder for next season."
Haas knows you can't do this alone and in addition to his dedicated crew, he was quick to thank all who support his racing efforts.
"I really have to thank all of my marketing partners for their support," he said. "A Big thank you to Mark (Intelisano) from MJI Transport who's the primary on our Small Block and Dave Prime Mac Tools who's the primary on the Big Block. Without every single sponsor on this car, we wouldn't be where we are.  I owe them the world."