RPW Column By: BOBBY CHALMERS / RPW – WEST LEBANON, NY – Nobody goes out on the race track looking to chase and set records. All they want to chase is the checkered flag. In 2020 at Lebanon Valley Speedway, John Virgilio did both.
With a single win to his credit, on opening night, Virgilio was the model of consistency in the Sportsman class at the Valley this season with one finish outside the top five…yes, you heard that right…a tenth on the next to last night of the season.
That good fortune allowed the Pittsfield, MA driver the opportunity to write his name in the record books as the first driver to win three championships in the crate engine era.
Even with his string of good finishes, Virgilio felt the pressure to perform.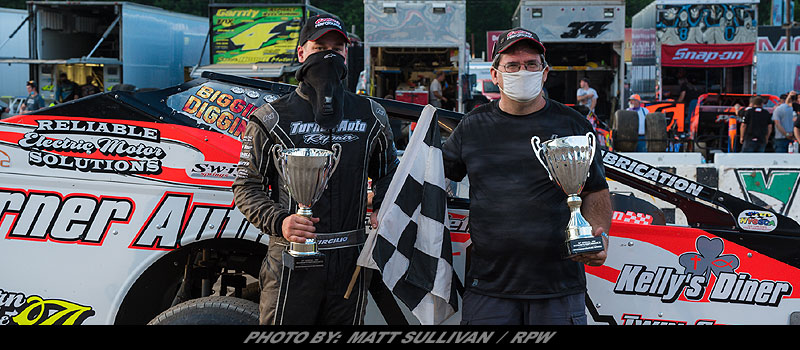 "There was definitely a lot of stress this year, for sure," Virgilio said. "My crew deserves this championship just as much, if not more, than I do. Now that we've accomplished our goal, we're going to enjoy and have a good time with this."
Virgilio's success may come down to chassis set-up and preparation. The crew, led by John's father, Lebanon Valley full-fendered legend Gary Virgilio, meticulously prepared the number 14 for battle each week and it showed with how well the car handled.
"We kind of adapted to running the track well where other people can't," he said. "Most of the time, I think that's what helped us have a lot of success in this class."
The 2020 season started off with Virgilio competing in the Big Block Modified class as well, running a car for Wayne Jelley. However, after two races with a best finish of 21st, John stepped away from the ride to concentrate on the Sportsman effort. Obviously, it was a good move.
"I'm glad we could get it done for the crew and all of our sponsors," he said. "I'm very proud of the results we had this season and am happy we were able to cap it off with a title."
Now the second-generation driver sets himself apart from the likes of Jason Herrington, Jeff Watson and Whitey Slavin.  All three of those drivers have two championships on their resumes. Placing himself at the top of the class hasn't gone to Virgilio's head, though. He still knows that it takes a total team effort to get to the top of the mountain.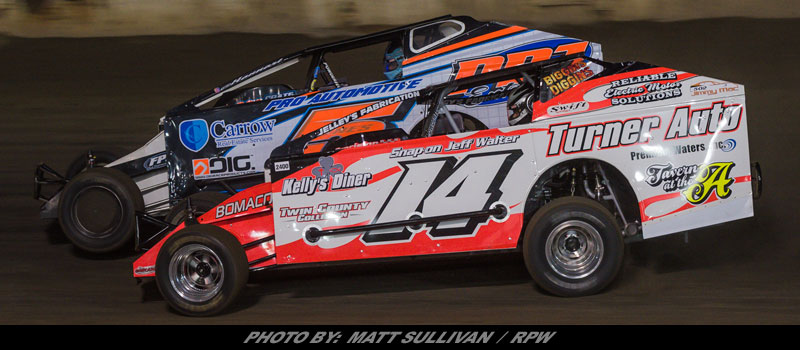 "First and foremost, I have to thank my parents," he said. "My dad slaves away at this car non-stop and so does our crew. Rick, Phil, my Uncle Jamie and everyone that comes to the shop every week, helps out and grinds with us to make this thing show up to the track and be such a pleasure to drive."
The sponsors on John's racecar are also a big part of the success the Virgilio Racing team had this season.
"I have to thank John and Deb at Turner Auto Repair for giving us a great place to house this car," he said.  "I've also got to thank Swift Springs, Biggins Diggins, Snap-On / Jeff Walter, Kelly's Diner, Twin County Collision, Tavern at the A, Premium Waters Inc, Jimmy Mac, Reliable Electric Motors, Henry's, Precision Precast, BOMACO, Mike Bianco Landscaping, A. Colarusso & Son, Fast Axle, Jelly Fabrications and Bicknell Racing Products. They all deserve this."
One Note From John In His Own Words…
"I have to thank my fiancé, Bri, for taking care of the family while we go racing every weekend. I also have to give a big thanks to my grandparents for supporting us from home as well as anyone else that pulled for us week in and week out."