Stewart Friesen Returns To Five Mile Point & Wins Mike Colsten Remembered 51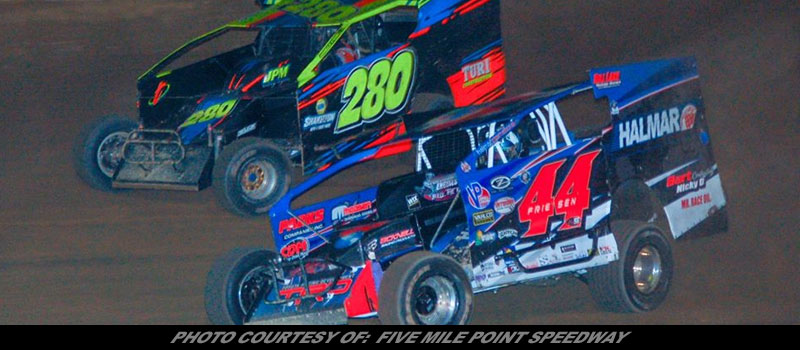 Story By: FIVE MILE POINT SPEEDWAY – KIRKWOOD, NY – In an event made to honor the legacy of champion driver Mike Colsten who passed away during the off-season, Stewart Friesen returned to the Five Mile Point Speedway, a track he use to be a regular at, on Monday and captured the feature event.
Danny Creeden was second followed by Justin Holland, Shaun Walker and Brian Malcolm.
Full night results are posted with a story to come…
MIKE COLSTEN REMEMBERED OFFICIAL FEATURE FINISH (51): STEWART FRIESEN, Dan Creeden, Justin Holland, Shaun Walker, Brian Malcolm, Billy Van Pelt, Danny Tyler, Mitch Gibbs, Richard Smith, Tyler Siri, Ken Titus, Cory Cormier, P.J. Goodwin, Alissa Cody, Brad Weaver, Alex Yankowski, Frank Yankowski, Joe Judge, Brian Puckett, Joey Colsten, Kailee Dimorier, Mike Bills, Gregg Turner, Glenn Knapp, Scott Landers.
Afton Motorsports Park Bonuses: Dan Creeden, Justin Holland, Mitch Gibbs.
Penn Can Speedway Bonuses: Brian Malcolm, Richard Smith, Joey Colsten.
MODIFIED DASH FOR CASH: JOEY COLSTEN.
LIAS TIRE NON-QUALIFIER GIVEAWAY: BILL DECKLEMAN.
GAMBLERS BONUSES: STEWART FRIESEN/ALEX TONKIN.
GRIT CRATE SPORTSMAN FEATURE FINISH (25 LAPS): MATT BREWER, Brandon Loucks, Jimmy Zacharias, Donnie Lawson, Rich Talada, Blaine Klinger, Brett Tonkin, Dale Welty, Rich Powell, Randy Brokaw, Brian Calabrese, Russell Benke, Josh Sawyer, Matt Sobiech, Tom Hampton, Todd Titus, Mike Nagel Jr., A.J. Potrzebowski, Set Zacharias, Jason Feinberg, Nick Plumstead, Devon Zona, Gary Smith, Jason Benjamin.
GRIT 6O0 MODIFIED OFFICIAL FEATURE FINISH (20): JARED GREEN, Dana Davis, Brenton Miller, Casey Plummer, Brett Grey, Bob Hamm Jr., Doug Lattner, Jason Sullivan, Sheldon Whitman, Chelsee Beebe, Travis Rooney, James Randall.
FWD FOUR CYLINDER OFFICIAL FEATURE FINISH (15): TIM VANDEMARK, Michael Travis, Dave Simms, Doug Newbigging, Brian Salmini, Matt Curry, Walter Decker, Owen Clark, Rich Wagner Jr., Greg Slater, Jacob Lamphere, Kevin Whitman, Don Doster Jr., Jeff Degroat, Steve Lunn, Randy Lane. DNS John Maynard.
TOP FINISHING NOVICE BONUS: DOUG NEWBIGGING.