RPW Column By: LAURIE FALLIS / RPW – GRAND GORGE, NY – When people utter the words 'dirt racing,' one has to say it's a family sport.  That's exactly what it is for the father and son duo of Dan and Beau Ballard.
The pair from Grand Gorge, NY are both making the Glen Ridge Motorsports Park their home every Sunday night. This time around, however, they're not running in the same division.
Dan, the 68-year-old father, has been running into the Slingshot division at the track for several seasons.  His son, is Beau, the 36-year-old, who is in his rookie season at the Ridge but is no stranger to the Pro Stocks.
One could say they've both had very successful racing careers before coming to the track up on the hill.
Dan started racing in 1986 in the Street Stock class at Fonda Speedway.  He's had many victories while also claiming a Championship and even toyed around with different divisions.  However, he found his love in the IMCA class.
That's where he would shine, winning multiple championships in 2002, 2004 and 2006.
Beau followed in his father footsteps into the IMCA division, racing side-by-side with his dad for three years (2006-2008). The youngster added his name to the wins list at the Track of Champions, joining his dad.
After a few years away, in 2013, Beau changed gears and made the Afton Motorsports Park his home on Friday nights when the IMCA class faded at Fonda.
It was a different track but the same results. While he was still winning races at the bullring (Afton), Beau had a stellar season in 2018 for long-time car owners Ken and Deb Van Wert, bringing the team their first track championship in the IMCA division.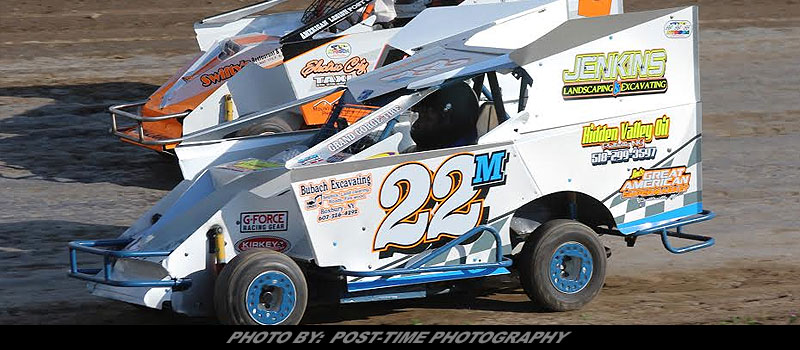 "Ken and I have been together for about seven years," Beau said.  "We just get each other. We're on the same page and I'm so grateful for all they have done for me and my career."
That's when I had to ask.  With the success the team had in the IMCA class. why the change?  Why did they change not only their home track, but division, going to Pro Stock?
"Sad to say but the IMCA division was dying out in the area and we wanted to keep racing," he said.  "I like to sit on the left side of the cars so we figured getting a Pro Stock was the best way to go."
Why the track change, though?
"Our team decided to run Fonda and then figured why not also run the Ridge," he said.  "Glen Ridge went the DIRTcar route for 2020 and running there would give us added points.  Also, my dad races there so we can keep our eye on each other."
In talking with the elder Ballard, I asked what keeps him racing, and why a Slingshot?
"Quite honestly, it was the only thing my wife would let me get into if I wanted to race," Dan said.  "She didn't mind this division, but made it clear she didn't want me back into anything bigger. I'm glad we got one because they sure are a lot of fun and I just love racing."
So how are the Ballards doing in the 2020 season at the Fastest 1/4 mile on dirt?  There's been a lot of success and similarities between the two.  For instance, how about dad and son winning on the same night?  Also, going into last Sunday, both were sitting second in points in their respective classes.
Ironically, both also came home with solid second place finishes last Sunday evening.
What are their goals for Glen Ridge?
"I want to finish every lap," Beau said.  "After getting our first victory this year, we'd like more wins. We're looking to finish in the top five in points at the end of the season."
That's a pretty good idea as the #15 is currently sitting in the number two spot after Sunday's action. Beau is 38 points behind leader Luke Horning.
Dan's reply was plain and simple
"Win the championship," Dan said.  "After finishing second two years in a row to Mike Hill, I want to improve one position.  I would really like to get it but if I don't, that okay too."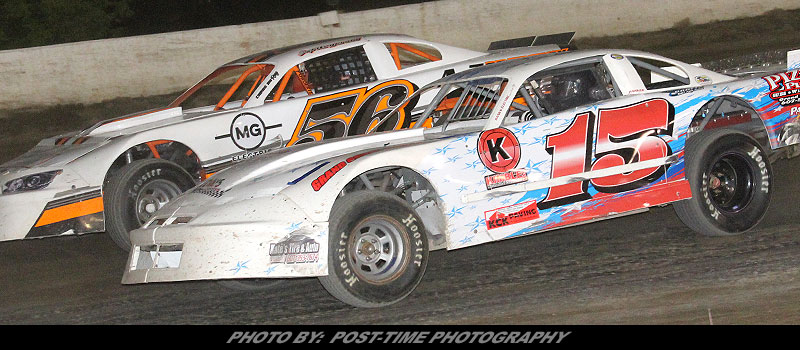 After Sunday racing action, Dan is your new point leader by six over Hill.
They both stated they really enjoy the track.  It's fast.  It's small and just a fun place to race and very competitive.
One of the two Ballards does more then just race at the track.  Dan also put in laps driving the grader for co-promoters Ray Sefrin and Butch Hazzard.  How did that come about?
"I went and asked Ray if he needed any help with the track prep," Dan said.  "You could say I have experience with the big machine.  It's what I do as a occupation."
Unfortunately, Dan doesn't get to the track much during the week because of logistics.
"I wish I could get up there more during the week," he said.  "However, it's tough with my job and living over a hour away."
Co-promoter Butch Hazzard was quick to acknowledge what an asset Dan and Beau are to the track.
"Being we are a family-oriented track, it's great having the Ballards racing with us," Hazzard said.  "It's pretty cool."
Both drivers wanted to thank all the promoters for giving the racers a place to race during these trying times.
"It's a tough deal," Dan said.  "Hopefully things will get better with state officials so we can get the fans back in the stands."
Although Dan doesn't always get to see his son race, with Beau's feature usually being run later in the evening and him having to get up early, he calls his wife to get updates on how he's doing.  Beau, on the other hand, does see his father's race.
"To be honest, I'm a nervous wreck watching him," Beau said.  "Not that I will admit that to him.  It's amazing that at his age, he's on top of his game. He's won in every class he's raced in over the years."
Beau also has a message to his dad's fellow competitors.
"He's just is a smooth driver," he said.  "Whoever is following behind him in the Slingshot, I hope they're taking notes.  I grew up watching my dad race when I was little in the stands at Fonda. Years ago, kids weren't allowed in the pits. Now my seven-year-old son's doing the same thing."
Coming from both Ballards, there could be a third generation making his debut in the Jr Slingshot division in 2021.
"It would be something special to our family to have three of us racing at the same track on the same night," Dan said.  "We're a racing family and want to keep that tradition going."
Best of Luck to the Ballards…father and son and soon-to-be grandson racing with their goals in sight.