RPW Column: Strong Outing At Lebanon Valley Saturday For Bobby Hackel Before Motor Issues Set In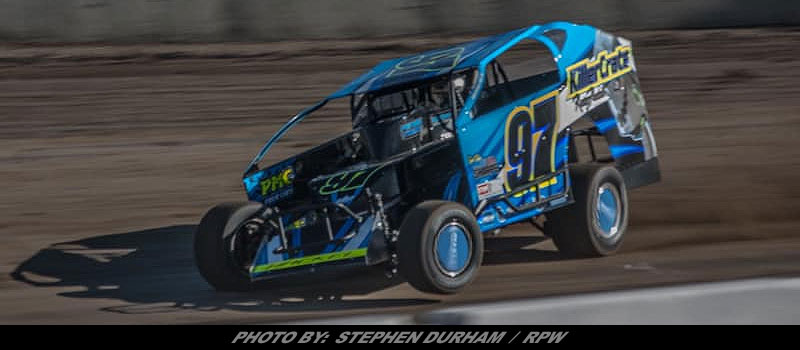 RPW Column By: STEPHEN DURHAM / RPW – WEST LEBANON, NY – There are a couple of new guys on the block in the already veteran filled big block modified class at Lebanon Valley Speedway. One of them being the 97 of Bobby Hackel out of East Greenbush, New York.
Hackel is a fourth generation driver in his family to take on the high banks and has always been familiar with the track.
Hackel started off the night fast timing 8th with his Petrucci and Ken Tremont Sr. built big block in warmups of the 23 big blocks to show up.
"Right off the trailer the car was tremendous, was a little tight, but talked with Joe Matthews of JAM Performance" Hackel explains "made a small change that made the car the best thing I've ever drove around the high banks."
The Killer Crate Racing Products 97 was out front with a commanding lead with a stout heat race with drivers Armstrong, Britten, Lombardo, Haas, Sheldon, and Josh Marcus, but on lap 6 is when the bad luck got Hackel with engine issues.
Hackel was lucky enough to have his Albany Saratoga car that had a Billy the Kid motor in between the pipes in the trailer. His crew was quick to get it unloaded and transition the parts on the primary Lebanon Valley car to the Malta car.
"It means a lot to have this awesome team around me, if it wasn't for them, I couldn't do any of this," Hackel says "they did a hell of a job getting the Malta car setup change making it almost just as fast as the other car!"
Hackel would be starting in the next county over in 22nd for the feature due to the DNF in his heat race, but Hackel knew early he had a fast piece.
"I knew the guys had really hit it with the setup and I was thinking we could charge into the top 10," Hackel explains "once I got there and saw the amount of laps left, the goal was a top 5."
Hackel was making quick work and with the luck of some cautions was in 5th place at the midpoint of the 30 lap feature. But then with 10 laps to go under caution, the bad luck returned.
"I noticed my my oil pressure was too low and fading and my temperatures were starting to rise, so I had to pull in to save further damage to the engine," a disappointed Bobby Hackel explains.
Hackel would finish 16th on the feature with other cars retiring before he did due to early race incidents.
"It's an unfortunate situation, leaves us with 2 bad fast racecars and one spare engine at home with lots of laps on it, so Im unsure what the future will bring," Hackel says, "I hope we can come back and make another strong run, it felt good to be back home on the high banks."