RPW Column By: BOBBY CHALMERS / RPW – PITTSFORD, NY – A few months back, the Modified world was set on its ear when DIRTcar Racing officials announced that they were effectively 'outlawing' the four-link rear suspension in sanctioned races.
While many fans voiced their opinions on the matter, some of which had never even set foot in a race shop, many racers did as well. One pairing in particular had a pretty big interest in the ruling…that being the combination of driver Rob Bellinger and noted car owner Ted Barcomb.
Back during the off-season before the 2018 racing season, the duo went to work creating a four-link Troyer machine to run on tracks in Central New York. While they used the car only a handful of times the first year, it was last season that saw their ideas put to use weekly as they ran the car full-time at the Brewerton Speedway.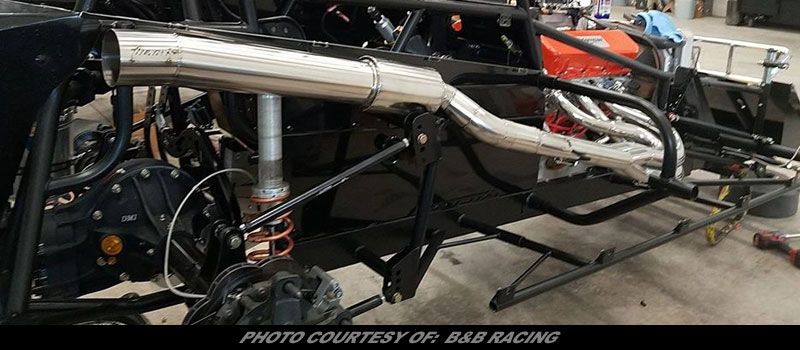 While they took some time off during the summer due to engine troubles, Barcomb believes that their car's success was one of the reasons that the new rule was put into place. In eight starts at the D-Shaped Dirt Demon, Bellinger and Barcomb scored one win on June 7th and only finished out of the top 10 twice..
"I feel a lot of what's going on is in reaction to what Rob and I have done the last couple of years," Barcomb said. "Our car came about because I had luck with the early Troyer four-link cars, racing with guys like Todd Burley and Bobby Varin. I believed the time was right to do it again, with more of the technology we now have."
A few years ago, Barcomb returned to the Modified world with a car to honor his late father, legendary car owner Cliff Barcomb, and tabbed Bellinger as his driver. That car was an immaculately-prepared Bicknell machine, and the two ran that car for a couple of seasons at different events, including the final Super DIRT Week at the New York State Fairgrounds.
However, Barcomb always remembered how good things were with the four-link rear set-up, so he went to work.
"I wanted to do it again, and Rob was willing to take a chance on it," he said. "My dad was always looking to gain an advantage. He was always thinking ahead. With my deal, I just felt like our technology was there to make the four-link work correctly."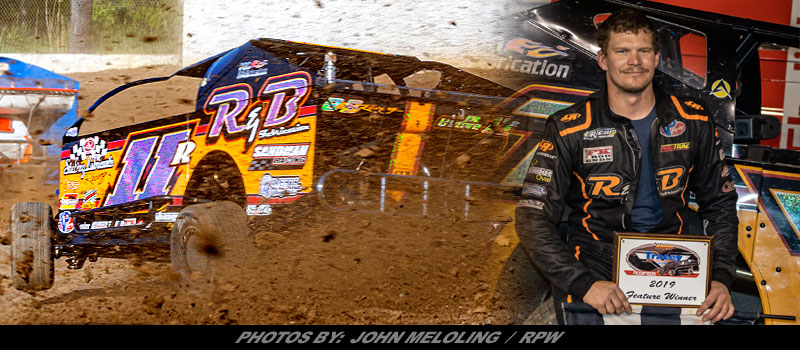 That's when the pair hit their shop and put in many hours of work and created a car that caused quite a stir. The car was first on display at the Performance Racing Industry (PRI) Trade Show in Indianapolis that off-season and got plenty of people talking. Some of their ideas may have been outside the realm of thought, but were choices Barcomb felt would work really well and produce results.
"Our ideas were working," he said. "The car just needed more development. We made great strides from 2018 to 2019 and were just scratching the surface of what it can do."
Unfortunately, the car won't see the track ever again. That's not because of the rule change, per say, rather because it was met a very hard demise in the massive turn three multi-car pileup during the Big Block Championship event at Super DIRT Week last October.
"Rob and I had decided that at the end of last season, we were going to scale back," Barcomb said. "We didn't have the time or resources to keep developing the four-link stuff. We didn't want the end of the 11 to be in the wall at Oswego, but sometimes racing is a cruel sport. Dad's number will return at some point."
Now the team's focus is getting another car ready to race for the new season, whenever that is set to start, with a racer carrying Bellinger's customary #8R. Even though he's looking forward, Barcomb can't help but smile about how well his car ran this past season.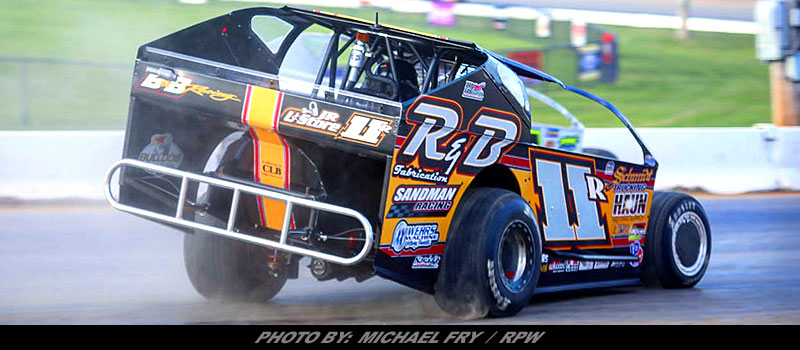 "Over the last couple years, that car with the four-link suspension really became my passion," he said. "That's another part about the win with the 11 this year at Brewerton was so special. Not only was it the first win in 30-some years for my dad's number and colors, but we did it with a suspension that everybody said didn't work in our kind of cars. That was the icing on the cake."
Barcomb is disappointed, however, in the rules change. He feels that it's outlawing ingenuity in these cars and not allowing people to try and 'outthink' the next competitor.
"The rule change really irritates me but I can understand why DIRT did it," he said. "We really would've liked to take it to other places and continue to develop it. I talked to Matt Hearn from Teo about maybe doing something this year, going all in on a four-link. Obviously that can't happen now and honestly, neither Rob nor I have the time to do it."
In talking with Hearn, and seeing what he's done so far, Barcomb is excited for the possibility of what they can develop for events that aren't DIRTcar-sanctioned, like Brett Deyo' Short Track Super Series.
"Matt may still do it, and if they stick with it, they will have the upper hand I believe," he said. "The suspension isn't for everybody. I think that's what is unique about our kind of Modifieds. You can run different kinds of rear suspensions and be competitive and win races. For those who want what is the best, I feel when the four-link is figured out, it'll be the way to go. That's why the rule was made I think. They know it would eventually obsolete everything. Maybe down the road, only allowing it at the top level, the Big Blocks, would be the way to go."
Barcomb is excited to see what teams and chassis manufacturers will come up with in regards to this rear suspension.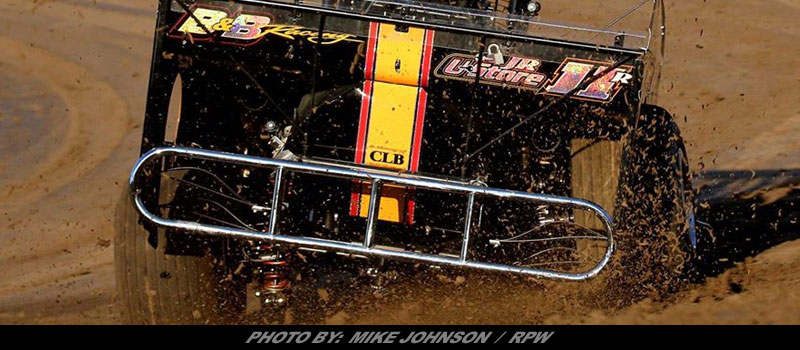 "Seeing as how it's only a DIRTcar-sanctioned rule, somebody's probably going to continue on this path," he said. "Maybe it'll be Matt or maybe it'll be someone else. Plenty of tracks in Pennsylvania, New Jersey and Delaware aren't DIRTcar-sanctioned. They can do what they want. It'll be interesting to see if they keep going down this path. I hope somebody does."
The cool part of this whole situation for Barcomb is when he thinks about his father and imagines what he'd be saying about the new rule and the state of Dirt Modified racing.
"I think he definitely be chuckling a little bit about this," he said. "He'd love the idea of being one of the guys behind getting something outlawed. Some of the rules now are because of him so he's probably looking down and smiling."
The entire Barcomb / Bellenger team is smiling a little bit as well. From Ted to Rob to their shock guy Todd Thompson to the crew, each is proud of what they accomplished with their racecar.
"I think Rob, Todd the crew and I did something that's pretty cool," he said. "When we're old and sitting in our rocking chairs, we'll look back on this, get a good laugh and be proud. I told Rob that, as of right now, he's the last guy to win with a four-link in a DIRTcar-sanctioned race. He got a chuckle out of that."
Now the team will focus on the 2020 season, and going back to a standard car. Rob ordered a new Bicknell over the off-season so they could make things a little easier. He and his wife are expanding their family while Barcomb had commitments he had to attend to as well.
Running two nights a week just didn't fit their schedule, so something 'easier' just made sense. They'll concentrate on a Friday night only program this season.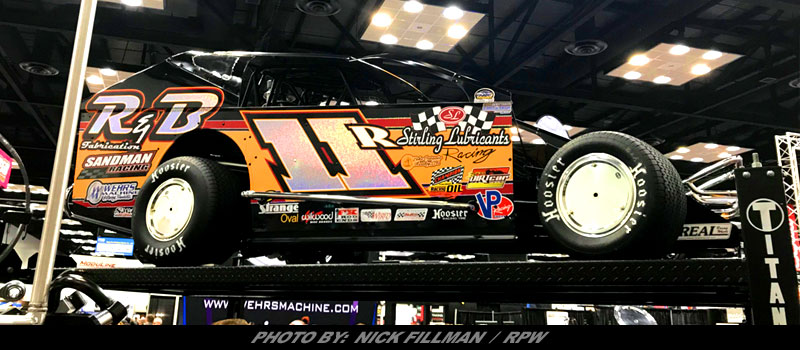 "With running one night a week, getting a standard car was the best way to go for us," he said. "That's not because we didn't think the four-link worked. It does, and whoever continues down that path is going to have a serious advantage once it's dialed in. There's a reason why every dirt car without a wing runs a four-link. It works. We just don't have the time right now to do it."
Ted Barcomb has the know-how. Rob Bellinger has the driving talent. As a team, they feel they were on the right track each and every time they hit the speedway. Maybe, just maybe, somewhere down the road, they'll revisit their ideas, and keep going where they left off…running up front.
Editor's Note…More to come from Ted Barcomb. In the near future, you'll hear about his history in racing, running his dad's number and colors, and how this team's four-link Troyer was developed. Don't miss it!