RPW Column By: BOBBY CHALMERS / RPW – TROY, NY – There is some great optimism beating within Sportsman racer Colin Clow heading into the 2020 racing season.
After a year that produced several hard times, including a massive crash at Lebanon Valley that left the Troy, NY driver with a concussion, Clow has a new car and new excitement for the new season coming up.
"I'm going to be running a DKM Race Car this season," Clow said. "With that, I am going to concentrate all of my efforts on running for points at Lebanon Valley."
Making the jump to the DKM camp is huge step for Clow who has spent his entire career behind the wheel of Teo Pro Cars. The change is something he's very excited about due to the support he'll have behind him.
"Everyone at DKM have been great so far," he said.  "I feel it's going to get even better.  I've always had people to help me here and there, but nobody consistent with setup help. I'm really looking forward to this."
The decision to hit the high banks of Lebanon Valley weekly came indirectly from conversations with the DKM guys as well.
"When I decided to run their cars for this year, they kind of told me from the start that I should focus on one track." he said. "In the past, I've ran Malta one week, the Valley the next. I've never focused on one place or focused on points. I've always just gone wherever I've wanted to race and have fun. But by doing, that the results have showed and I'm hoping to turn that around this year."
Were there any other factors in choosing to race at Lebanon Valley?
"It's just me that funds, works and sets up my car," he said. "Lebanon Valley's schedule, not racing every single week, seems more affordable to me and will help me get this new car figured out. The DKM boys will get me tuned up and headed in the right direction. I'm excited."
The car, which is a 2018 Cyclone, is a three-race old piece which was previously owned by the Dodson Construction team.
"I can't wait because this is the first time I'm going to have a "new" car with all really good stuff on it," he said. "Like I said, it's just me that works and sets up my car. To have the backing and help of DKM this year, I'm really excited to see what happens."
As stated before, 2019 was rough for Clow. From running sporadically at both Lebanon Valley and Albany-Saratoga, to talking time away from the seat to help his girlfriend deal with a family situation, to the hard crash which left him injured, it's a year he'd like to forget.
"I was not happy with 2019 at all," he said. "If my season ended in June when I finished seventh at Albany-Saratoga (after starting 15th), it would have been strong one. The wreck where I got my concussion happened at the Valley in May. I had a shock break after some contact and I took a pretty hard hit to the turn 1 wall which resulted in a ton of damage, me getting hurt and set us back.  I didn't race a lot in August while helping Nikki (Ouelette, his girlfriend and fellow Sportsman racer) go through everything she was with her mom. Luck just wasn't on our side last season."
Even though he's going to concentrate his primary efforts with the new car at Lebanon Valley, Clow still has ideas to dabble at other tracks, when time allows, with another car he's added to the stable.
"I bought a Bicknell car from the Syracuse area," he said. "I wasn't looking for brand new and this one worked.  It's a 2014 ad I got a pretty good deal on it.  I was going to run this as my only car until I made the deal for the DKM which I couldn't pass up."
Now, as schedules permit, you may see Colin at other tracks.
"This will allow things to be a lot easier if we want to travel," he said.  "Since I have both, I got the bright idea to put each together. I'm focusing on the DKM and slowly piecing the other car together to run other places like Albany-Saratoga possibly on off weeks."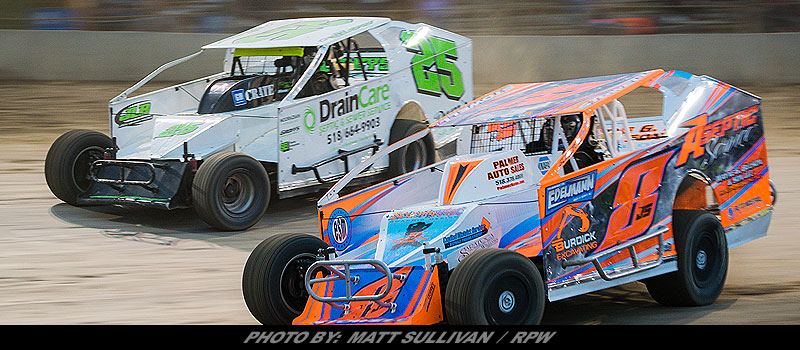 With that, what does Clow have for goals for the 2020 season?
"Really, I want to stay out of trouble and be consistent this season," he said. "I would like to finish top 10 in points for my sponsors and the people behind me. Getting some top five finishes would be awesome too. I'm really hoping I can get to that point this year but one step at a time for our small team."
If all goes well, what is the ultimate goal for this young driver?
"Everyone's brass ring they want to grab is to making it to victory lane, of course," he said. "Ever since I was a little kid watching from the stands, I've had the dream to stand on the roof of my car in victory lane on the frontstretch at Lebanon Valley. That would be absolutely amazing if it happened, but I'd be happy with some good finishes and even a heat race win. I just want something to show that I'm capable of doing this and that the hard work is paying off."
The 2020 racing season will be a turning point for Colin Clow. A new car…a new focus…new determination. With that determination comes optimism, and drive, to make this season his best ever. The Roman philosopher Seneca once said, "luck is what happens when preparation meets opportunity" and Clow is hoping his maintenance program and team preparation will help to turn his luck around.
If this off-season is any indication, he's in for a great 2020 season.
Final Thoughts In Colin's Own Words:
"I have to thank my Mom and Dad for getting me started and supporting me when I got back into racing myself.  Also have to thank Nikki for always supporting me and helping me build the cars (we'll see if that changes when I'm lined up next to her)

I can't forget the guys that help me as well…McCormick, Travis, Mr Ed and CD.

Also, thank you so much to my sponsors, including Drain Care Septic and Service.  They've supported me pretty much since I started racing.  Todd has stepped up the past few years making it possible.  I also have to say thank you to Fane's Sand and Gravel, Mooridian Hydraulics, Groff's Plumbing and Heating, Dicarlo's Autobody and Greystone Ranch."