RPW Column By: BOBBY CHALMERS / RPW – EAST GREENBUSH, NY – If he wasn't already one of the busiest drivers in New York's Capital Region, Bobby Hackel has plans to add more to his racing plate this coming season.
The term 'have helmet will race' was made for this fourth-generation driver who just wants to race and race as much as he possibly can.
Over the last handful of seasons, Hackel has run a Modified weekly on Friday nights at the Albany-Saratoga Speedway while competing for in the majority of events at Devil's Bowl Speedway with his Sportsman. He even ran a 305 Sprint Car for several races during that time, visiting victory lane on multiple occasions.
Last season, Hackel finished 11th in points at Albany-Saratoga, with a best finish of second on July 26th. That was the night he nearly grabbed his first-career Modified win only to be passed by Rocky Warner coming off of turn four on the white flag lap.
The East Greenbush, NY driver did, however, collect two wins in 12 starts last year at Devil's Bowl. Had he attempted every event at the Fair Haven, VT track, Hackel may have been in contention for the track title.
Not to be overlooked, Bobby took home the 2019 King of Dirt Sportsman Series crown by seven points over Vince Quenneville Jr.
How does Hackel plan to top his 2019 racing campaign? Add more to his schedule, of course! This coming season, he'll add weekly Modified racing at Lebanon Valley, a track where he won Big Block Rookie of the Year honors in 2013, to his plans.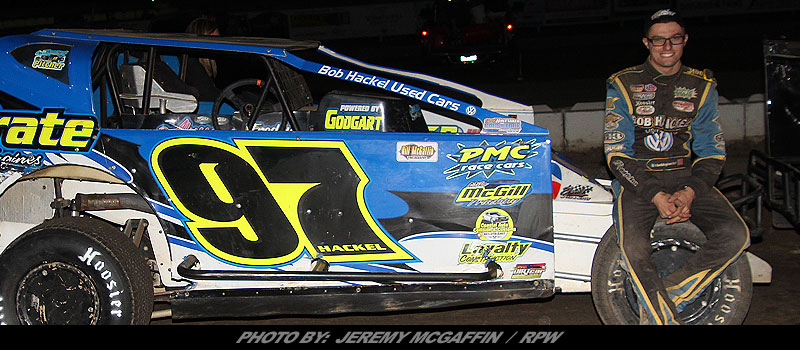 "I'm very excited that I'm going to get back to one of my old home tracks," Hackel said. "I can't wait to able to spend another night each week behind the wheel of a Big Block Modified."
Hackel will compete full-time at the Valley this season with the PMC Chassis that he ran at Albany-Saratoga last year. A new car is being built right now for competition on Friday nights at the 'Great Race Place.'
With the addition of racing weekly on the Valley's High Banks, Hackel is hoping this translates into better on-track performance while gaining valuable seat time to make him a better driver.
"To improve my program as a whole, I needed to race more with a Big Block strapped between the pipes of our car," he said. "The Valley pays a great purse, it's close to home and it's been a track my family's raced at for generations. The opportunities are finally coming together for me to get back there on Saturday nights and I can't wait."
Running two nights a week, Hackel feels, will produce nothing but positives as he tries to get himself and his team stronger.
"I think our team has continued to grow each year and, heading into 2020, we have the best Big Block Equipment we've ever had," he said. "It takes a lot of time to build any team up, no matter what level you race at. However, in the Big Blocks, the costs and level of competitive equipment is very hard to achieve. I've got amazing sponsors, a dedicated team behind me so this year, we'll finally have what I believe can make us a threat each and every night."
Even though he feels good about things going into the new season, Hackel knows there's always room for improvement.
"There isn't one major thing glaring at me that I feel we need to get better with," he said. "However, there are smaller things we can improve on. If we can continue to make gains in all areas like brakes, tires, suspension and other things, that'll equal the next level we are looking to perform at."
Now, just because he'll be racing two nights a week in the Big Blocks doesn't mean Bobby's giving up the Sportsman program. He has plans to race in the class, just with a lesser schedule than he's had in year's past. Look to see him behind the wheel of the Killer Crate Racing Engines house car in 2020.
"We're going to run as much as we can with it, focusing on Sunday nights at Devil's Bowl again," he said. "We looked at ways to incorporate the Sportsman car into our plans for 2020 and, ultimately, running at the Bowl on Sunday's just seemed to be the best way to go about it."
Hackel also has designs on possibly defending his King Of Dirt title from a year ago, if rules and schedule permits. No matter what, Hackel, who works full-time as a fabricator at PMC Race Cars, is just happy he gets to race. He lives to strap into his racecar, and there's no denying that in 2020, he'll get to race a lot.
"I make my living between building cars & parts for many racers in NY's Capital District racing scene," he said. "The more opportunities I can sit behind the wheel, I'm going to go for it. Racing is my life."
Bobby Hackel is the definition of racer. If it has four wheels, a steering wheel and goes fast, this young racer wants to be the best and win. He eats, sleeps, breaths racing and in 2020, he'll be doing a lot of it. Chances are, if you're at a race track, and the feature is about to roll out, Bobby Hackel may be in the line-up.
He just loves to race…plain and simple.