RPW Column By: MIKE TRAVERSE / RPW – GOSHEN, NY – Since beginning to race in the Sportsman division at area tracks, Daniel Morgiewicz Jr. has been steadily improving his racing results.
In 2019, he had his best season to date.
"I struggled a bit at OCFS the first part of the season. It seemed like every time there was a wreck, we were in it. But we ran very well after the resurfacing and won a feature finishing 8th in points," he said. "We finished 4th in the points at Accord and had two wins, so that went very well. And we ended up 6th in the STSS North Crate Series."
As for 2020, Daniel has a busy schedule. He will begin his season in early February in warm and sunny Florida as they will race in the STSS Sportsman races at All-Tech Raceway. As for the regular season, the team will run Sportsman at Accord and 358 Modifieds at OCFS.
When the 358's are off at Middletown, the team is planning on racing at Thunder Mountain. Also on the schedule is the Short Track Super Series Sportsman races. Some other races will be included when the schedule permits.
"We ran about 45 races last year and I think it will work out to about 50 this year," Daniel said. "We have 2 HigFab cars that will be ready for the season."
Daniel first got interested in racing around 2009 as his family was one of the sponsor's for and helped out on Matt Janiak's car. He raced Slingshots at Oakland Valley Speedway and first raced sportsman in the latter part of 2015. His first full season in Sportsman was in 2016. Daniel grabbed that first Sportsman at OCFS in 2017.
"That first win was definitely my most memorable race."
Daniel's team decided during the 2019 season to try a race the 358 Modified and the STSS race, The Hard Clay Finale, was their first effort.
"Our goal for that race was to get out there and log laps. But we made a good draw and decided to give it our and we qualified," Daniel said. "It was a big thrill to be out there with that quality of racers. That helped us to decide to run the 358 division at OCFS this season."
Daniel's father, Danny, feels that his son is ready for the move up.
"In pleased and shocked how the racing has worked out for us," Danny said. "We just started with slingshots, that's all that we had the time for. But as he improved, we got more people involved and we moved him up. I didn't want to move him up too quickly and possibly lose interest if it didn't go well. But I'm confident that the time is right for this move up."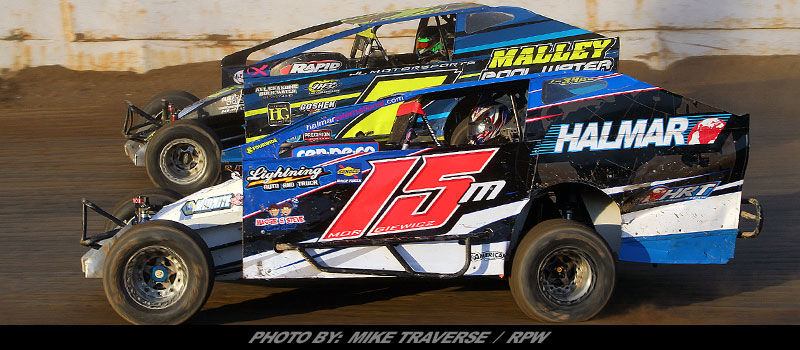 Daniel's uncle knew Chris Larsen, and one day, Chris came to the family home and he was soon sponsoring Daniel's racing team. And it's a team that Daniel is proud to be a member of.
"To be on a team with the caliber of racer's like Stewart Friesen, Jimmy Horton, Matt Janiak, Allison Ricci and Tyler Boniface is way awesome, he said." It's just amazing what Stewart can do in a race car. And the other team members are always willing to answer any questions we have on some of the tracks that we are not too familiar with. It's helpful that they have the knowledge that can be so useful"
Sponsors for the 15M include Halmar International, Maggie and Steve Race Nuts, NAPA Midnite Auto Parts (Pine Island), S. & S.O. Produce Farms (Pine Island) and Sosler's Farm and Garden Equipment (New Hampton).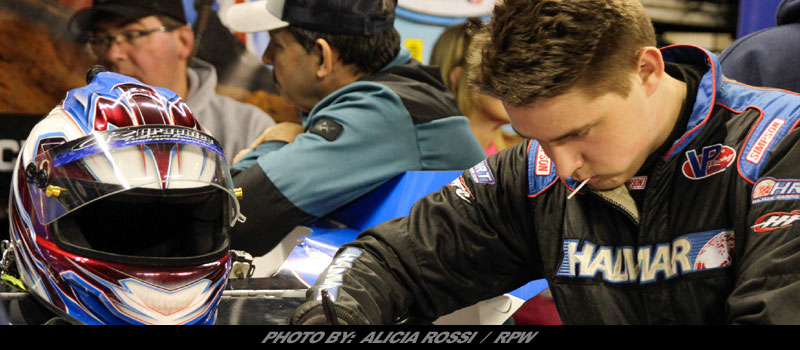 The team is very grateful to HigFab for the work they do to keep him competitive every week.
Crew members are John Bockhorn, Steve Giza, Dave Allan, Matt Janiak and Big Rob.
Daniel Morgiewicz Jr. is a driver who likes to get up on the wheel. As the 2020 season gets progresses, look for the young racer in the 15M to be in contention at the tracks they race at.