RPW Column By: BRAD KEITSOCK / RPW – FRENCHTOWN, NJ – For 32-year-old Billy Pauch Jr, racing on Friday nights at Big Diamond Speedway in Minersville Pa has been a pretty constant for him going way back to 2003.
That's when he turned his first laps behind the wheel of a 358 modified as a rookie in the division and at the speedway.
For the Frenchtown NJ racer, the 2020 racing season will once again find Pauch Jr calling Big Diamond Speedway his weekly Friday night racing home.
Like in the 2019 racing season, we will once again see Pauch Jr split his time and racing schedule this year at the speedway between his self owned new #15 Bicknell modified with Morgantini power under the hood and the Breitenstein Motorsports #14 Bicknell modified with a Gatto motor ready go to hopefully help take Pauch Jr to victory lane this season.
Once the racing season gets underway, Pauch Jr's racing schedule gets to be a busy as any racers in the country.
For Pauch Jr, a deal like this with the Breitenstein Motorsports team is something that was needed and a necessity in order for him to be able to race the entire season at Big Diamond Speedway. Many weeks their just isn't enough time for Pauch Jr to get his own equipment and modified ready to compete at a high level for Friday night racing action.
Pauch Jr offered, "With as busy as things get, it's a great fit for both of us to split the schedule at Big Diamond. Last years deal seemed to work really well once we got the bugs worked out of our motor program with the 14 car."
"I think going into this year we definitely are way more prepared than last year, I'm definitely looking forward to the season at Big Diamond."
The Breitenstein family and name has deep roots and a long history in modified racing in Pennsylvania.
The Reading Pa based team, although having much success and winning races at other local speedways, in 2020 the Breitenstein gang will be looking to visit Big Diamond Speedway's victory lane for the very first time ever. And they feel they have just the right driver behind the wheel of their race car to do it.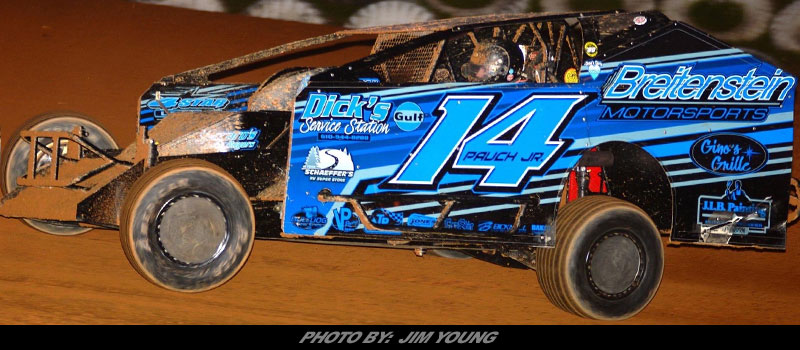 One of the leaders of the BMS #14 racing team, Chris Breitenstein mentioned, "Last season we got going pretty good by the end of the year. Once we got our motor program figured out we were happy racing at Big Diamond."
Breitenstein also offered, "Going into this season, its been a long time since we have been this anxious to go racing. We have never been more ready equipment wise and we finally have our motor program figured out so we are excited to get going. Billy is a great driver, we just have to give him a good race car and we know he'll take care of the rest."
Pauch Jr's past success of 17 career feature wins and the 2015 championship at Big Diamond Speedway, has all involved in this effort for the 2020 racing season at the speedway ready to go with high aspirations and expectations.