Mike McLaughlin, Johnny McArdell, Jeff Heotzler & Charlie Langenstein To Be Inducted Into NYSSCA Hall Of Fame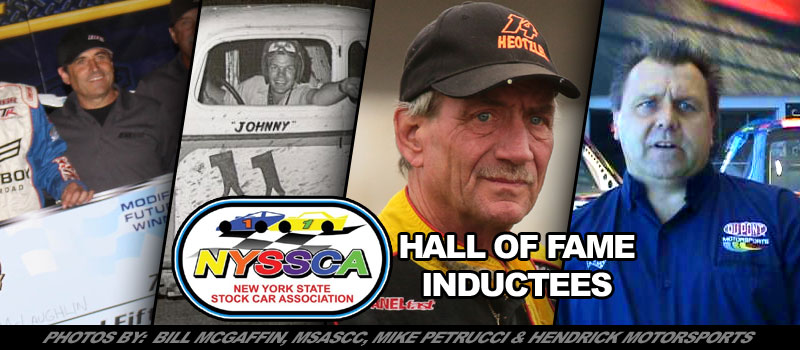 Story By: NYSSCA – ALBANY, NY – After great deliberation, the New York State Stock Car Association's Hall of Fame committee has narrowed an outstanding field of candidates to three super star drivers and an outstanding mechanic/crew chief for induction to NYSSCA's Hall of Fame.
The slate is headed by "Magic Shoes" Mike McLaughlin, a man who could truly drive anything and win, with his career taking him from the Weedsport NY bull ring to the superspeedways of NASCAR. McLaughlin is joined by two other notable drivers, central New Yorker John McArdell and Orange County Fairgrounds Speedway star Jeff Heotzler, and ace mechanic Charlie Langenstein, the winning ingredient behind a bevy of star drivers over the years.
The 51st Annual banquet and HOF ceremony will be held on Saturday, February 22, 2020. The formal induction will take place at 11 am at the Saratoga Automobile Museum in Saratoga Springs, NY, site of NYSSCA's permanent Hall of Fame display, with the banquet to follow at 4 pm at the Polish Community Center on Washington Ave. Ext. in Albany, NY.
McLaughlin, a Waterloo native, won his first dirt modified feature at Canandaigua at age 22 and by 1980 he was both the Rolling Wheels track champion and winner of the speedways' 200 lap classic. A year later he jumped into supermodified racing in a former Jim Shampine offset roadster, notching wins at both New Hampshire's Star Speedway and Oswego before moving on to Norm Foster's "Potato Wagon" asphalt modified.
An immediate winner, the diminutive wheelman would go on to 84 starts on the NASCAR Modified Tour, claiming some 16 wins, including the Martinsville 250 and the 1988 tour championship in Lenny Boehler's famed Ole Blue #3. From there, McLaughlin moved to the NASCAR Xfinity tour, where he won six races on a variety of speedways. In retirement, he developed a successful fabrication business in Mooresville, NC and today devotes himself to supporting the career of his son, Max, who is following s similar trajectory from dirt to NASCAR.
Johnny McArdell was a fixture in central New York from 1952 through 1976 in Dominick Tantello's iconic "Leanin' 11" modified. A contender on tracks ranging from the Weedsport bullring to the long straightaway Rolling Wheels and Canandaigua Speedways, McArdell's best year was 1964, when he won 27 features.
McArdell claimed a number of track championships, including Weedsport in 1963 and '68, Rolling Wheels in 1975, Waterloo in 1960 and Canandaigua in 1964. He was always a contender at the highly competive Labor Day New York State Fair championship against such talents as Cliff Kotary and "Wee Willie" Allen and claimed the "Salt City 25," a NASCAR sanctioned event for flatheads in conjunction with a NASCAR sportsman/modified race on the fairgrounds mile.
Jeff Heotzler is best known for his success at the Orange County Fairgrounds Speedway, where he was the big block champion in 1997, '03, '05 and '07 and the small block titlist in 1980 and '86. His 53 wins put him third on the OCFS all-time win list. But Heotzler also has 53 wins on the Accord Speedway bullring and was the track champion at the Catskills oval in 1983, '84, '85, '86 and 2015.
Big wins on the DIRT Hall of Fame member's resume include a 358 Championship score on the Syracuse Mile, the Mr. Dirt Track USA races at Lebanon Valley in 1987 and '95, the Race Of Kings at Lebanon Valley in 1988 and '90 and the 2007 Eastern States 200 at Orange County. Other tracks where "The Jeffer" has visited Victory lane include New York's Albany-Saratoga and Rolling Wheels Speedways and Florida's Volusia County Speedway.
Charlie Langenstein has worked with an amazing array of talented drivers, among them Jimmy Horton, Brett Hearn, Danny Johnson, Will Cagle, Kenny Brightbill, Larry Voss, Rick Schaeffer, Tom Corellis and Ray Swinehart. After building a sprint car like racer for owner Tony Ferraiuolo and driver Ken Brenn Jr. to close out the 80s, Langenstein moved south and won the NASCAR Busch Grand National championship in 1989 with the late Rob Moroso.
Other career highlights for the DIRT Hall of Fame member include designing and building a chassis at Richard Petty Motorsports that won in only its third race out with driver Bobby Hamilton in 1997 at Rockingham Speedway, being part of the Hendrick Motorsports team that won five consecutive Sprint Cup Championships with Jimmy Johnson and winning the prestigious "Papa Joe Hendrick" award in 2008.
The Papa Joe Hendrick Award of Excellence was founded in 1995 to honor a Hendrick Motorsports employee displaying leadership, teamwork, job performance and exceeding expectations.
Along with the Hall of Fame inductees, the NYSSCA banquet will honor racers from a number of speedways and the traditional special award winners.