Column By: ROBERT SYMONDS / RPW – ST CATHARINES, ONT – Since its inception, Bicknell Racing Products has been a pillar in the Big Block Modified racing community. Located in St Catharines, Ontario, Canada and in Niagara Falls, New York, Bicknell's business model has maintained its presence among owners and drivers alike throughout many years.
In 2007, Bobby Slack joined Bicknell as a partner in the company working in the machine shop division. Last week, Slack spoke with me about Bicknell's take on 2019 and the 2020 race season to come.
Symonds: Good Morning Bobby. It seems Bicknell has had a really successful season in 2019.
Slack: Yes we've had a good season this year. We have a great group of people at Bicknell who have worked hard all season long.
Symonds: During Super Dirt Week, I noticed the number of chassis in the field were mostly Bicknell. What are your thoughts on the number of Bicknell Chassis in the 2019 Super Dirt Week field?
Slack: If you look at our history, our numbers have been quite steady. Some years we will see a growth with a difference of 5-10 chassis coming out of our shop. But our numbers have been quite steady, even in the last 10 years.
Symonds: There has been some rumors about what drivers are shifting towards other chassis brands, specifically Bicknell. Do you have any comment on these rumors?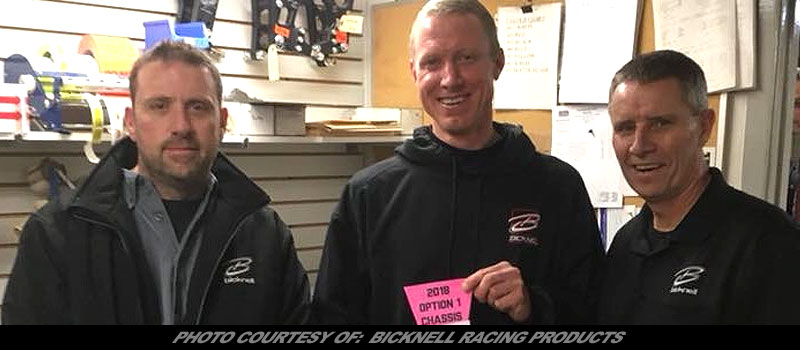 Slack: People are always going to shift and change; they may like the way we conduct business. In our world today, customers want a trusted source to provide them whatever they would like quicker and easier than anyone else. This is what we bring our customers at Bicknell.
Symonds: I've been watching the results and it seems like we are getting a lot of different winners racing different types of suspension combinations.
Slack: Yeah most definitely. This is a really crazy time in Modified racing. We have seen this happen with the late models a few years back and right now Modifieds are seeing that particular time. There are a lot of different suspensions out there and everyone is out testing new ideas. It's a really fun, frustrating, and exciting time in the sport.
Symonds: Will anything change in 2020 for the Bicknell Racing Products business?
Slack: Our business model is not going to change. BRP is committed to providing a good experience for our customers. This means we focus on getting things done in a timely manner and being available at any time our customers need us. We like to provide our customers a good experience with help in either parts, technical help, or even setup help. We appreciate every one of our customers and employees.
As the phone call was coming to a close, Slack was asked one final question about the competition level within the business. Slack elaborated "Competition is good. A race track alone wouldn't survive without competition."