Kyle Inman Nails Down DIRTcar Sportsman Series Win Friday Night At Brewerton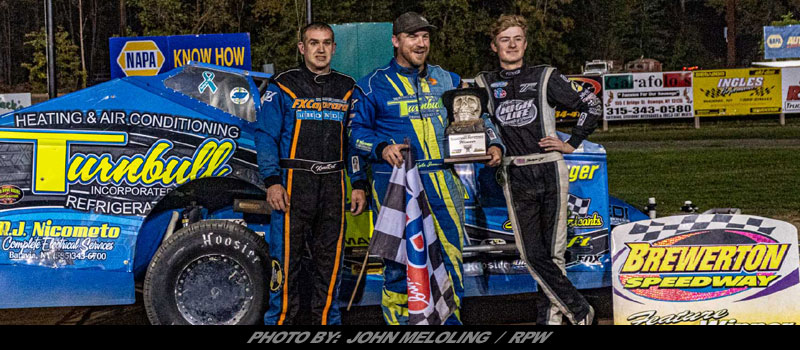 Information By: DAVE MEDLER / BREWERTON SPEEDWAY – BREWERTON, NY – Kyle Inman outlasted Kevin Root, Jackson Gill and the rest of the DIRTcar Sportsman Championship Series field to win the 50-lap Duel At The Demon Friday night at the Brewerton Speedway.
Matt Janczuk and Tyler Corcoran rounded out the top five.
In addition to the DIRTcar Series win, Inman also locked up a guaranteed starting spot for the Sportsman Shootout during Outlaw 200 Weekend at the Fulton Speedway
Feature results are posted with a story to come.
(DIRTcar Sportsman Championship Series Duel at the Demon 50 Laps) – KYLE INMAN, Kevin Root, Jackson Gill, Matt Janczuk, Tyler Corcoran, AJ Miller, Brandon Carvey, Mark Yorker, Jessica Power, Zach Sobotka, Austin Germinio, Jeff Prentice, Casey Williams, Jeff Taylor, Ryan Scott, Chris Mackey, Tyler Murray, Jim Spano, Jarrett Herbison, Addison Bowman, Ryan Dolbear, Bailey Groves, Amy Holland, Jack Meeks, Corey Barker, Alan Fink, Rich Riggs Jr., Willy Decker Jr., Tom Juno, Bob Henry Jr.,
Guaranteed Starter Outlaw 200 Weekend Industrial Tire of CNY Sportsman Shootout – Kyle Inman.
47 Cars Entered
13th Hour Rising Haunted Hayride $500 Top-Three Heat Race Bonuses: 1st $50 – 2nd $30 – 3rd $20
(Heat 1) – Kevin Root, Corey Barker, Zach Sobotka.
(Heat 2) – Tom Juno, Casey Williams, AJ Miller.
(Heat 3) – Jack Meeks, Bob Henry Jr., Willy Decker Jr.
(Heat 4) – Matt Janczuk, Kyle Inman, Jackson Gill.
(Heat 5) – Alan Fink, Jim Spano, Amy Holland