RPW Exclusive: It Was All Because Of Mom For Fonda's Head Flagger Joe Kriss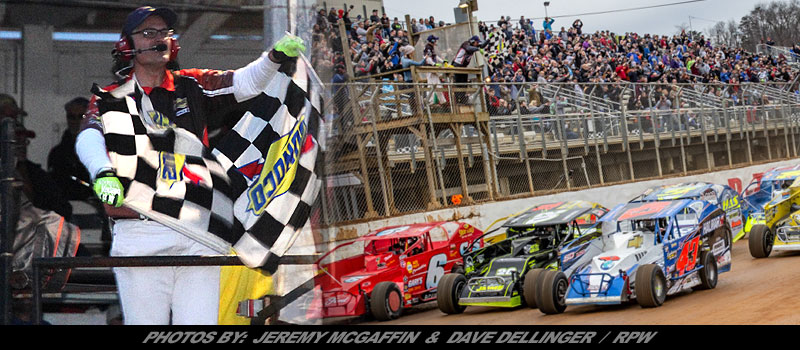 Column By: RAY ROGERS / RPW – FONDA, NY – Sometimes, Mom has a way of pointing us in the right direction.
On Saturday, I began my night at the Fonda Speedway Museum where I had the chance to sit down with the one, and only, Joe Kriss. Kriss is the "Entertainer" of the speedway…aka the track's lead flagman or head starter…the man who throws the colorful silks at the famed half-mile.
I figured this was a great time to get to know this gentleman, so I asked who got him started in racing. Of all weekends, you'll never guess.
"It was all my mom," he said. "She brought me to the races when I was just a boy and I fell in love with racing."
Joe was immediately attracted to the Flagger and soon knew that's what he wanted to do. With a little help from the tooth fairy, Joe had his first set of flags and began throwing them in the wind from his seat in turn four.
In 1992, Joe was given the opportunity to climb the main flagstand and control the Street Stock heat races and feature. Shortly after that he was approached by the management of Dodge City Speedway in Howes Cave, NY to officiate and flag the events weekly.
It was around that time Kriss found his passion for singing as well. He would often perform with his father in local taverns and lounges.
In 1997, Joe returned to flagging at Fonda, but this time, it wasn't from his seat. He was now the official backstretch flagger.
In 2014, Joe was approached by new Fonda promotor, Matt Delorenzo, to assume the role of head starter. Joe jumped at the opportunity and has been there ever since. Today, Kriss waives the flags every chance he gets, including every Friday night at Dodge City Speedway and now serves as head starter at Bret Deyo's Georgetown Speedway in Delaware and for the Short Track Super Series.
Joe still enjoys singing and, in the off-season, is known to perform at different venues. Oh, and he can belt out the National Anthem like no other.
However, if Joe has a choice, he'll be at the races.
"I just love it here," he said. "There's no better feeling than being at Fonda."
I asked him if he had any advice for the Junior Flaggers out there.
"Just like my Mother taught me, never give up," he said. "Always follow your dreams."
Joe Kriss is a great example of why our sport is so unique. He is just a kid from the sidelines who never gave up and is now living his dream of throwing the checkers for some of the biggest races in the Northeast, so to all you aspiring crew members, drivers, and future officials, take Joe's lead.