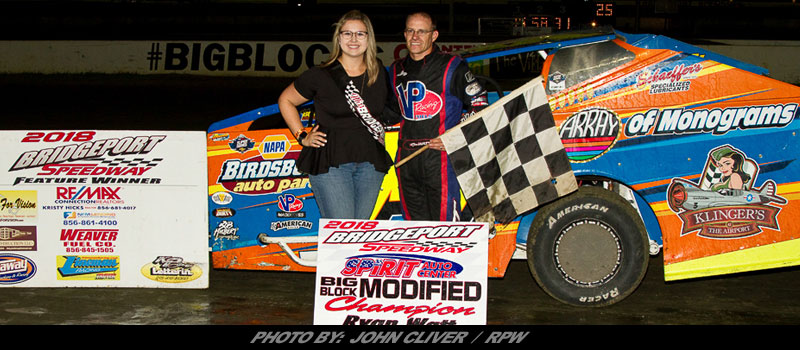 Column By: NICHOLAS FILLMAN / RPW – INDIANAPOLIS, IN – Ryan Watt will look to defend both of his 2018 Modified titles this coming season with weekly competition at the Bridgeport Speedway as well as the Short Track Super Series South region and other area specials.
In talking with Watt at the Performance Racing Industry Trade Show, Watt expressed that the team would again follow a similar schedule to what they have previously.
Their hopes are to defend their championship titles in 2019. The driver from Boyertown, PA was able to win his third Short Track Super Series South Championship to go along with his Bridgeport title, all aboard the Ron Roberts-owned Bicknell Chassis, Array of Monograms entry.
In addition to the series and weekly competition, Watt will also run other area shows, and potentially some Super DIRTcar Series events, depending on what the schedule looks like at Bridgeport. He expressed interest into potentially hitting the Series opener at the Can-Am Speedway.  He also has hopes of hitting the Series' return to Eldora in July and Oswego Speedway as a part of Super DIRT Week.
Known as the "Electric Company," Watt stated that he's looking forward to the new schedule for the Short Track Super Series South Region and their return to the New Egypt Speedway. He also mentioned he's happy to see the Port Royal stop again on the schedule.  That's no surprise following his victory in October as the series made their inaugural stop.
One thing that was new for Watt in 2018 was making select winged 360 sprint cars starts with car owner Tim Hogue. He said that Hogue had kicked around the idea of building his winged car following the USAC Eastern Storm and decided to take the chance of having Watt wheel it. The team had solid runs to close out the 2018 season and Hogue still has the car together.  They are hoping to potentially hit some sprint car shows earlier in 2019 if Ryan's schedule will allow.
Just like the 2018 season, Watt and his team will be one of the top cars to beat in the area this coming season, regardless of track, series or competition.  You can count on that.