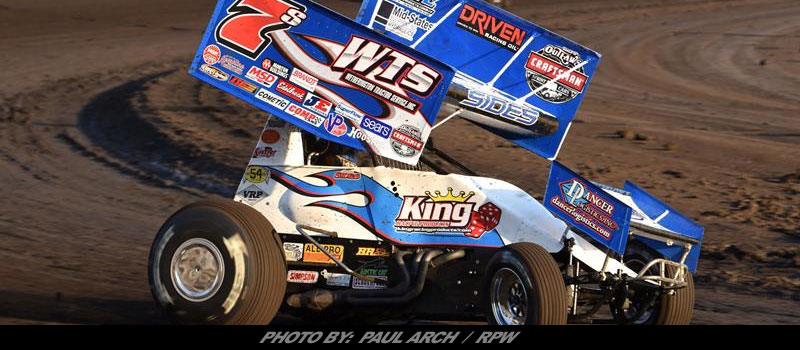 Story By: SHAWN MILLER / SIDES MOTORSPORTS – BARTLETT, TN – Jason Sides recently completed his 10th consecutive year with a top-12 finish in the World of Outlaws Craftsman Sprint Car Series championship standings.
However, this year was different than a usual season for Sides, who added a second driver during numerous races. Tim Kaeding piloted a Sides Motorsports entry to seven top-five finishes, including a fifth-place result during the famed Knoxville Nationals hosted by Knoxville Raceway in Knoxville, Iowa.
"Tim's run during the Knoxville Nationals stands out as our biggest highlight," Sides said. "Maybe I need to get some confidence back myself knowing that we have the equipment and we can do it."
Sides improved during the later stage of the season, including posting a seventh-place finish at Lakeside Speedway in Kansas City, Kan., before recording a 10th-place outing during the Tuscarora 50 at Port Royal Speedway in Port Royal, Pa. He also scored top 10s at Federated Auto Parts Raceway at I-55 in Pevely, Mo.; at Jackson Motorplex in Jackson, Minn.; at Red River Valley Speedway in West Fargo, N.D.; and at Eldora Speedway near Rossburg, Ohio.
Sides said he and Kaeding have talked about teaming up in 2019.
"Talking to him and his sponsor they want to do like 28 races," Sides said. "All the West Coast swing during both trips, the Knoxville Nationals, maybe the Kings Royal weekend. We'll get a schedule lined out before the season starts. I'll have him more in the primary No. 7s and I'll run the No. 7ss or straight No. 7 during those races.
"I've talked to a couple of different drivers to run, too. We'll do it with the right drivers. It won't be just anybody."
Sides noted that he plans to kick off his 2019 season next February in Florida during the DIRTcar Nationals.
"I want to say a special thank you to everybody that helps our team," he said. "My family and crew as well as our sponsors continue to keep our team rolling and I'm very grateful for all of the support."